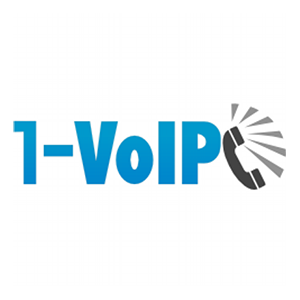 1-VoIP is a Voice over Internet Protocol (VoIP) provider that offers residential, business, and Session Initiation Protocol (SIP) trunking services. Its business service features call recording, auto attendant, and more. Base monthly fees range from $14.97 to over $29.97 per extension, and it's best for businesses that need access flexibility and no-contract providers.
1-VoIP Pros and Cons
| Pros | Cons |
| --- | --- |
| User-friendly and intuitive | Not highly customizable |
| Reasonable pricing | Needs more essential features |
| Helpful customer support | |
Who 1-VoIP is Best For
Businesses that seek access flexibility: Users may utilize 1-VoIP's services at any location through their VoIP device of choice, computer, or a smartphone.
Businesses that need no-contract services: 1-VoIP is available on a month-to-month basis and does not charge cancellation fees.
1-VoIP Pricing
The 1-VoIP pricing guide for its business VoIP services has three plans: Metered, Corporate, and Professional (starts at $14.97 per extension per month). The main differences between these are the usage rates, the availability of a VoIP phone rental, and the inclusion of a phone number. All plans have access to all of its features.
Plans

Pricing
($/Extension/Month)

Phone Number Included

Metered

$14.97

✘

Corporate

$19.97

✘

Professional

$29.97

✔

Want the best balance of features and price? Check out Nextiva.
Metered
Metered plan's fees start at $14.97 per extension, per month. Meanwhile, its usage fees are available on a pay-as-you-go basis (2¢ per minute).
Corporate
Corporate plan, on the other hand, has a base monthly fee of $19.97 per extension and includes an unlimited number of minutes. 1-VoIP claims that this offers a lower monthly expense.
Professional
Lastly, its Professional plan has prices that start at $29.97 per extension, per month. This includes a VoIP phone rental and a phone number. Its description states that it provides a lower starting cost.
1-VoIP Alternatives
| VoIP Phone Service | Best For | Pricing |
| --- | --- | --- |
| | Larger companies with high call volumes that need enterprise-level features | $39.99-$69.99+/user/month |
| | Businesses that want a great combination of price and features | $21.95-$31.95/user/month |
| | Small business owners looking for a great phone system with no contracts | $19.95 and $24.95/user/month |
| | Solopreneurs who want a business number on their personal device | $29-$78/month |
| | Solopreneurs and small business owners who want an affordable turnkey vanity number and VoIP provider | $12.99-$59.99/month |
| | Businesses that need unlimited international calling and SMS messaging | $12-$110/user/month |
| | Solopreneurs and small business owners who want an affordable turnkey vanity number and VoIP provider | $19.99-$39.99+/line/month |
1-VoIP Features
1-VoIP provides no-contract services that allow users to manage incoming calls at any location, through any preferred device. Here are some of 1-VoIP's most essential features.
Auto Attendant
This is a highly customizable feature that enables users to connect callers to the proper department or agent. This is done by providing them with options to determine which department is most appropriate for the information that they need.
Call Recording
Users may record all inbound and outbound calls. These are saved for seven days on the platform's "Online Member Center." These call recordings may be used for quality assurance, coaching, and more.
Cellphone Forwarding
Users may utilize either 1-VoIP's "Call Forwarding" or "FMFM" feature to receive calls on their cellphones. This allows them to access the same features that their VoIP device has such as transferring calls to another four-digit extension.
Extension to Extension Calling
Users may easily call other employees—whether in the same location or not—by dialing their assigned four-digit extension. This is possible as long as their employees are online.
Most Helpful 1-VoIP Reviews
Users who gave positive 1-VoIP reviews said that it is user-friendly and has impressive prices. Most others mentioned that its helpful customer support team responds fast. On the other hand, there are not a lot of negative reviews available online, though some commented that its available configurations and features are limited.
Easy-to-use platform and has reasonable pricing
"It makes my day-to-day doing business easier. This is the best business VoIP service that I have ever used. I like how easy it is to use. I like how they give you multiple plans to choose from, and I like their prices. I think their prices are great. I really like how I can connect and do business wherever I am."

—Travis Williams
Has limited configurations and features
"Configuring options for 1-VoIP are limited, and the features are pretty slim."

—Nwdunker
1-VoIP Frequently Asked Questions (FAQs)
Are users allowed to utilize their current phone numbers with 1-VoIP?
In most cases, yes, they are. Users may contact its customer service team to confirm if their existing numbers are portable.
Can users filter incoming calls from telemarketers and robocalls?
Yes, they can. 1-VoIP partners with Nomorobo to let users report phone numbers of their unwanted calls. Then, such calls will be evaluated and monitored. However, calls from pharmacies and schools are allowed at all times.
What is the bandwidth requirement for VoIP calls?
1-VoIP requires a sustained 80 Kbps of bandwidth. It also offers a free VoIP quality tester to help users evaluate their connections.
Our Top VoIP Picks
If you aren't sure if 1-VoIP is right for you, then this article on the 6 Best Small Business VoIP Phone Service Providers is a review of our top choices. Our team looked at a variety of solutions and narrowed down our recommendations based on price, ease of use, and features.