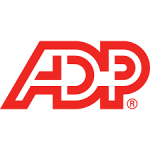 ADP Payroll provides customizable payroll software and services. It features direct deposit and mobile payroll solutions as well as automatic calculations of taxes and retirement contributions. Its pricing is tailored based on the number of employees and the frequency of payroll runs. It is best for large companies that handle complex payroll systems.
ADP Payroll Pros and Cons
| Pros | Cons |
| --- | --- |
| Offers labor law compliance services | Steep pricing |
| Provides many customizable features set | Takes time to set up and implement |
| Ability to support complex payroll and taxation processes | Poor customer service |
Who ADP Payroll is Best For
Large businesses with over 100 employees: The software is built to support big companies with complexity levels and customization options that many small businesses do not need such as check printing and workplace poster compliance.
Businesses that need to customize their payroll processes, reporting, and interfaces: ADP Payroll creates custom reports, tools, and features to deal with the most complex employee payroll setups. It offers several reports, including payroll, tax, and benefits reports, as well as garnishments, employee birthdays, and custom reporting. Users can filter the report data by year, pay period, or employee.
ADP Payroll Pricing
ADP Payroll's pricing is not posted on its website. According to its representative, for a company with 10 employees running bi-weekly payroll, it would cost $101.65 per pay period + $25 one-time setup fee.
Unlike with other payroll services that bill per month regardless of your payroll schedule, ADP Payroll charges per pay period. It also processes W-2s and 1099s at year-end for an extra fee of $45 + $5.75 per employee.
ADP Payroll offers discounted pricing from time to time depending on your requirements. You may request a quotation to know more about its pricing information.
ADP Payroll also offers a service called RUN, which provides payroll services along with human resource (HR) management solution. To view ADP RUN's review and pricing, please click here.
Author's Note:
If you plan to scale your business past 100 employees and are already familiar with ADP systems or have used it in the past, ADP Payroll might be a good option for you. However, for startups that do not see their business growing past a dozen or more employees, ADP Payroll may be too feature-rich, complex, and expensive.
It is also important to consider that ADP Payroll charges for each and every payroll cycle, unlike many of its competitors which charge by employee headcount or per month. You will be charged extra for every payroll you run, such as weekly payroll, year-end bonuses, as well as every time you make corrections. Tax filings, garnishments, labor law posters, and other add-ons will be charged on top of your regular payroll schedule.
ADP Payroll Alternatives 2020
| Payroll Provider | Best For |
| --- | --- |
| | Companies with fewer than 100 employees that want a cloud-based payroll software at a significantly low cost |
| | Small organizations/businesses in niche industries (churches, households/nannies, agriculture) that have unique payroll needs |
| | Companies using QuickBooks for accounting that are legally required to offer health insurance to their employees |
| | Startup businesses that need many customization options and want to scale with a long-standing industry leader |
| | Small businesses that seek professional payroll services and dedicated customer service for their changing payroll needs |
ADP Payroll Features
Along with ADP Payroll's standard features such as direct deposit payments, employee self-service portal, and garnishments, it also offers check printing and labor law compliance services for an upcharge. It helps you pay employees and comply with applicable labor and tax laws. Below is an overview of ADP Payroll's most notable features.
Reports
ADP Payroll provides numerous types of reports that cover employee payroll, benefits, taxes, and garnishment payments. Along with these reports, it also has a custom reporting feature which I find beneficial for large scale enterprises that need to export data to third-party systems as well as process data analytics in Excel.
Employees' Self-service App
ADP Payroll provides employees with a self-service mobile app called MyADP. It allows them to make changes related to their life events, including marriage, new child, or new address, in addition to viewing pay stubs and W-2s, updating direct deposit accounts as well as managing their time and attendance through the web or mobile time cards. Through this mobile solution, employees can also request time-off and access their payroll information and benefits.
Employee Benefits
ADP owns an insurance company called ADP Insurance Agency (ADPIA). You can manage benefits through ADP Payroll's system. It helps you and your employees keep track of benefits enrollments, changes, and costs through the same system as you run payroll.
Payroll Software with Federal, State, and Local Compliance
ADP Payroll software is accessible from any device and has features that automate calculations, tax withholdings, paper checks printing, and digital payments. The software makes sure all your paperwork is up-to-date and submitted on time.
It also provides access to mandatory forms, such as W-2 and W-9, and notifies you about changes to minimum wage, tax codes, and other regulations.
Most Helpful ADP Payroll Reviews
Most users who gave ADP Payroll reviews online generally like its payroll functions and tax compliance aspects. Others like its new and clean user interface. However, there were some who reported issues with their billing, software setup, and other account-related concerns. It is also difficult to reach its customer support according to some users.
Efficient payroll system and seamless integration
"ADP Payroll has a great user interface. I like how it all breaks down into individual categories. It makes it very easy for us and our employees to see all of our payroll information, as well as our "Work Perks" in a single place. It also integrates with TurboTax which is very helpful when the taxation period comes."

—Cody Rich
Poor customer service
"We had many difficulties contacting our ADP Payroll representative and getting the correct information. This resulted in huge delays and a lot of problems as it dropped the ball several times. This resulted in extra work and elongation of the project by six months. Needless to say, I am not happy with the level of support, information, or interaction I received from them.

—Jason McLaughlin
ADP Payroll Frequently Asked Questions (FAQs)
How can ADP Payroll help process and pay employees' payroll taxes?
ADP Payroll automates applicable tax calculations and deductions from employees' wages. It ensures that all computations reported and delivered to various state and federal government agencies are correct based on the latest payroll tax rules and regulations.
Can I integrate ADP Payroll with other systems?
Yes, you can. ADP Payroll integrates with other software and services that include solutions for HR, enterprise resource planning (ERP), time and attendance, retirement, and insurance, among others. It automatically syncs with many popular accounting software products, including QuickBooks, QuickBooks Online, Xero, and Wave.
What types of customer support does it provide?
During the implementation, an ADP Payroll representative will provide you one-on-one personal training. It also has 24/7 phone and email support from certified payroll experts and HR professionals across the globe.
Our Top Payroll Software Provider Picks
If you are not sure if ADP Payroll is right for you, this article on the Best Payroll Software is a review of our top seven choices. Our team looked at a variety of solutions and narrowed down our recommendations based on price, ease of use, state requirements, and features.