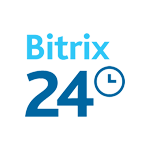 Bitrix24 is an integrated customer relationship management (CRM), project management, and sales management system designed for small and medium-sized businesses. Its features include pipeline management, sales forecasting and intelligence, marketing automation, and social media integration. Its pricing ranges from $0 to $199, and it is best for sales teams that have extensive experience in using CRM and sales automation programs.
Bitrix24 Pros & Cons
| Pros | Cons |
| --- | --- |
| Offers a free plan for up to 12 users; pricing plans are also inexpensive as it has many user allocations and not priced on a per-user basis | Lacks a desktop application and only available web-based |
| Provides users with robust project and team management tools | Has hundreds of features that might lead to confusion; some might not even be essential |
| Has advanced sales intelligence tools | Due to the complexity of the features, new users can expect a steep learning curve |
Who Bitrix24 Is Best For
Businesses that need a robust CRM tool but have no budget (such as nonprofit organizations): Bitrix24 offers a free plan that includes essential CRM tools, such as lead, deal, and contact management. It also gives users a monthly 1,000-outbound email allocation for running minor email marketing campaigns.
Businesses that need a strong sales and marketing automation system: Bitrix24 provides users with rules and triggers in leads and deals, business process automation, and sales intelligence tools that enable them to evaluate the performance of their investments and measure the effectiveness of their customer acquisition initiatives.
Bitrix24 Pricing
Bitrix24 pricing for its Cloud version includes a free plan and five paid subscription plans, ranging from $0 to $199 per month. Upon analyzing the plans, I found that some plans focus on certain features and that a more expensive plan doesn't simply mean that it has more features—it may have a different focus area.

Plans

Monthly Pricing
($/Month)

Annual Pricing
($/Month)

Free

$0

$0

Start+

$24

$19

CRM+

$69

$55

Project+

$69

$55

Standard

$99

$79

Professional

$199

$159
*Annual plans are paid in full at the beginning of the billing cycle.
Bitrix24 also offers an on-premise version ranging from $1,490 to $59,990. The cost depends on the number of users. The plans under this version offer integrated telephony, marketing tools, reports, CRM automation, and more.
Below are Bitrix24's available plans, and I encourage you to read it carefully to ensure that you choose the right one for your business. While most of the plans offer essential CRM tools, the CRM+ and Project+ plans focus on certain areas. You may notice that they also have the same pricing but slightly different features.
Free
The Free plan has 12 users included and offers tools like payment systems, online store creator, and a phone with call recording abilities. It offers additional communication channels like video conferencing and group chats. Calendaring tools, project management with Kanban boards, and a business card scanner are also included.
Start+
The Start+ plan is designed for up and running businesses. It builds on the features of the Free plan and offers additional premium features, such as recurring deals and invoices as well as analytics. The big additions for me in this plan are the added inbox, outbound monthly emails, and shared inboxes, which make tracking communication easy among different team members.
CRM+
The CRM+ plan builds on the Start+ plan and offers additional CRM-specific features, such as pipelines, sales planning (a feature that enables managers to set sales targets for their team members), and lead triggers. The significant addition to this plan is its CRM marketing tools that let you send bulk emails and create customer segmentations for a more targeted outreach to subscribers. As the plan name implies, this plan is for those specifically looking for a solid CRM tool.
Project+
The Project+ plan is built for users with multiple and simultaneous running projects. At an initial glance, it lacks a lot of features compared to the CRM+ plan. However, upon closer inspection, the big difference is its user allocation of up to 24 users in a single plan. Its features are closer to that of the Starter+ plan, but it doesn't include some essential tools, such as recurring deals and invoices. The biggest drawback for me is its lack of email integration, shared inboxes, and email sending capability—I believe these are basic, important features to have.
Standard
The Standard plan is a complete business tool suite that has advanced CRM marketing tools, and it builds on the basic offerings of the CRM+ plan. A remarkable addition to this plan is its sales intelligence functionality, which provides you with transparency on customer acquisition costs, marketing investment returns, and effective advertising sources. It has all the features of the lower-priced plans combined into a single subscription offering, and is made for big teams with a user allocation of up to 50.
Professional
The Professional plan builds on all the features of the Standard plan, with all of the offerings set on a "Pro" level. Built for enterprises and large teams, it has an allocation of unlimited users pipelines, leads, and system administrators.
Bitrix24 Alternatives 2020
CRM

Best For

B2B businesses that need a customizable, robust, and competitively priced CRM with built-in phone

Small businesses that want a CRM with enterprise-class sales and support features

Businesses that want a free, no-frills CRM with basic features and unlimited users

Teams that want a user-friendly and visual pipeline to manage sales

Organizations seeking free lead and management software with integrated reporting

Businesses looking for a

robust CRM

with a top-notch mobile app
Bitrix24 Features
Bitrix24 provides you with an extensive set of tools to help you manage your customer relationships better and continuously grow your business. Below are its key features.
Lead Scoring & Management
Bitrix24 has features that allow you to effectively manage leads. These tools include lead scoring, which lets you prioritize your most important leads. Other lead management features include profile enrichment, which lets you enhance your contacts' profile automatically with data pulled from online sources like social media profiles. There are also tools that allow users to assign leads to the most appropriate sales reps.
Built-in Phone
One of the features that makes Bitrix24 a full-featured CRM is its built-in phone. You can make phone calls from its platform and even record calls and link them to contacts. Other features include call routing, where you can have certain calls routed to your team based on identified criteria such as their expertise, product line, or territory. There is also an area to document call notes that sales reps can refer to before making their next calls.
Visual Pipeline Management
Through Visual Pipeline Management, you can set up your pipeline in a dashboard layout that lets you easily see the status of your deals at a glance. You can move deals along your pipeline with drag-and-drop features, prioritize deals and activities with a few clicks, and create multiple sales pipelines to accommodate a variety of deal types.
Workflow Automation
Its workflow automation tools allow sales professionals to automate repetitive tasks. These tools help reduce errors and ensure that critical tasks that must be done with each sale are completed.
Tasks that users can automate with Bitrix24 workflows include sending emails and updating records. You can also use "if, then" rules to trigger tasks to be completed when certain actions take place, like generating invoices when deals have closed.
Which CRM Provider Is Best for You?
Most Helpful Bitrix24 Reviews
The Bitrix24 reviews I found online are mostly positive. One of the recurring positive comments users highlighted is the convenience of its Free plan, which already includes most of the essential CRM tools small teams need. On the other hand, one of the biggest drawbacks that users highlighted is the software's lack of a desktop application.
Most helpful positive review: A lot of essential CRM tools included in the Free plan
One user who gave Bitrix24 a positive review on Capterra said that he finds the platform amazing for managing and delegating tasks among his team members. He claimed that Bitrix24 has more to offer than most CRMs in the market, especially more than paid ones, such as Salesforce. According to him, the platform provides users with helpful tools, such as customer base tracking, intranet, project and task management, and more. He shared that he used it in his last business for five years, at which he had eight employees and five affiliates in other countries, and pointed out that he never needed to upgrade to a paid version.
Most helpful negative review: Lacks a desktop application & can only be accessed on the web
One user who gave Bitrix24 a negative review on Capterra said that the application could use some improvements and additional features. He pointed out that the platform lacks a desktop application and is only available as web-based software. He also said that its automation capability is lackluster and is not easy to use, and that its time management tool is pretty buggy, prompting them to replace it with a fingerprint scanner to manage it.
Bitrix24 Frequently Asked Questions (FAQs)
Can Bitrix24 help its users monitor individual & collective productivity?
Yes. Bitrix24 users can access the Efficiency Report, which contains reports on individual and group performance. It also contains ongoing, completed, and overdue tasks.
Can Bitrix24 help users manage leads?
Yes. Bitrix24 users have access to the Lead Reports, which contain the status of existing leads, the estimated amount of sales, and more. It also has lead management features such as the lead filter and lead collaboration, among others.
Does Bitrix24 have a mobile solution?
Yes. Bitrix24 is available for both Android and iOS devices.
Our Top CRM Provider Picks
If you aren't sure if Bitrix24 is right for you, this article on the 10 Best CRMs for Small Business is a review of our top choices. Our team looked at a variety of solutions and narrowed down our recommendations based on price, features, and ease of use.