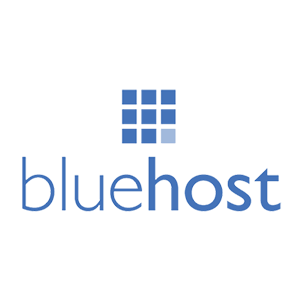 Bluehost is one of the largest web hosting providers for small businesses globally. It offers users with domain hosting, email, ecommerce, and website-building capabilities in various available packages, depending on their specific needs. It costs $7.99 to $209.99 per month and is best for businesses that maintain simple and straightforward websites.
If you don't have a website name (domain), or a place for your website (hosting), Bluehost offers free email as well as a free domain and website hosting starting at $2.95 per month. Click here to check it out.
Bluehost Pros and Cons
Pros

Cons

Easy to learn, use, and set up

Not ideal for larger businesses

Optimized for WordPress websites

Limited features for more complex websites

Reliable, low-cost plans that come with

many features

Not ideal for websites with very heavy traffic
Who Bluehost Is Best For
Small businesses and hobbyists: Ideal for first-time users who need a reliable yet simple business website or online presence.
Businesses that use WordPress as their content management system (CMS): It is seamlessly connected and optimized for WordPress-based sites, which provide users with reliability and steady website performance.
Bluehost Pricing
Bluehost pricing is based on six types of hosting solutions with various tiering for each: Shared ($7.99-$23.99/month), WordPress ($7.99-$14.99/month), WordPress Pro ($29.99-$59.99/month), WooCommerce e-Commerce ($13.99-$31.99/month), Virtual Private Server ($29.99-$119.99/month), and Dedicated ($119.99-$209.99/month).
Hosting Solutions

Pricing
($/Month)

Shared

$7.99 to $23.99

WordPress

$7.99 to $14.99

WordPress Pro

$29.99 to $59.99

WooCommerce e-Commerce

$13.99 to $31.99

VPS

$29.99 to $119.99

Dedicated

$119.99 to $209.99
Each type of Bluehost hosting solution comes with specialized features that suit the users' needs. The company also offers discounts from time to time. Visit its website to know if there's one on offer today.
Shared Hosting
Bluehost's Shared Hosting plans are ideal for users who are just getting started on maintaining a website or online presence. It is made specifically for blogs, hobbies-based website, and even small business websites.
WordPress Hosting
The standard WordPress plans include plugins, themes, and extensive third-party integrations, to help users to build, grow, and manage reliable WordPress websites.
WordPress Pro
Its WordPress Pro plans feature advanced security, analytics, and social media integration—designed to ensure that WordPress websites load faster than on other traditional hosting services. It features solid-state drives (SSDs) and a lower server density, meaning fewer customers per server to optimize load times.
WooCommerce e-Commerce
The WooCommerce plans provide various ecommerce tools that handle end-to-end online store requirements, from inventory management to payment methods and overall store appearance.
VPS Hosting
Its Virtual Private Server (VPS) plans provide users with secure servers using SSD storage, allowing users to have increased power, flexibility, and control for their websites.
Dedicated Hosting
Its Dedicated Hosting plans provide a hosting environment that has a high level of resource allocation, privacy, and control. The servers are isolated from one another, so users get full access to configure their server anyway they want without affecting another user or being affected by the actions of other users.
All plans come with one free domain registration for the first year, free secure sockets layer (SSL) certificates, and 24/7 customer support.
Bluehost Alternatives
Bluehost Features
Bluehost provides users with an extensive set of tools, from the basics to advanced features for them to be able to run and maintain reliable and optimized websites. These include domain management, security certificates, auto installation, and staging environments.
Domain Management
Its domain manager lets users track, update, transfer, purchase, and administer all of their domains in one place.
SSL Certificates
Powered by Let's Encrypt, each SSL certificate provided by Bluehost helps secure the connection between websites and users' visitors. This helps keep personal information, ecommerce transactions, and other sensitive data secure.
Automatic WordPress Installation
Upon creation of a WordPress Hosting plan, Bluehost automatically installs the latest and most secure version of WordPress. It is also seamlessly integrated, which ensures users that their account is updated every day.
Staging Environment
A staging environment allows users to test their website before publishing it live for everyone to see. It lets them preview any changes or updates safely.
Most Helpful Bluehost Reviews
Simple website host ideal for users establishing their first website
Those who left Bluehost reviews highlighted its ease of use and simplicity of the dashboard. They said that it is ideal for small businesses who need to establish a professional presence online, but don't need a complex and advanced web hosting provider yet. They also like the deals offered to new subscribers, such as one-year free domain hosting and SSL certificates. Users like that while it enables users to embed many useful features in their site, it can maintain a simple backend that is easy to navigate for users, no matter how basic or advanced their technical know-how is.
Not ideal for businesses that have very heavy website traffic
While most users find the software excellent, some users left negative Bluehost reviews as well. Some users mentioned that its simplicity could be a disadvantage for users who want to include advanced programming codes to their website. They also said that it is mostly ideal for websites that don't have heavy traffic, so businesses that have a lot of monthly visitors should consider a more advanced web hosting provider. It is notable, however, that negative reviews are rare, and users like the software in general.
Bluehost Frequently Asked Questions (FAQs)
How many websites can I host?
Depending on their chosen plan, Bluehost users can host one to unlimited websites with a single hosting account.
Can Bluehost assist users with existing domains?
Bluehost can assist in migrating existing domains to its server. It has a domain manager that makes it easy to track, update, transfer, purchase, and administer all of a user's domains in one place.
How does Bluehost help users market their website?
Bluehost provides users with $100 for Microsoft Advertising and $100 for Google Ads when they spend their first $25 on a new Microsoft Advertising and Google Ads account.
Our Top Web Hosting Picks
If you aren't sure if Bluehost is right for you, this article on the Best Web Hosting Companies is a review of our top six choices. Our team looked at a variety of solutions and narrowed down our recommendations based on price, storage, uptime, and extras like free domains.