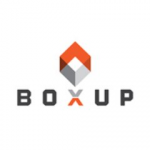 BoxUp is an order fulfillment service that provides customized packaging solutions. It uses custom, digital-printed packaging technologies on various styles and sizes of mailers and shipping boxes. It costs $25/box with discounts given for bulk orders and is best for businesses in the events industry, as well as small business shop owners.
BoxUp Pros and Cons
| Pros | Cons |
| --- | --- |
| Great customer service | Exact color matching not available |
| Quality, customized, and full-colored printing on boxes | UV care for color protection on boxes comes with a minor odor |
| Affordable with a low order minimum | While there are design templates available, it cannot customize designs in-house |
Who BoxUp Is Best For
Businesses in the events industry: Those in the events industry can benefit from using BoxUp's services to provide custom-made boxes for gifts, commemorative items, and souvenirs without needing to bulk order by the hundreds.
Small business shop owners and businesses offering subscriptions: Subscription-based businesses can do well by packaging their kits using their brand. This will amplify their appeal and make for quality visuals for marketing.
BoxUp Pricing
BoxUp pricing varies based on six box types: shipper boxes, end-open mailers, top-open gift mailers, display mailers, square mailers, and carry-handled boxes. These come in different sizes, with prices that start at $25 per box. There is no minimum order quantity. However, bulk orders are by the dozen.
To know more about BoxUp's detailed pricing information based on specific requirements, visit its website, or get in touch with the company.
Shipper Boxes
Shipper boxes are offered in three different sizes. This customizable, compact, and slotted carton container is ideal for small electronics, activation kits, ceramic dishes, pottery and glass art, and gifts that include multiple items. It has the most depth for large sizes of content.
End-open Mailer Boxes
The custom-printed mailer comes in three different sizes: 9 X 7 X 2.25, 11.25 X 9 X 3, and 12 X 12 X 2.25. It is ideal for shipping documents and binders that one might ship in a classic UPS or FedEx style box but comes with its own branding. It also works great for thin apparel items, such as shirts, plaques, framed art, leather-bound items, and books and journals up to 1-inch in depth.
Top-open Gift Mailer Boxes
These boxes come in a variety of five different sizes: 4 X 4 X 4, 4 X 4 X 8, 6 X 3 X 5, 6 X 6 X 6, and 12.5 X 4.25 X 4.25. These boxes are ideal for client gifts and event promotions. With a tuck-style closure, these boxes provide compact protection.
Display Mailer Boxes
Display mailer boxes come in 11 different sizes. This is the most popular mailer box for ecommerce because of the top-open reveal. This can help customers frame their unboxing pics with a basic white or a splash of color, which is ideal for social media purposes. This is recommended for subscription boxes and curated gift sets with styled items.
Square Mailer Boxes
With a side open reveal, a square mailer box contents get a nice unboxing experience together with a large expanse of branding space on top. It comes in five different sizes with a top-tuck closure style. This sturdy, shallow structure is great for containing short and wide items.
Carry Handle Boxes
This e-flute corrugated box is built for heavy contents or contents in need of extra protection, such as high-value ceramics, box lunches, trade show gifts, and more. It comes in three sizes.
BoxUp Alternatives 2020
| Fulfillment Company | Best For | |
| --- | --- | --- |
| | Small and medium-sized ecommerce sellers and crowdfunding programs that need batch fulfillment | |
| | Ecommerce sellers with special packing and handling needs | |
| | Fulfillment matchmaker to help you find the best provider | |
BoxUp Features
BoxUp features are designed to make packaging orders secure and ensure that they are aligned with the company's branding guidelines. Here is a deeper explanation of BoxUp's most important features.
Multiple Box Types in Different Size and Colors
BoxUp offers boxes in six designs and 25 sizes. It has print-ready white boxes available but, if a client prefers Kraft board or another material, BoxUp is willing to discuss options.
Customized Design and Printing
BoxUp uses the four-color―or CMYK for cyan, magenta, yellow, and black―process to print on boxes. This process combines these four colors to create a wide variety of hues and shades. A BoxUp box gets an ultraviolet (UV) ray cure applied to provide a brighter, purer color design.
Unique and Professional Templates
BoxUp offers professionally designed templates that users can pattern off for their own designs. It also lets them upload their own design for the boxes.
Minimum Bulk Order Option
BoxUp lets users order single boxes. It also offers a low bulk order option by the dozen, starting at 12 boxes.
Most Helpful BoxUp Reviews
The majority of BoxUp reviews online are positive and heavily concentrated on its Facebook page. Its customers have left good reviews about the quality of products and services the company provides. As of this writing (Jan. 12, 2020), there are no negative reviews available online.
Affordable with low-order minimums, quality is great and impressive
Most positive BoxUp reviews raved about how impressive its boxes are. They said that orders are high-quality, with vivid colors and impressive designs. They also appreciate its affordable options and low-order minimums.
Customer-centric service
BoxUp reviews often commented on how helpful and prompt the customer support team was. Most of them shared that its support team handled queries and additional requests for edits or order changes promptly and professionally.
BoxUp Frequently Asked Questions (FAQs)
What are the boxes made from?
BoxUp's branded boxes are made out of 200# corrugated cardboard. They are somewhat stronger than the standard boxes typically received in the mail. This means there's no need for an outer box to ensure a package arrives intact. All boxes have at least 50% recycled content and are 100% recyclable.
Can BoxUp do exact color matches?
BoxUp is not able to provide strict color matches. However, its digital printing process means design colors will always look vibrant and beautiful.
How long does box printing and shipping take?
BoxUp typically prints boxes within 10 days of receiving an order. Clients receive an initial order confirmation email once they purchase. Then, they get another confirmation email when the art has been approved—moving into the production queue. The 10-day period starts as they receive this email.
Shipping can take up to five business days and is shipped via UPS. For orders exceeding 2,000 or more, BoxUp anticipates processing, and production can take up to 21 days.
Our Top Order Fulfillment Service Provider Picks
If you aren't sure if BoxUp is right for you, this article on the 5 Best Order Fulfillment Services & Companies is a review of our top choices. In this guide, we shared our top recommendations based on costs, specialty services offered, strengths, and order or account minimums.