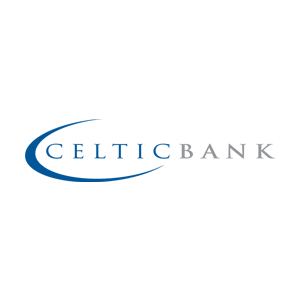 Celtic Bank is a nationwide lender that specializes in Small Business Administration (SBA) loans. It also offers other lending solutions, such as asset-based lines of credit, express loans, conventional equipment financing, commercial construction funding, and United States Department of Agriculture (USDA) loans. It lends up to $5 million and is best for businesses with strong cash flow and good to excellent credit scores.
Celtic Bank Pros and Cons
| Pros | Cons |
| --- | --- |
| Lends up to $5 million | Long approval and funding process |
| Long repayment terms and competitive rates | Stringent requirements |
| Varied lending options | Collateral required |
Who Celtic Bank Is Best For
Businesses with steady cash flow and good to excellent credit scores: SBA loans are generally more tedious to qualify for compared to other types of loans and require higher requirements and qualifications from borrowers. Having a good business standing and strong collateral gives you a higher chance to qualify for a loan and get better rates.
Those looking for an experienced SBA lender: Celtic Bank is a part of SBA's Preferred Lending Program (PLP), which means that it has the authority to underwrite your SBA application. This allows it to process SBA loans faster than non-PLP lenders.
Celtic Bank Costs and Terms
Lines of Credit

SBA 7(a) Loans

Loan Amounts

$250,000 to $5,000,000

$350,001 to $5,000,00

Rates

Variable

Fixed or variable

Repayment Terms

One to 10 years

Up to 25 years

LTV

Up to 80% of accounts receivable
Up to 50% of inventory

Up to 90%

Collateral Required

✓

✓

Eligibility

Commercial accounts receivable

Owner-operated and for-profit
Celtic Bank's costs and rates are not readily available on its website but are said to include an origination fee (0.5% to 3.5%) and other possible bank fees (customized). The lender can lend up to 90% loan-to-value (LTV) ratio for its SBA 7(a) loans with up to a 25-year repayment term.
It requires your business to be owner-operated and be for-profit and that you can provide collateral, such as commercial real estate, inventory, and furniture, fixtures, and equipment (FF&E).
On the other hand, its asset-based line of credit program requires your business to have commercial accounts receivable and inventories, which will serve as your collateral. It can cover up to 50% of your inventory, 80% of your accounts receivable, and 100% purchase orders (POs) of your cost of goods sold (COGS).
Do You Qualify for Celtic Bank Financing?
| | |
| --- | --- |
| Minimum Credit Score | 640 |
| Time in Business | At least two years |
| Gross Annual Revenue | Varies by loan amount |
Aside from the loan program-specific requirements mentioned above, Celtic Bank's qualifications are usually the same as the main prerequisites set by the SBA. Generally, it looks at your credit score, track record, management and employment history, business loan purpose, profitability, years in business, and other personal characteristics. You and your business should also have no bankruptcies or foreclosures in the past three years, recent charge-offs or settlements, criminal records other than minor vehicle violations, and delinquencies on existing debts with the US government.
Celtic Bank Application Process
There are two ways to apply: online or via phone. If you opt for the former, then you'll need to fill out an application form where you will be asked to provide your personal and business information, revenue, desired loan amount, and contact details. After you submit the form, a Celtic Bank representative will reach out to ask additional information, collect documentation, probably let you sign additional forms, and guide you to complete the application.
The application will then be submitted for review, and if approved, you will receive an offer. After that, there will be an underwriting process where financial histories are reviewed in-depth, and loan terms and conditions are laid out. Finally, when everything is prepared and signed, your loan is ready to go.
Tip: It would be helpful if you keep the following documents handy during your application:
Profit and loss (P&L) statement
Balance sheet
Financial projections
Ownership and affiliations
Business certificates and licenses
Loan application history
Personal and business income tax returns
Your resume
Business overview and history
Copy of your business lease if you lease a property
Bank statements
Schedule of business debt
Celtic Bank Alternatives 2020
Best For

Businesses that need to borrow against their invoices or need a low-rate line of credit quickly

Businesses with good credit that need fast financing and low rates

Newer businesses with less-than-perfect credit that need fast funding

Loan Amount

Up to $5 million for invoice factoring;
up to $250,000 for line of credit






Up to $500,000

Up to $100,000

Terms

Six or 12 months for line of credit

Three to 36 months

12 or 24 weeks

Funding Time

One day

One day

One day

Credit Score

530+ for invoice factoring

600+

No minimum credit score requirement
What Business Owners Should Know About Celtic Bank
It is a reputable and seasoned SBA lender: It has ranked as one of the top 10 SBA lenders nationally since 2013 and was named the sixth-largest SBA lender in the nation for fiscal year 2015. It has a proven track record in a wide range of industries, which makes it a good place to start with your SBA loan query.
Celtic Bank is Federal Deposit Insurance Corporation (FDIC)-insured and an SBA Preferred Lender: It is allowed more control by the SBA than other lenders in issuing and approving SBA loans. This is part of what makes it one of the top SBA lenders in the market.
It also specializes in commercial construction loans: The lender offers up to $5 million with up to 25 years terms for ground-up construction, tenant improvements, purchases, renovations, and acquisition or installation of equipment. It can lend up to 90% LTV with draws happening within 24 hours in most cases.
Most Helpful Celtic Bank Reviews
We compiled online Celtic Bank reviews and found that it has a mix of positive and negative ratings. Clients who gave a positive review commended its great customer support while those who left negative feedback complained about inconsistent requirements and underwriting process.
Offers comprehensive asset-based lending programs
One customer who wrote a positive Celtic Bank review on ConsumerAffairs appreciates how the lender was able to provide him with an SBA program that allowed him to borrow on receivables and inventories, as well as with purchase order financing, at very reasonable rates. He added that in his more than 20 years of working with other lenders, only Celtic Bank was able to provide him with such an offer, helping his company to achieve much growth.
Not transparent with requirements and denial reasons
One client who left a negative review of Celtic Bank on ConsumerAffairs expressed his disappointment with how the lender managed his application. He shared that he was initially prequalified twice―for two separate loan amounts―but ended up being rejected. He couldn't also get a concrete reason for his loan denial, which adds up to his frustration knowing that he has met all the requirements the lender has set.
Celtic Bank Frequently Asked Questions (FAQs)
What other loan programs does Celtic Bank offer?
It provides SBA 504 loans up to $10 million, USDA Business and Industry (B&I) loans up to 10 million, conventional equipment financing up to $3 million, express term loans up to $150,000, and advantage loans up to $350,000.
What types of equipment does it finance?
It provides funding for equipment used in crane and lifting, transportation, construction, earthmoving, drilling, concrete and asphalt, pumping, material handling, machine tools, logging and forestry, aviation, modular buildings, information technology, software, healthcare, FF&E, and more.
For what purposes can I use an SBA 7(a) loan and a line of credit for?
You can use an SBA 7(a) loan as working capital, to refinance as well as for business acquisition, real estate purchases and construction, equipment procurement, and inventory. The line of credit program, on the other hand, can be used as working capital for accounts receivable and inventory and to refinance an existing credit line or high-cost factoring line.
Bottom Line
Celtic Bank is great for those who are looking for good rates and long repayment terms. However, it may not be the right fit for those who need quick funding since the application and approval process can take weeks or even months to complete, which is an SBA loan's common characteristic. Another thing to expect is that it has stricter qualifications.
On the other hand, Celtic Bank is one of the few SBA lenders that offers an online application, which helps the process speed up a bit. It is also an SBA Preferred Lender with a proven track record in issuing and approving SBA loans.
While its website does not offer enough information regarding its rates and fees, it does have a commendable customer service team available to answer questions. If you aren't sure if Celtic Bank is right for you, this article on the best SBA lenders: top 100 SBA lenders is a review of our top choices. Our team looked at a variety of solutions based on rates, loan amounts, and repayment terms.