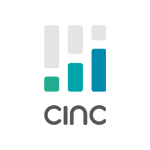 CINC (Commissions Inc.) is a comprehensive real estate lead generation platform designed to streamline client engagement. Real estate professionals can also run their businesses and manage leads from anywhere using CINC's mobile applications. Reported pricing ranges from $600 to $1,200 per month. It works best for on-the-go and high-performing real estate agents and brokers.
CINC Pros and Cons
| Pros | Cons |
| --- | --- |
| Comprehensive marketing platform | Expensive pricing |
| Mobile connectivity through iOS and Android apps | Steep initial learning curve |
| Helps track individual agent performance | Sales funnels are difficult to implement |
Who CINC Is Best For
On-the-go and high-performing real estate teams: CINC has a mobile app that tracks priorities and helps manage pipelines so that agents can attend to every sales opportunity even when on-the-go. Agents who are out most of the time can also communicate with clients, set reminders, and nurture leads using this tool.
Real estate brokers who manage sales teams: CINC's platform keeps track of both agent and customer activities—helping brokers determine the best strategies to close deals faster.
CINC Pricing
CINC's pricing is not published on its website. However, a third-party website estimates its pricing between $600 and $1,200 per month for single agents and about $1,500 per month for larger teams. Lead generation management costs an additional $500 per month. You may contact CINC for a customized quote.
CINC Alternatives 2020
| Real Estate Lead Generation Software | Best For |
| --- | --- |
| | Best for real estate agents seeking buyer or seller leads exclusive to their ZIP code |
| | Agents building a website with lead generation using Google Ads and Facebook Ads |
| | Agents seeking a free CRM with lead generation from Zillow |
| | Brokers and agencies seeking more in-depth lead information, such as social profiles |
| | Agents seeking leads and outsourced, professional marketing support |
CINC Features
CINC specializes in lead acquisition and management solutions for real estate agents. It helps convert leads into customers and helps in automating agent tasks, such as lead generation and management. It also incorporates customer relationship management (CRM) to keep your customers satisfied.
CRM
CINC has integrated communications features that help agents communicate with their clients. Users can send messages to their leads through email, text, phone calls, listing alerts, and drip campaigns. It also allows them to send custom messages based on specific triggers or client behavior.
Lead Generation and Marketing Campaigns
CINC helps agents acquire more leads through search engine optimization (SEO), marketing campaigns, and social media integration. Users can create pocket listings that increase interest for properties even before they are made available in the market. Agents can also utilize social media to increase listing visibility.
Mobile Solutions
CINC offers mobile applications that can help increase agent productivity while on the go. Its CINC Agent app helps manage leads through the app itself. Open Houses is another app that helps capture the contact information of interested home buyers during live events. Etta Homes, meanwhile, organizes listing and home search details.
Most Helpful CINC Reviews
The majority of CINC reviews online are positive, with many saying that it is useful in securing more clients and in making sure that their clients are happy. They also find its mobile integrations helpful because it connects them with customers through texts, calls, and emails. Some, however, encountered bugs and others reported problems in its automation features. A few negative reviews relate to minor adjustments to its user interface or the platform itself.
It helps keep track of client interactions and behavior
CINC users who left reviews on various websites are generally happy with its services. Agents find a lot of its features useful. Even those who gave negative reviews reported that the platform is of great help to real estate agents. One reviewer shared that agents can get a lot of work done using the system and its dashboard. She added that it tracks client interactions and alerts agents of their client's actions.
Automated emails are not personalized
One reviewer complained that its automated emails are recognizably automated—letting clients know that the message did not come from the user but was generated electronically. She reported that its sales drip features need improvements—stating that it should segregate people to whom the agent has spoken with and those that they have not contacted yet.
CINC Frequently Asked Questions (FAQs)
Can CINC engage those who are not yet ready to purchase a property?
CINC has an artificial intelligence (AI)-driven advertising solution called ListCast. This tool identifies relevant property ads based on your website visitors' search history and activities—keeping leads engaged even when they are not yet ready to purchase a property. ListCast makes sure that your prospects will keep coming back to your site until you find an opportunity to close a deal with them.
Can I use CINC to call leads?
Agents can connect their existing phone numbers to the CINC platform. From its dashboard, select the lead you want to call and create a dialer campaign. The system will automatically transfer the call campaign to the agent's registered number.
Can CINC be used to manage agents' performance?
CINC allows brokers to manage and monitor their agents through lead assignment tools and agent activity logs. This allows managers to assign tasks to agents and tracks their activities in relation to their assigned tasks.
Our Top Real Estate Lead Generation Service Picks
If you are not certain whether CINC is right for you, this article on the 39 Best Real Estate Software & Tools for Top Agents in 2019 is a review of our top choices. Our team looked at a variety of solutions and narrowed down our recommendations based on price, features, and customer support.