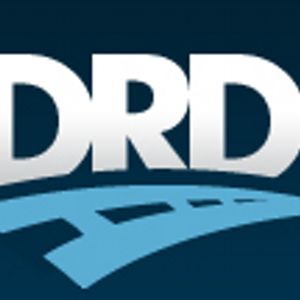 Dr Dispatch Pros and Cons
| Pros | Cons |
| --- | --- |
| Easy to use | Printing driver check payments require QuickBooks |
| Has templates for common loads and carrier lanes | Doesn't compute payroll taxes |
| QuickBooks integration | Charges add-on fees for customizations, data migration, and additional tools—such as GPS tracking and less than full truckload (LTL) planning |
Who Dr Dispatch Is Best For
Startups and SMBs: Dr Dispatch offers a comprehensive platform to help you efficiently manage trucking operations—from dispatching and equipment scheduling, to invoicing and driver payroll. It also integrates seamlessly with QuickBooks, enabling you to easily generate invoices, track account receivables and payables, and process check payments for drivers.
Dr Dispatch Pricing
Dr Dispatch's pricing page shows fees start at $99 per month. You can enhance the platform's functionality by purchasing add-on modules—such as LTL planning, trucking maintenance, fuel imports, and GPS tracking. The provider also charges extra for data migration, customizations, and training.
All paid subscriptions include access to Dr Dispatch's core transportation tools (like dispatch load entries, load sheets and templates, revenue reporting, simple accounting, customer billing, driver payroll, and an inter-office load board). You also get unlimited customers, shippers, and receivers. If you're interested in trying out Dr Dispatch, then you can sign up for its 15-day free trial.
Dr Dispatch Features
Dr Dispatch offers a wide range of transportation and brokerage dispatching tools that aim to streamline and improve your trucking business processes. Let's look at some of its features to help you determine whether or not it's the right platform for your business.
Load Management and Tracking
With Dr Dispatch, you can easily and quickly input, manage, assign, and track your loads. It also has recurring load templates, wherein you can create templates for common loads and build a new load entry from an existing template. This functionality can help reduce the time needed to enter load data into the system.
Driver Check Calls
You can use it to monitor driver check calls, and the platform will record the date, time, and location of all calls. You can even email your drivers directly from this function.
Mass Email
Keep carriers up-to-date with your available loads through email. With just one click, you can send an email to some or all of your carrier partners.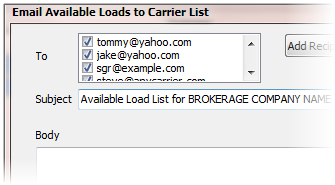 Contact Management
This lets you manage and organize contact and customer information more efficiently. It comes with a search tool that allows you to filter and group data using different parameters (such as by client and load per specific state). You can also use it to monitor customer credit reviews, carrier insurance packets, and driver compliance.
Accounting and Invoicing
Dr Dispatch has a simple accounting tool for generating invoices and tracking account receivables and account payables. However, you can opt to integrate its platform with QuickBooks to further streamline your trucking accounting processes. This integration enables you to easily export invoices, carrier bills, and driver settlement amounts for payroll from Dr Dispatch.
International Fuel Tax Agreement (IFTA) Reporting and Compliance
With this, you are assured that fuel tax reports are accurately accomplished. And, aside from Dr Dispatch's built-in audit tool, the platform integrates with mileage and fuel tracking solutions, which makes it easy for you to capture relevant information (such as fuel gallons pumped and miles driven per state).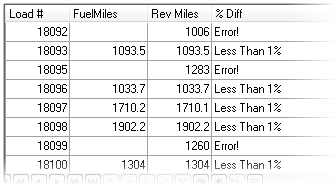 Sales Agent and Driver Payroll
It supports the following pay options: by percentage, mileage, volume (either by weight or number of pieces), customer, and a flat rate. Moreover, its platform can handle batch driver settlements, reimbursements, driver pay advances, and recurring deductions. It, however, doesn't compute and file payroll taxes. It also doesn't have driver check printing capabilities, so you will need to integrate QuickBooks into its platform to perform this task.
Integrations
Here are some of its third-party integrations:
Accounting: QuickBooks
Fleet and logistics management: 4Kites, MacroPoint, and PeopleNet
Fuel purchase tracking: Comdata, FleetOne, Multiservice, and T-Chek
Internet load boards: 123LoadBoard, Getloaded, Internet Truckstop, and Transcore 3sixty
Truck routing and mapping: PC Miler and ProMiles
Summary of Dr Dispatch Reviews
As of the date this article was written (July 28, 2020), there are no up-to-date Dr Dispatch reviews available online. If you are a past or current Dr Dispatch customer, then leave a review to help others who are deciding whether or not to use the software.
Dr Dispatch Frequently Asked Questions (FAQs)
What are its hardware requirements?
At the very minimum, you should have a computer that runs on Windows (versions 7, 8, or 10) with 1GB hard disk space and at least 4GB RAM. Dr Dispatch also requires a broadband internet connection such as DSL, cable modem, or other high-speed internet services.
I plan to get only one Dr Dispatch license. Can I purchase additional computer licenses when I need it?
If you subscribe to its Software Assurance plan, then you can purchase additional licenses. You may contact Dr Dispatch to request a quote for this option.
What if there are system updates to Dr Dispatch's platform?
If there are updates to its platform, then you can upgrade your system to its latest version at any time—provided that you have a support contract with Dr Dispatch.
Our Top Trucking Payroll Software Picks
If you aren't sure if Dr Dispatch is right for you, then this article on the best payroll software for trucking companies is a review of our top choices. Our team looked at a variety of solutions and narrowed down our recommendations based on price, customer reviews, and features such as pay categories and garnishment processing.