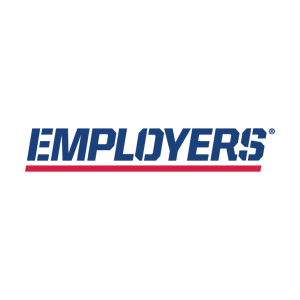 EMPLOYERS is a small business insurance company that was founded to ensure that workers' compensation policies are easy to obtain and maintain. It has been in business for over a century, offering several payment schemes like pay-as-you-go automation in 46 states, including the District of Columbia. It is best for medium-risk businesses and business owners with seasonal workers.
EMPLOYERS Pros and Cons
| Pros | Cons |
| --- | --- |
| State-specific claim forms available on the site | Does not offer any other type of policies to small businesses aside from workers' compensation |
| Has a 24/7 multilingual claim reporting center | Need to be contacted by an insurance agent to process your application |
| Has a team that specializes in fraudulent claims costs | |
| Can access policies and status of payments via EACCESS (EMPLOYERS' portal for its clients) | |
Who EMPLOYERS is Best For
Medium-risk businesses like restaurants: Through the EMPLOYERS' Loss Control Connection, policy owners are given a comprehensive online risk management resource that is designed for your unique business needs.
Businesses with seasonal workers like retail: Through the pay-as-you-go program provided by EMPLOYERS, business owners can get smaller, more frequent premium payments by paying each payroll period.
EMPLOYERS Pricing
EMPLOYERS offers four different payment plans for policyholders: 100% down payment (annual pay), 30% down payment + 3 equal installments (for policy sizes > $1,000), 10% down payment + 9 equal installments (for policy sizes > $2,500), and 0% down payment + pay-as-you-go (for policy sizes > $1,000).
EMPLOYERS calculates their workers' compensation coverages based on multiple factors: type of business (and its corresponding risk), business annual payroll, and claims history, among others. It also doesn't publish workers' compensation prices on the site but indicated that quotes would be available after the application has undergone underwriting guidelines.
Business owners may be able to get a quote through its online tool, and application and request for quotes will be processed with an independent insurance agent.
Are you ready to get started with EMPLOYERS? Get a quote.
EMPLOYERS Alternatives 2020
Workers' Comp Insurance

Best For

(Best overall) Small to midsize businesses that seek to bundle several business policies

Exceptional claims process for businesses in a wide variety of industries

Small business owners who want personal and business policies at one company

Business owners who want to check their current rate for workers' comp

Companies that need insurance immediately to meet legal requirements with new hires

Small business owners seeking help with medical and disability management

Last updated on 04/15/20
In addition to workers' compensation insurance, your business might also require other coverages discussed in this article on the best small business insurance companies.
EMPLOYERS Features
EMPLOYERS is one of the few insurance providers that specializes in providing cost-efficient workers' compensation to small businesses. On top of this, EMPLOYERS provides a laundry list of industries and businesses that they can provide customized Workers' Compensation policies. Below is a list of its most notable features.
Premium Payment Program
PrecisePay is EMPLOYERS' pay-as-you-go premium program that allows their policyholders to customize their payments for each payroll period. It uses the businesses' actual payroll figures to calculate the workers' compensation premium for each employee. It should be noted that the minimum estimated annual premium for a policyholder to participate in PrecisePay is $1,000.
Return to Work Program
In partnership with Coventry, EMPLOYERS offers Off-Site Transitional Duty Program that helps employees with temporary medical restrictions to be matched with short-term work assignments. Through this, employees will not only have work but also reduce lost time days. During this time, employers determine the hourly rate based on the actual hours they have worked, with the Temporary Partial Disability benefit covering the difference.
InsurCard debit card
EMPLOYERS offers the option to provide workers' compensation benefits via a debit card. Through this, injured employees will receive a deposit on their card instead of a check when payment is made on their claim. They can also use this card for cash disbursement, bank transfer, or through ATMs or merchants that can accept debit Mastercard.
Most Helpful EMPLOYERS Reviews
As of the date that the article was written (May 2020), there are a few negative reviews on the policyholders' experience with EMPLOYERS—mostly on claims processing and audits. If you are a previous or current EMPLOYERS customer, leave a review to help business owners decide whether or not to use the provider.
EMPLOYERS Frequently Asked Questions (FAQs)
Every business situation is unique, and small business owners should seek out answers before selecting an insurance provider. We've gathered some of the most frequently asked questions about EMPLOYERS below and answered them.
How do I submit payroll information to PrecisePay?
Policyowners can submit payroll information through a secure website in three ways: uploading a file from the payroll service providers' system, filling out and uploading an interactive Excel template that is provided by EMPLOYERS, or manually enter the information needed.
How does the Off-Site Transitional Duty Program select a facility for the injured employee?
It is selected based on the nearest facility from the location of the employee's residence that can accommodate their physical restrictions.
Our Top Workers' Compensation Insurance Provider Picks
In case you still are not sure if EMPLOYERS is right for you, then this article on the best workers' compensation insurance providers is a review of our top choices. In this guide, we reviewed several providers and narrowed them down to our top picks based on key criteria like the excellence of coverage, availability of safety training for employers, and the process of buying and paying for the premiums.