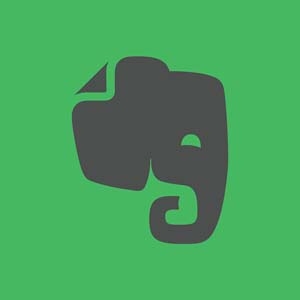 Evernote Pros and Cons
| Pros | Con |
| --- | --- |
| Offline mode access | Limited third-party integrations |
| Auto-sync between devices | |
| Secure cloud storage | |
Who Evernote Is Best For
Freelancers, entrepreneurs, and remote teams: Freelancers and entrepreneurs with a lot of ideas can organize their thoughts in Evernote and easily share them with people they work with such as fellow freelancers and one-off project collaborators. It also has an offline mode access feature that can help them save ideas whenever and wherever. Meanwhile, remote teams that need a library for collaboration ideas can use Evernote as their reference.
Organizations that need storage and workspaces: Teams that need to do a lot of brainstorming and research for projects can benefit from Evernote's workspaces. Team members can collect their ideas from all over the web or from their handwritten notes and easily save them into the platform. These ideas can easily be organized, shared, and seen within the team, and other team members can even annotate notes.
Evernote Pricing
Evernote's pricing page shows a free plan and two paid subscriptions with monthly fees that start at $7.99. The main differences between the plans include monthly upload limits, the numbers of collaboration spaces and devices included, and access to premium features, like team collaboration and an offline mode.
Evernote Basic

Evernote Premium

Evernote Business*

Pricing
($/Month)

$0

$7.99

$14.99 per user

Monthly Upload Limit

60MB

10GB

20GB + 2GB per user

Maximum Note Size

25MB

200MB

200MB

Numbers of Collaboration Spaces

0

0

Unlimited

Numbers of Devices per Account

2

Unlimited

Unlimited

Offline Access

Desktop Only

Desktop and Mobile

Desktop and Mobile

Customer Support

Community Support

Email and Live Chat

Email and Live Chat
*A minimum of two users is required.
Basic
Evernote's free plan is ideal for taking and organizing notes. You can record audio notes, create to-do lists, collect web clippings and screenshots from any browser or device, highlight or comment on images, and take notes with your stylus on mobile devices.
Additionally, all your notes can be organized using notebooks and tags and sorted by date, title, or tag. You can also share your notebook with one or more people and set permissions for editing.
Premium
This tier is recommended if you want to take note-organizing up a notch. Along with Basic features, you can now forward emails to your Evernote account, annotate PDFs, scan and digitize business cards, and create contact notes.
Moreover, you can search for text inside PDFs and Office docs and access your notes' version history. AI-suggested content and integrations such as linking to Google Drive files and connecting with Outlook and communication platforms are also included.
Business
If you want to bring your team together in Evernote, then Business is for you. Aside from the functionalities included in Premium, you get team collaboration and administration capabilities. Such include permission-based access to content, collaboration spaces for team projects and workflows, centralized account administration and user management, single sign-on, activity history, and business data ownership.
Evernote Features
Evernote's features are designed to help you organize notes such as documents, images, handwritten notes, links, and audio in a central platform and share it with your teammates. I have listed the platform's most notable functions to help you decide if it is the tool your business needs.
Sync and organize notes, images, documents, and more

Seamlessly move between devices
Automatically saves notes online and makes them available on all your devices
Create checklists and to-do lists
Record audio
Organize notes into notebooks and tags
Find notes by searching for titles, dates, content types, and keywords—including words in pictures and handwriting

Web clipper: This feature is a save button for the web. It allows you to save website screenshots directly to your Evernote account and annotate them if needed.
Templates: There are fully-customizable templates for creative writing, getting things done (GTD), management resources, meetings, and more.
PDF and Doc search: Evernote's paid plans let you search for text in PDFs, Office docs, images, presentations, and scanned documents.
Spaces: These are collaboration workspaces for teams.
Search handwriting (OCR technology): Evernote can identify 28 typewritten and 11 handwritten languages. You can also choose which language is used by changing the Recognition Language setting.
Document scanning: You can capture all your handwritten ideas and notes with Evernote's built-in camera on Android and Apple devices.
Third-party integrations:

Gmail
Outlook Mail
Salesforce
Google Drive
Slack
Microsoft Teams
Most Helpful Evernote Reviews
The majority of Evernote reviews I read online are positive, with many raving about how the app helps them research, curate, and organize information. Some users also mentioned that the seamless syncing between devices and offline mode access are convenient features. On the flip side, a common complaint I have read about Evernote is its lack of third-party integrations. Most users would like native integrations to be added.
Secure cloud storage; easy sync between devices
"What I like about Evernote is that everything I do goes to the cloud; and with this, I can be sure that I will always have my ideas and notes stored in a place where I can always review them. I also like that everything becomes easier at work since I coordinate all my work with to-do lists and reminders. You can synchronize notes between your computers and phones with Evernote. I can also use the fingerprint to unlock the application, allowing me to maintain security when saving my information. You can embed images, take audio notes, and connect to Google Drive. Its easy-to-use format helps me simplify and focus on what matters."

—Gary Evans
Limited third-party integrations available
"I would have liked some native integration to take the notes to other platforms. It's pretty hard to do it manually, and the third-party export tools are not reliable."

—Arun Gopalaswami
Evernote Frequently Asked Questions (FAQs)
In which countries is Evernote Business currently offered?
As of this writing (Aug. 6, 2020), Evernote Business is available to users with a billing address in any of the 79 countries listed on its website such as Australia, Canada, France, Germany, Japan, Korea, Netherlands, New Zealand, Singapore, United Kingdom, and United States.
Can I export data from a deactivated user's account?
Yes, you can. All business notebooks are available to the account administrators via the admin console, even if the original creator has been removed from the business. The notebooks can be exported from the "Notebooks" page of the admin console.
Is Evernote data encrypted?
Yes, it is. All communication between Evernote's client applications and servers is done over SSL, so your password and all data are secure in transit.
Our Guide to Project Management Software
If you aren't sure if Evernote fits your business needs, then check out our definitive guide to the best project management software to learn more about how it can sync with the other tools that you're using.