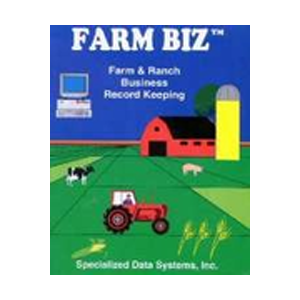 Farm Biz is a locally-installed farm accounting software that helps you streamline your bookkeeping activities, complete sales analysis, generate and print reports, and more. Its features include invoicing, check writing, and chart of accounts. It costs $249, and it's best for farmers and ranchers that need an entry-level accounting tool that is compatible with all Windows operating systems.
Farm Biz Pros and Cons
| Pros | Cons |
| --- | --- |
| Simple and easy to use | Lacks a payroll module |
| Offers a free trial | Vendor list customization is cumbersome |
| Patient and supportive customer support | |
Who Farm Biz Is Best For
Farms and ranches that need an entry-level software that is compatible with all Windows operating systems: Farm Biz runs on all Windows versions―even the older ones. It is said that even beginners can enter checking account data and start printing reports in a few minutes.
Farm Biz Pricing
The complete Farm Biz program is available for a one-time fee of $249. It includes a quick start guide with step-by-step instructions to help you easily learn how to use the software. You may purchase Farm Biz on its website.
Farm Biz comes in a jewel case with a pocket-size chart of accounts designed especially for farm businesses. It also includes a complete manual that is stored on your media. It runs on a desktop or laptop computer.
Farm Biz Alternatives 2020
| Farm Accounting Software | Best For |
| --- | --- |
| | Those looking for affordable accounting software for tracking cash sales and farm expenses |
| | Farmers without an accounting or bookkeeping background who want to set up and install software personally |
| | Seasoned farmers who need a software with budgeting and forecasting tools |
| | Ranchers and farmers who want an accounting software with an extensive library of reports |
| | Farmers or ranchers who need to access data on the go |
In addition to industry-specific software, your business might be served well by general-purpose small business accounting software.
Farm Biz Features
Farm Biz offers a wide range of features designed to help farm and ranch businesses generate budget forecasts, create and manage a master list of products and services, compute check amounts automatically, and more. Check out some of its most outstanding features to help you decide whether to purchase Farm Biz.
Invoicing
Farm Biz's invoicing module lets you create invoices with master lists of products and services as well as quantity and unit price. It allows you to manage discounts and shipping charges, compute interest charges on past due accounts, accept full or partial payments, and more.
Chart of Accounts
Its farm business-specific chart of accounts lets you create various reports, such as farm profit and loss and checkbook balance, monitor vendor activity and employee earnings, manage cash flow, and more.
Vendor Data Entry
This feature lets you effectively manage your checkbook registry by allowing you to store and manage vendor preference transactions. Farm Biz calculates these transactions automatically and then enters the data for you instantly.
Search Feature
You may search through all transactions using different criteria like item descriptions, check numbers, enterprise codes, item codes, vendor IDs, and dollar amounts.
Summary of Farm Biz Reviews
As of the date that this article was written (May 25, 2020), there are not many up-to-date Farm Biz reviews online. However, satisfied users mentioned that it is simple and easy to use and its customer support is responsive while a few complained that personalizing its vendor list is a bit cumbersome.
Farm Biz Frequently Asked Questions (FAQs)
What reports can I generate on Farm Biz?
You may generate reports on the following:
Vendor activity
Checkbook balancing
Farm profit and Loss
Net worth
Personal statement
Complete year detail
Employee earning
Actual cash flow
Cashflow plans
Sales analysis
Enterprise analysis
Purchase analysis
Money borrowed
What operating systems does it support?
Farm Biz runs on all Windows operating systems, including Windows XP, 2000, 7, 8, and 10. It also supports Mcintosh with any of the following programs: Boot Camp, Virtual PC, and Parallels Software.
Does it offer free customer support?
Its customer support is available for free for 30 days from your first call for help.
Our Top Farm Accounting Software Providers
In case you still aren't sure if Farm Biz is right for you, then this article on the best farm accounting software is a review of our top choices. In this guide, we looked at a variety of solutions and narrowed our recommendations down based on important factors like cost, ease of use, and the ability to import bank account transactions and accumulate costs by fields or herds.