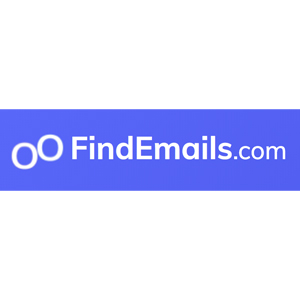 FindEmails is an email list service and lead generation software that allows users to search for correct email addresses of people they want to reach out to. Users can also buy business leads in the form of validated email lists. They can create their own list criteria or purchase existing predefined lists. Its pricing ranges from $29 to $99 per month. It is best for sales teams that need no-frills company lead and contact search.
FindEmails Pros & Cons
| Pros | Cons |
| --- | --- |
| Simple search features for finding leads from target companies | No discount for annual billing |
| Provides a feature to validate emails individually or in bulk | Deducts a credit every time you need to perform a basic action like verifying an email or performing a search |
| Has a Chrome extension | |
Who FindEmails Is Best For
Users with basic programming background: FindEmails offers access to its API to search for business emails, test emails, and extract prospects from webpages and its database. It has language examples in Shell, Ruby, and Python.
Sales, recruitment, and public relations professionals: FindEmails help you get in touch with decision-makers and generate qualified leads whenever you need them (sales); reach more quality candidates, land more interviews, and hire better talent (recruitment); and get hold of top journalists to get your story in front of the right eyeballs (PR).
FindEmails Pricing
FindEmails' pricing ranges from $29 to $99 per month. All plans have the same features, and the only difference is the number of credits allocated per month. Businesses with specific needs may contact FindEmails to inquire about a customized plan.
Basic

Better

Best

Monthly Pricing
($/Month)

$29

$49

$99

Credits

1,000

2,500

10,000
A credit is used whenever you do any of these three things: receive an email, verify an email, and get a prospect. For example, if you verify a list of 10 emails, that equates to 10 credits. If you generate a list of 50 prospects based on job role, company, or location, it counts as 50 credits.
If you need more credits than the amount included in your selected plan, you can purchase more at a cost of 2 cents per credit.
All plans offer API key and support, bulk imports and exports, as well as phone and email support.
FindEmails Alternatives 2020
| Places to Buy Business Leads | Best For |
| --- | --- |
| | Businesses that want to send verified leads directly to their CRM |
| | Businesses wanting an affordable, easy-to-use place to buy unlimited lead contact information |
| | Teams that need advanced search filtering to identify territory-based leads |
| | B2B sales professionals needing to identify lead contact information through social media networks |
| | Businesses wanting direct B2B connections with decision-makers at target client companies |
FindEmails Features
FindEmails provides you with an extensive set of lead generation tools to help you expand your customer base and continuously grow your business. Below are some of its key features:
Prospecting
FindEmails lets you search for contact details by name, job role, company, and location to generate new leads whenever you need them. There are several ways to search for them: via bulk searches, Chrome extension search, or through FindEmail's API.
Email Verification
FindEmails ensures that there's a real person behind every email address you find, allowing you to build more relationships. The email verification process can be done one by one, or by uploading email lists into the FindEmails' system. Then, you'll get a clean list that is up to 98% deliverable. Its API also enables robust, scalable, and flexible integrations of its email verification processes within users' products, databases, and processes.
Lead Lists Marketplace
FindEmails' prospecting tool simplifies the way you search for people by title or company. It also streamlines the process of finding emails and importing prospect data into a spreadsheet. When you use its prospecting tool, it doesn't limit your search within FindEmail's internal database because it scans the entire internet to find your prospects.
API
FindEmails allows you to guess business emails, test emails, and extract prospects from webpages and its own database. Every FindEmails user has access to its API (utilizing its API also consumes credits from your account).
Chrome Extension
You may find emails on any website or use its email finder and email verifier for convenient testing. You can find emails on any domain and verify email addresses while you're reading news articles and browsing other pages in your Chrome browser.
Most Helpful FindEmails Reviews
Most users who left FindEmails reviews online reported that the tool saves them time from manually looking for leads and matching them to the correct social media profiles. They also said that the platform helped them find legitimate leads. However, while some users found the platform's lead generation capability useful, others complained that it sometimes provides multiple results that don't point to exact individuals.
Most helpful positive review: Saves time in finding legitimate emails
One user who gave FindEmails a positive review on G2 said that his favorite thing about the tool is the amount of time it saves him: "Time is money and I am able to identify email contact information by typing in their name and company." According to him, FindEmails prevents him from guessing emails or manually looking for them.
Most helpful negative review: Multiple results for a potential lead, which causes confusion
One user who gave FindEmails a negative review on G2 said that there were times when the platform provided him with too many email suggestions connected to different social profiles, which made it hard for him to identify the correct match to a potential lead.
FindEmails Frequently Asked Questions (FAQs)
Do my searches in Chrome extension count?
Yes. Credits account for everything you can do with FindEmails, no matter where or in what way you do it: web app, spreadsheet import, Chrome extension, or API.
Are the emails found by FindEmails legitimate & of high quality?
Yes. The email finding process includes the confidence score that indicates how safe an email is to send, using the same techniques that are in place for its email verification processes.
Can I change my plan anytime?
Yes. Simply navigate to your account settings and select the plan you would like to change to.
Bottom Line
FindEmails provides an easy way to search for email addresses. You simply have to type in the name of the person you want to reach plus the company they are from. Then, the program will generate a list of all the potential email addresses of that particular person with the percentage of how correct an address is, including mail server score and pattern score. Overall, FindEmails is a good choice if you need a simple lead generation or email verification tool.
If you aren't sure if FindEmails is right for you, this article on the best places to buy business leads is a review of our top choices. Our team looked at a variety of solutions and narrowed down our recommendations based on price, features, and customer support.