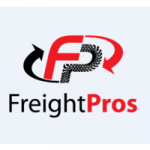 FreightPros is a full-service freight broker that provides customers access to its database of recommended carriers with lowered rates. Its freight solutions include less than truckload (LTL) freight shipping, truckload shipping, temperature-controlled freight, and expedited and time-critical freight solutions. Its pricing is customized, and it is recommended for small to mid-sized businesses.
FreightPros Pros and Cons
| Pros | Cons |
| --- | --- |
| Provides different quotes for freight shipping carriers | Reported hidden fees and overcharges |
| Helpful account managers | |
| Informative cloud-based Transportation Management System (TMS) | |
Who FreightPros is Best For
Small to mid-sized businesses: FreightPros offers LTL freight shipping that helps defray shipping costs for businesses that are not able to fill a truckload for shipping.
Businesses that ship odd-sized products or to different locations: A user review mentioned that FreightPros helps find different cost-effective carriers in different locations.
FreightPros Pricing
FreightPros pricing varies based on the origin, destination, weight of the shipment, and freight class. Most rates for similar providers are also customized. However, estimated freight fees range from $6.55 to $21.98 per pound. Those interested are encouraged to contact FreightPros to request a free quote.
FreightPros Alternatives 2020
| Fulfillment Company | Best For | |
| --- | --- | --- |
| | Small and medium-sized ecommerce sellers and crowdfunding programs that need batch fulfillment | |
| | Ecommerce sellers with special packing and handling needs | |
| | Fulfillment matchmaker to help you find the best provider | |
FreightPros Features
FreightPros features are designed to make the freight shipping aspect of order fulfillment run smoothly—from choosing a freight carrier, getting the most cost-effective pricing, to coordinating shipping operations. Here is a deeper explanation of FreightPros's most important features.
Consultative Solutions Approach
The FreightPros team is encouraged to look for ways to help customers move their freight in the most efficient way possible. It is normal for a FreightPros team member to have a suggestion to improve processes or reduce shipping costs.
Cloud-based Transportation Management System (TMS)
Its TMS provides information about freight pickups, shipment tracking, GPS truck tracking, easy freight quotes, and more.
Cloud-based Freight Hub
Its freight hub serves as a central repository for freight information, load history, freight quotes, bill payment, and more. Its online based system gives insight into previous, pending and future loads, and gives users the ability to access information at any time and anyplace.
Reporting and Financial Insight with Data Analysis
FreightPros can create a variety of automated processes and reports. It can develop customized solutions that will give insight into processes and allow users to tweak and change their processes to achieve their shipping goals.
Most Helpful FreightPros Reviews
The majority of Freightpros reviews available online have been positive. Most users appreciate the quality of service they received, especially from their account managers who are responsive to their shipment queries. However, there have been complaints about its hidden charges and fees.
Efficient freight broker that provides helpful frontline customer support
Most positive FreightPros reviews highlight its helpful frontline customer support team. They shared that getting quotes from different carriers was made easy because of FreightPros' helpful customer service.
One user who left a positive review about FreightPros on Trustpilot said that he was able to get shipping quotes within his budget to different carriers because FreightPros has been able to send quotes within 24 hours.
Lots of hidden fees and overcharges
The majority of negative FreightPros reviews online have been about customers complaining about hidden fees and overcharges. Some users complained that FreightPros' original quote isn't the amount that is charged to their credit cards once a shipment has been delivered.
One user who left FreightPros a negative review on Trustpilot shared that he received a quote only to have an increased charge a few days during shipment.
FreightPros Frequently Asked Questions (FAQs)
Is there insurance coverage for shipments?
It depends. FreightPros only works with truckload operators that offer a minimum of $100,000 in insurance coverage. This coverage is included in the freight rate. If a client needs additional coverage, third-party insurance is also available.
FreightPros strongly recommends using third-party insurance if shipping valuable or fragile material. Payouts are faster with third-party insurance than with carrier freight insurance. It has an additional cost separate from the carrier's freight quote. A $500 deductible typically applies.
Can customers easily track their shipments with FreightPros?
Yes. Customers can easily track their shipments with FreightPros' web-based system. It provides updated information, such as freight quotations, shipment and GPS truck tracking data, and more.
Does FreightPros offer inbound vendor management solutions?
Yes. FreightPros offers inbound vendor management solutions. It helps customers manage their inbound freight processes, such as shipment tracking, bills settling, and more. Its full-service freight brokers also provide lowered freight rates across the country.
Our Top Order Fulfillment Service Provider Picks
If you aren't sure if FreightPros is right for you, this article on the 5 Best Order Fulfillment Services & Companies is a review of our top choices. In this guide, we shared our top recommendations based on costs, specialty services offered, strengths, and order or account minimums.