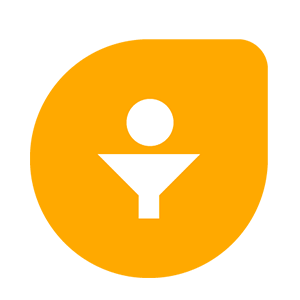 Freshsales CRM is a customer relationship management (CRM) solution that lets users scout for business prospects, track leads, and run sales campaigns. Its features include email accounts, user behavior tracking, and deal management. Its pricing ranges from $0-$65/user/month and is best for solo entrepreneurs and businesses that need a built-in phone system within their CRM.
Freshsales CRM Pros & Cons
| Pros | Cons |
| --- | --- |
| Easy to set up and use | No built-in calendar for appointments and scheduling |
| Offers a free plan and paid subscriptions with affordable price points | Lacks prebuilt templates used by small businesses like invoices, contracts, and so forth |
Who Freshsales CRM Is Best For
Solo entrepreneurs and small businesses that need a CRM with a built-in phone system: It offers a free plan that has basic features that micro-businesses don't need to pay for. Moreover, its phone system is integrated with the program, allowing you to call contacts from the platform.
Businesses that use other Freshworks products: Freshsales CRM is a part of the Freshworks ecosystem, which provides users with the option to house all their marketing and customer management activities in an integrated environment. These include Freshchat (live chat), Freshdesk (customer support), Freshmarketer (conversion and optimization), Freshteam (recruitment), and Freshconnect (team collaboration). It also allows users to connect their Freshcaller accounts and start making calls directly on the platform.
Freshsales CRM Pricing
Freshsales CRM's pricing includes a free option and four subscription plans: Blossom ($19/month), Garden ($35/month), Estate ($65/month), and Forest ($79/month). The main differences between the plans are the number of daily emails and intelligent workflows, as well as access to premium features such as auto-profile enrichment and lead assignment.
Plans

Blossom

Garden

Estate

Forest

Monthly Pricing
($/User/Month)

$19

$35

$65

N/A

Annual Pricing
($/User/Month)

$12

$26

$49

$79

Advanced Lead Scoring

✕

✕

✓

✓

Bulk Emails per Day

N/A

250

1,000

5,000

Workflow Automations

N/A

10

25

100

Team Channels

N/A

10

5

50

Sales Sequences per User

N/A

5

10

25

See more pricing details here.
Freshsales CRM's subscription plans are designed to cater to various users, giving them the option to choose which one best fits their business requirements. They can also opt to subscribe to the free plan or a 21-day free trial to evaluate the software's performance before paying for a subscription.
Sprout
Sprout is Freshsales' forever-free solution for users who only need the basics. This plan is quite limited, though, and only features simple tools for leads, contacts, deals, and email management. Limitations aside, it offers users unlimited allocation for users, contacts, and technical support.
Blossom
The Blossom plan includes essential tools like lead scoring, workflow automation, pipeline management, and advanced reporting. It also offers the ability to send mass emails. There's a built-in phone that allows users to forward and transfer calls, as well as record their calls. This plan is great for sales professionals looking to increase efficiency and productivity.
Garden
The Garden plan builds on the Blossom plan's features. It offers sales forecasting and rule-based lead assignment, as well as sales team segmentation and pipeline customization.
This plan is great for sales teams that are territory-based and need to focus on sales in geographic areas or specialize in a particular product type.
Estate
The Estate plan builds on the Garden plan and includes additional premium features like expanded bulk email functionality, more advanced lead scoring, and expanded number of sales campaigns. This plan is great for business owners wanting to scale their marketing efforts.
Forest
The Forest Plan is an enterprise-level plan and is only available as an annual commitment, whereas the other tiers give users the option for month-to-month billing. Forest is a good plan for enterprise-level companies willing to make a long-term commitment to their CRM.
It's also great if a user requires a European Union (EU)-compliant data center and security features like system whitelisting. This functionality allows you to add internet protocol (IP) addresses to a safelist, limiting access to your data.
Author's note: I signed up for Freshsales' free trial of their Sprout account. Its dashboard seems clean and organized, and all essential functionalities, such as leads, contacts, tasks, and so on can be easily found on the tab at the left-hand side of the dashboard.
Freshsales CRM Features
Freshsales CRM provides users with an extensive set of tools to better manage their customer relationships and continuously grow their business. Below are its key features.
Lead Scoring & Management
Freshsales CRM has features that allow users to effectively manage leads. These tools include lead scoring, which lets them prioritize their most important leads.
Other lead management features include profile enrichment, allowing users to enhance their contacts' profiles automatically with data pulled from online sources like social media profiles. Also, there are tools that allow users to assign leads to the most appropriate sales reps.
Built-in Phone
One of the features that makes Freshsales CRM a full-featured CRM is its built-in phone. Users can make phone calls from within the platform and even record calls and link them to contacts.
Other features include call routing, where they can have certain calls routed to their team based on identified criteria like their expertise, product line, or territory. There's also an area to document call notes that sales reps can refer to before making their next call.
Visual Pipeline Management
Users can set up their pipeline in a dashboard layout that lets them easily get the status of their deals at a glance. Users can move deals along their pipeline with drag-and-drop features. They can also prioritize deals and activities with a few clicks as well create multiple sales pipelines to accommodate a variety of deal types.
Workflow Automation
Freshsales CRM's workflow automation tools allow sales professionals to automate repetitive tasks. These tools enable them to reduce errors and ensure that critical tasks are completed. Tasks that they can automate include sending emails and updating records.
Users can also use "if, then" rules to trigger tasks to be completed when certain actions take place, like generating invoices when deals have closed.
Freshsales Alternatives 2020
| CRM | Best For |
| --- | --- |
| | Small businesses that want a CRM with enterprise-class sales and support features |
| | Businesses that want a free, no-frills CRM with basic features and unlimited users |
| | Teams that want a user-friendly and visual pipeline to manage sales |
| | Organizations seeking free lead and management software with integrated reporting |
| | Businesses looking for a robust CRM with a top-notch mobile app |
Which CRM Provider Is Best for You?
Most Helpful Freshsales CRM Reviews
Freshsales CRM reviews found online are mostly positive. Users highlighted its simplicity and ease of use. They also commended its seamless integration with the Freshworks ecosystem, and said that its Deals module has greatly improved their deal management and tracking. On the other hand, while some users found its simplicity to be a benefit, others considered it to be a limitation, saying that the interface looks too basic and lacks functionalities.
User-friendly CRM tool that is seamlessly integrated to the Freshworks family
"Freshsales CRM is a user-friendly tool that we use exclusively for our prospect and deal tracking systems. We also have the CRM synced with Freshcaller, so all of my team's sales calls are recorded and linked to the relevant prospect or client. The Deals module has really improved our organization and deal tracking, leading to increased sales."

— Leo Nellessen
Lacks social media integration; interface is very basic
"We noticed that sometimes, it works very slowly. In addition, our customers are asking to establish an integration with Facebook and social networks. The interface is very simple—it lacks many functions, such as configuring notifications and alarms. These small inconveniences may be solved easily in the next system update."

— Maria Ovalle
Freshsales CRM Frequently Asked Questions (FAQs)
How does Freshsales CRM help users manage their customers better?
Freshsales CRM offers users a 360-customer view of their clients, including social media accounts and profiles, online activities and purchasing behavior, and interaction history. They can also view appointments, providing them with all the pertinent data each time they get in touch with their customers.
Is it safe to use Freshsales CRM in terms of data privacy?
Yes. Freshsales CRM's servers are hosted in a world-class data center protected by 24-hour surveillance. It is also always up to date with the latest security patches.
What types of payment does Freshsales CRM accept?
Freshsales CRM accepts credit card payments (Visa, Mastercard, Discover, and American Express). You can also use PayPal, which is limited to U.S. dollar transactions. U.S. and Canada customers may pay through checks in U.S. currency. For offline payments via wire transfers, you have to be subscribed to semi- and annual billing cycles.
Bottom Line
Freshsales is a good choice for solopreneurs and micro-business owners that need a good, reliable CRM system that offers a free option or a paid plan for a very affordable pricing. For $0 or $19 a month, you can have access to software that belongs to the Freshworks family.
However, both the free and cheapest plans have quite a lot of limitations. More useful features, such as advanced lead scoring and workflows, are only accessible to Garden plan subscribers and above. Its Garden plan is only $35 per user, per month, which is usually the starting price of other software in the market, so this is still a cost-efficient option.
If you are not sure if Freshsales CRM is right for you, check this article on the best CRMs for small businesses, which is a review of our top choices. Our team looked at a variety of solutions and narrowed down our recommendations based on price, features, and ease of use.