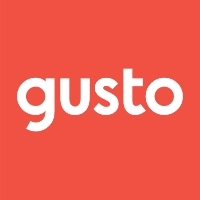 Gusto offers businesses with a full-service payroll software. Its top features and services include automated payroll processing, tax filings, direct deposits, PTO management, insurance and benefits administration as well as a cash-out (on-demand pay) feature for hourly workers. Its pricing starts at $45/employee/month. It is best for small and medium-sized businesses (SMBs) with less than 100 employees.
Gusto Pros and Cons
| Pros | Cons |
| --- | --- |
| One of the lowest cost full-service options | Insurance benefits not offered in all 50 states |
| Serves as an insurance broker so all administration and management is handled through Gusto | Not ideal for over 100 employees |
| Very intuitive and straightforward interface | Occasional system glitches |
| Seamlessly integrates with accounting and time tracking apps | Steep pricing scheme |
| Reports are detailed, clear, and concise | |
Who Gusto is Best For
Small and startup businesses: Gusto offers payroll packages that include all the features a small business needs, including tax support, 1099 forms, and payments. On top of that, it also streamlines benefits management, provides direct access to HR experts, and more.
Accountants and bookkeepers: Gusto provides support to accountants, bookkeepers, and their clients in growing their firm.
Gusto Pricing
Gusto's pricing varies based on three plans: Core ($39 base fee + $6/user/month), Complete ($39 base fee + $12/user/month), and Concierge ($149 base fee + $12/user/month). The main difference between the plans is access to premium features such as time-tracking, time-off requests, employee directory and surveys, and HR resource center.
Under the Core plan, for 10 employees, it would cost $1,188 per year for all the requisite payroll features. That is less than $120 per employee, per year. No upcharges mean you can plan and stick to your payroll budget.
Gusto Pricing Table & Features
Core

Complete

Concierge

Price

$39/month plus
$6/month,
per employee

$39/month plus
$12/month,

per employee

$149/month plus
$12/month,
per employee

Full-service Payroll



✓

✓

✓

Tax Payments & Filing

✓

✓

✓

Health Benefits Administration

✓

✓

✓

Employee Offers & Onboarding

N/A

✓

✓

Paid Time-off Requests & Tracking

N/A

✓

✓

Employee Directory & Surveys

N/A

N/A

✓

Workers' Compensation

✓

✓

✓

HR Support

Expert

Expert

Dedicated specialist
Gusto offers add-on services at an extra cost. These services include college savings ($18/month minimum + $6/participant/month), health savings account ($2.50/participant/month), 401(k) retirement (starts at $39/month + $8/participant), and more. To view the complete list of add-ons, you may visit its website.
If you have contractors, then Gusto can help you process their payroll. For a monthly fee of $6 per person, you get unlimited contractor payments, form 1099 creation and filings, and a contractor self-service tool.
Core
Core is a user-friendly payroll for small teams who need a simple and straightforward system. It offers solutions for full-service payroll, employee self-service and profiles, paid-time-off policies, as well as functionalities for health benefits administration and workers' compensation administration.
Complete
The Complete plan offers a payroll package that is inclusive of all the features in the Core plan plus additional features for employee offers and onboarding, simple time tracking, employee directory and surveys, and time-off requests.
Concierge
This plan has all the aforementioned features in the Core and Complete packages. Concierge, however, offers certified HR professionals that provide actionable feedback, employee relations advising, HR compliance help, and unlimited certified pros phone and messaging support. Moreover, the plan also includes an HR resource center with HR templates, harassment prevention training, custom employee handbook, and more.
Gusto Alternatives
| Payroll Provider | Best for |
| --- | --- |
| | Small organizations/businesses in niche industries (churches, households/nannies, agriculture) that have unique payroll needs |
| | Companies using QuickBooks for accounting that are legally required to offer health insurance to their employees |
| | Startup businesses that need many customization options and want to scale with a long-standing industry leader |
| | Small businesses that seek professional payroll services and dedicated customer service for their changing payroll needs |
Gusto Features
Gusto handles all of the basic payroll processes and tax compliance that any business may need such as running payroll each pay period, calculating deductions and net pay, and remitting payroll taxes. It provides new hire onboarding and reports new hires to the state. Here are some of Gusto's most notable features.
Payroll Processing
Gusto has several features that are designed to make payroll easier. Users can automate their payroll so that employees receive their paychecks at regular intervals via direct deposit. They may also run an "autopilot" payroll—wherein Gusto will process and deposit paychecks every regular pay period automatically. Administrators can run unlimited payrolls without paying extra.
If you're interested in on-demand payroll, its new Cashout option may appeal to you. If eligible, employees can cash out a maximum of half of their paycheck, up to $1,000, before payday.
Tax Filing
Gusto automatically calculates, files, and pays federal, state, and local income taxes, all through the online system. It does not offer a tax accuracy guarantee, but according to the terms, if users will get penalized for errors, Gusto will pay.
Payments
Gusto automatically processes and direct deposits employees' paychecks every pay period. On payday, it sends employees an email with a link to their full pay stubs. Gusto now has a new feature called Cashout. It offers employees access to money based on their estimated earned wages without the need to wait until payday. This feature is offered at no extra cost and is currently available in all states except AZ, MA, ME, WV, IL, NV, NH, NJ, ND, OR, PA, and VT.
Benefits and Insurance
Users can purchase medical, vision, and dental plans, as well as life and disability insurance for their employees, set up 401(k) retirement plans, or create college tuition savings plans. Gusto withholds deductions and provides reports so you know how much to pay the carrier(s). Health and commuter benefits are currently available in 27 states and territories, while the college savings plans are offered in all 50 states.
Use the map below to determine if Gusto offers health benefits in your state:
HR Tools/Compliance
With Gusto's Concierge plan, you can reach out to certified HR pros for any compliance-related questions. Gusto will also keep you updated with the changes in labor laws and regulations so you can remain compliant.
Add Ons
Along with Gusto's three packages, the company also offers several add-ons so you can add extra benefits to any of the plans you ended up choosing. These add-ons include workers' compensation insurance, 401(k) retirement plans, 529 college savings, as well as tax-advantaged spending accounts with commuter benefits, flexible spending accounts (FSAs), and health savings accounts (HSAs).
Customer Service
Gusto's customer support team is accessible via phone, live chat, and email from 6 a.m. to 5 p.m. Pacific time, Monday through Friday. Plus, you may use the available resources on its website, such as help center, Frequently Asked Questions (FAQs), interactive demo, and customer stories. If you are switching to Gusto from a different payroll provider and have more than 10 employees, it provides a dedicated team who will securely import all your data into Gusto.
Our Experience
We have tested Gusto's customer service a few times over the past year. The wait time has improved, from an average of seven minutes to less than one minute. The first representative we spoke with was helpful and gathered as much information as possible before transferring us to a member on its sales team who answered our questions. They were not pushy and continued to answer any question we had regarding benefits and how to process retro pay.
What Gusto Is Missing
There is not much missing from Gusto, except that it is not currently able to offer group health benefits in all 50 states like some of Gusto's competitors. At last count, it offers benefits in 26 states plus Washington, D.C., but it continues to work on adding more. Gusto also does not offer a PEO (professional employer organization) option like ADP. If you want those at some point, you may outgrow Gusto.
What Users Think About Gusto
Many small business users seem to love Gusto due to its ease of set up and use and the fact that it saves so much time by providing employees access to their own information. Some users complain that it lacks features employers may need as they grow past 100 employees, such as compliance reporting. It also does not print and mail checks for you like ADP does. For feedback from real users, check out our complete Gusto review.
Most Helpful Gusto Reviews
Users who gave Gusto reviews love that it is user-friendly and easy to use even for beginners and people who are not too proficient in using payroll management software. They also appreciate the accurate tax computations. Other users, on the other hand, reported occasional glitches in the system.
Very easy to use and navigate
"Our company uses Gusto to manage payroll and it's so easy to use. Its interface is very straightforward and quickly allows us to update employees' personal information, allowances and other payroll details. It also sends out monthly surveys to all employees and asks for feedback about how the company is doing. It's a great way to anonymously let leadership know how employees feel about the company in general and in specific departments."

—Jarred DeLong
Occasional system glitches
"Gusto can be glitchy when uploading hourly employee pay data. It can also be glitchy when updating pay rates during a pay cycle. You also can't get too detailed when building time-off policies."

—Brittany Ann Martin
Gusto Frequently Asked Questions (FAQs)
How does Gusto ensure correct tax computations?
When the annual federal and state tax returns are filed, the Internal Revenue Service (IRS) will determine the tax liability of an employee. In order to give employees proper tax returns, employers must input the numbers as accurately as possible to avoid any undue penalties for their employees.
If there is a clerical error on Gusto's part, the user administrator should contact Gusto through its support page.
Does Gusto offer payroll in my state?
Yes. Gusto offers payroll in all 50 states of America.
Can I integrate Gusto with my accounting app?
Yes. Gusto is designed to work with accounting software such as QuickBooks, Xero, and FreshBooks, in addition to other third-party apps, including When I Work, Ximble, Receipt Bank, Homebase, and more.
Our Top Payroll Software Picks
If you are not sure if Gusto is right for you, this article on the Best Payroll Software is a review of our top seven choices. Our team looked at a variety of solutions and narrowed down our recommendations based on price, features, and ease of use.