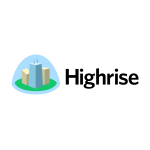 Highrise is a basic CRM software that includes contact and deal management tools that make it easy to keep track of your customer history and sales opportunities. Highrise allows you to add tasks, create deals, and monitor recent sales activities. While Highrise is no longer open to new customers, existing customers can continue to use the software until they cancel their account. We will cover Highrise reviews, pricing, features, and more in this review.
Which CRM Provider Is Right for You?
Highrise Pricing
Highrise offers a range of different plans: Free, Basic ($24/month), Solo ($29/month), and Plus ($49/month). All of the features are included in each pricing tier. The primary difference is the number of users, amount of storage, and limitations on the numbers of contacts and deals.
| | Free | Basic | Solo | Plus |
| --- | --- | --- | --- | --- |
| Pricing | Free | $24/month | $29/month | $49/month |
| Users | 2 | 6 | 1 | 15 |
| File Storage | None | 5GB | 5GB | 15GB |
| Contact Management | 250 | 5,000 | 20,000 | 20,000 |
| Deals | 3 | 10 | Unlimited | Unlimited |
| Cases | 3 | Unlimited | Unlimited | Unlimited |
| Tasks | ✔ | ✔ | ✔ | ✔ |
The free plan allows one or two users to manage up to 250 contacts, three deals, and three cases. It doesn't include any file storage, but does allow you to create tasks and keep track of your customer history. It's an ideal choice for a freelancer or other small business needing only the most basic contact management features.
The Basic plan increases the numbers of users to six, and allows you to manage up to 10,000 contacts and 10 deals. It also includes 5GB of file storage, and includes unlimited cases, which makes it a good option for small teams that want to keep track of a few deals at a time.
The Solo plan is designed for a solopreneur that needs a robust contact and deal management tool. Consultants, freelancers, and designers can manage up to 20,000 contacts and unlimited deals, though the plan is limited to only one user. It also includes 5GB of storage and is a good solution for someone who doesn't need to collaborate with other team members, but wants to be able to track his or her customers through the sale process and manage account history.
The Plus plan allows up to 15 users to manage 20,000 contacts and unlimited deals. This plan is really designed for collaborative teams, and the file storage is increased to 15GB accordingly. That allows team members to share files, proposals, and project information about a customer, and work together as deals move through the sales pipeline.
Highrise Features
Highrise's features include:
Contact management
File storage
Deals
Cases
Tasks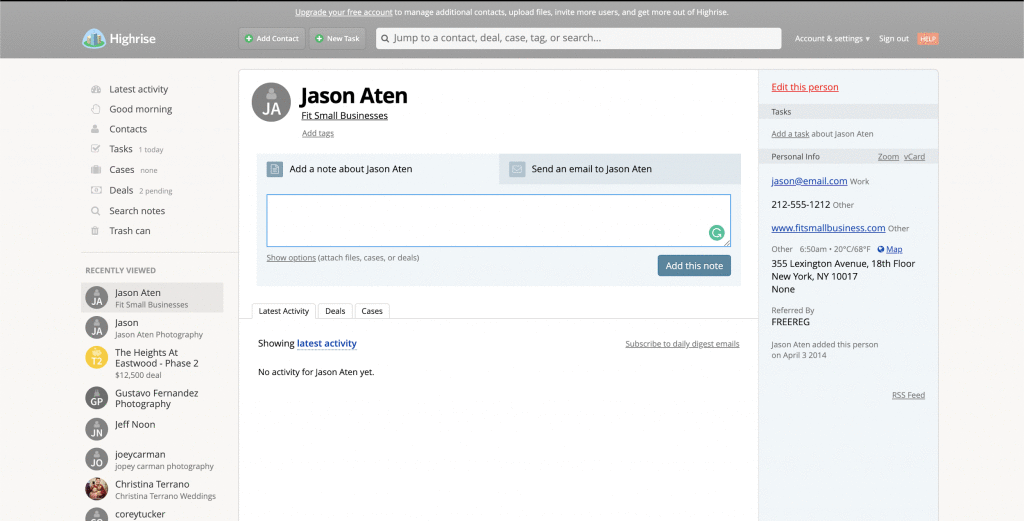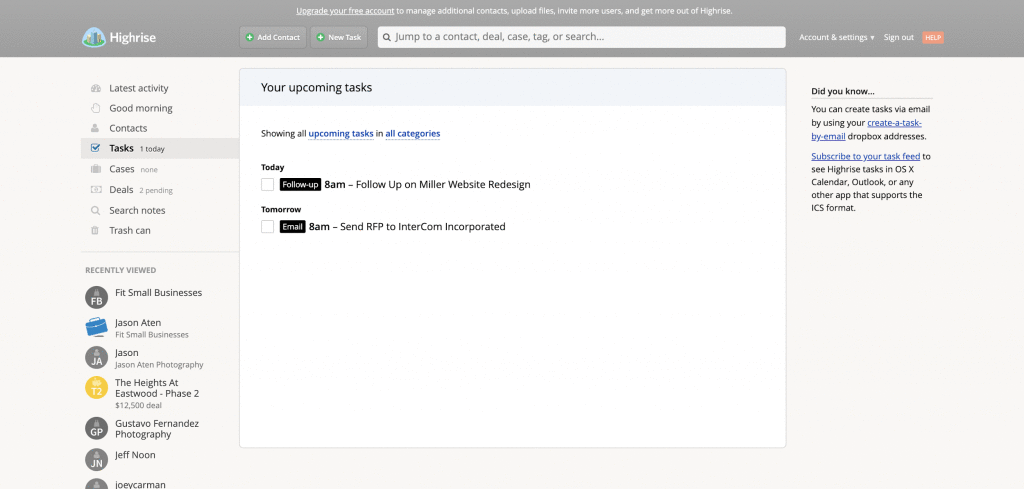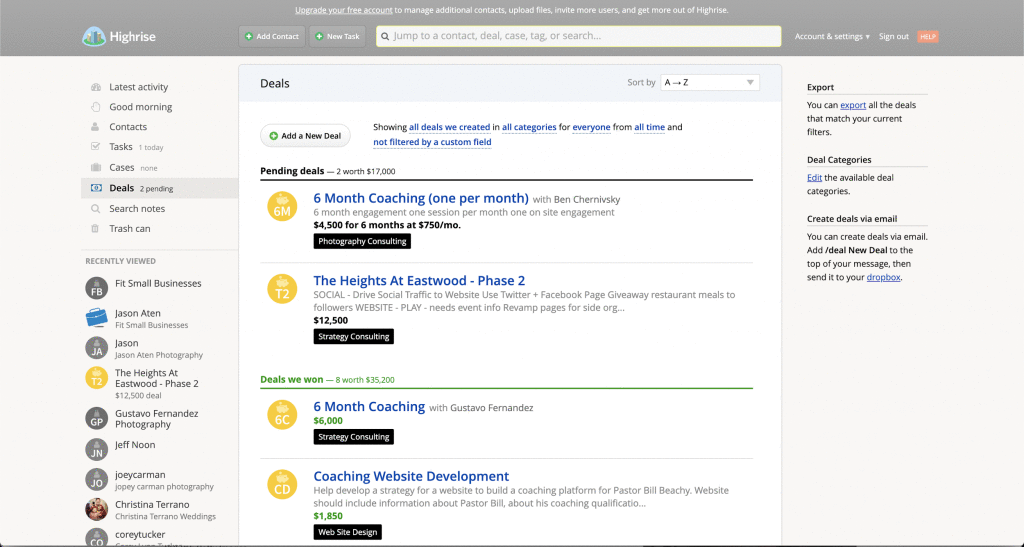 Popular CRM Software 2019
| Best CRM for Small Business | Best For |
| --- | --- |
| | B2B businesses that need a customizable, robust, and competitively priced CRM with built-in phone |
| | Small businesses that want a CRM with enterprise-class sales and support features |
| | Businesses that want a free, no-frills CRM with basic features and unlimited users |
| | Teams that want a user-friendly and visual pipeline to manage sales |
| | Organizations seeking free lead & management software with integrated reporting |
| | Businesses looking for a robust CRM with a top-notch mobile app |
Highrise Integrations
Here is a list of some of Highrise's popular integrations:
ActiveCampaign
Constant Contact
FreshBooks
Mailchimp
Shopify
Trello
Wufoo
Highrise Reviews
Summary of Positive Reviews
Users who gave Highrise CRM a positive review said that it is efficient in tracking important conversations and updates from business leads. They also mentioned that the simplicity of the program is great for keeping small businesses organized—without the unnecessary and complicated features that come with CRM tools designed for enterprise businesses.
A user who left a positive review on G2 said that it allows team members to add contacts quickly, assign tasks, and update the system with important customer notes. He also mentioned that Highrise is a fast software and doesn't require agonizing waiting times that are common with larger SaaS products.
Summary of Negative Reviews
Users who gave Highrise CRM a negative review complained about the outdated aesthetics of the app. They also said that the search feature could be improved, as it sometimes doesn't display related search phrases.
A user who left a negative review on G2 said that the layout of the software is a bit clunky and lacks a good "flow." The user also said that the search feature needs improvement because it doesn't accurately pull up all records that contain certain search phrases, making it difficult to locate old data.
Ease of Use
Highrise is relatively easy to use, mostly because it has a relatively simple interface and a limited number of features. As a result, most everything can be accessed in one or two clicks, and contact information is not hard to find. Highrise also has a search feature that is useful in locating contacts, deals, or other information that you need to effectively manage your customer relationships.
Customer Support
There weren't many direct mentions of customer support in user reviews, but this category does frequently receive a high star rating. One user did mention that they have received good support from Highrise. Another said that the constant innovation on the part of the company increases confidence in its ability to meet users' needs. It's also worth noting that with the paid plans, users receive priority support.
Industry & Business Size
We compiled user review data from across the internet to look at the typical ratings breakdown for users of Highrise. Here are some key takeaways from that data.
91% of users rated it 4 stars or above
Less than 5% of users rated it two stars or lower
Most common business size is one to 50
Not enough information on industry
Highrise FAQs
I'm an existing user. What if I have questions about Highrise?
If you have questions about Highrise CRM, then you may send an email to support@highrisehq.com, or contact its support team through https://help.highrisehq.com/contact.
Will it still receive security updates?
Yes, it will. Highrise claims that it will continue to deploy the appropriate security and infrastructure updates to ensure that its platform runs reliably and securely.
Our Top CRM Picks
10 Best CRM Software 2019: CRM software helps businesses efficiently manage relationships with customers and prospects using sales pipelines and other organizational tools. In this guide, we compared more than 20 products offering a range of options to determine the six best CRMs for small businesses in terms of price, features, customization, integrations, and reporting, arriving at the best overall CRM.