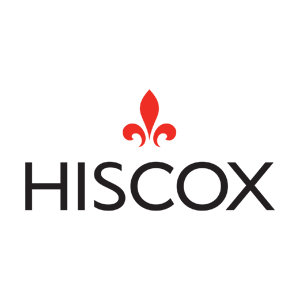 Hiscox is a small business insurance company that provides customized policies based on your industry and profession. Its insurance products include general liability, professional liability, errors and omissions, workers' compensation, cybersecurity, business owner's policy, and more. Its coverage starts at $22.50 per month and is best for those looking for tailored coverage for their industry and companies with 10 employees or less.
Hiscox Pros and Cons
| Pros | Cons |
| --- | --- |
| Provides online quotation and tailor-fit policies | Not for larger businesses |
| Offers a variety of business insurance products | No local offices |
| Offers 14-day money-back guarantee | |
Who Hiscox Is Best For
Businesses that are looking for comprehensive coverage that is tailored to their industry: Through its wide variety of insurance products, Hiscox helps sole proprietors, small business owners, and professionals find the right coverage based on their specific needs. It can customize products to cover exposures in nine industries and more than 70 specific professions.
Businesses with up to 10 employees: Although Hiscox is a large company with multiple offerings, its products are targeted specifically for small businesses, which include startups and home-based ventures. This enables it to provide quality service and develop expertise.
Hiscox Pricing
The costs of Hiscox insurance coverage are customized and vary depending on factors, such as your industry, location, business size, type of insurance, and more. It does, however, publish on its website an example of small business insurance quotes for its popular products, which is reflected on the table below. For example, its business owner's policy offers coverage from $41.67/month.

Type of Insurance

Pricing
($/Month)

Professional Liability

Coverage from $22.50

General Liability

Coverage from $29.17

Business Owner's Policy

Coverage from $41.67
Professional Liability
Also known as Errors & Omissions, this protects you if your business is sued for negligence—even if you haven't made a mistake. This type of insurance is especially helpful if your business provides professional services, gives advice to clients, or is required to have coverage by a client to close a contract.
It covers alleged or actual negligence, defense costs, personal injury like libel or slander, worldwide coverage, temporary staff and independent contractors, claims arising from services provided in the past, and claims and damages.
General liability
This covers your business against claims from another person or business due to bodily injury, damage to property, medical costs, advertising injury, and defense fees, among others. However, it doesn't cover employee injuries, professional services—you should get professional liability for this—damage to your personal property, and claims arising out of the ownership or use of an automobile, aircraft, or watercraft.
It is best for your business if you or your employees interact with clients face-to-face, have access to customer's property, use advertising to market your company, use third-party locations for any business-related activities, or enter into a contract that requires general liability insurance.
BOP
This is an enhanced insurance policy that combines general liability insurance and property insurance, which helps you cover damages to your own personal assets, including computers, printers, equipment, and furniture.
This coverage is worth considering if you need general liability insurance coverage, have business equipment, own the building where you work, own and work with large amounts of data on a regular basis, or have employees who could act dishonestly or steal clients' property.
When you're ready to get started, you may request a quote online, which should take less than 10 minutes. Alternatively, you can contact Hiscox directly at 866-283-7545 should you wish to speak with an agent.
Hiscox Alternatives 2020
| Insurance Company | Best for |
| --- | --- |
| | (Best overall) Industry-leading customer care and specialized packages at competitive prices |
| | Small- to midsized businesses that want help with risk management |
| | International coverage for business transactions and trips |
| | Technology businesses seeking errors & omissions insurance that includes cyber liability |
| | Manufacturing companies that need small business insurance plus industry-specific coverage |
| | Professional liability coverage added to a business owner's policy (BOP) |
| | Liquor stores and restaurants that need liquor liability included in their BOP |
| | Delivery and transportation businesses requiring affordable commercial auto insurance |
| | Startups, particular tech companies that need management liability insurance immediately |
Hiscox Business Insurance Features
Hiscox has a long list of features and services that are designed to make its clients' experience easier. Listed below are some of its most helpful features.
Tailored coverage: It doesn't offer a one-size-fits-all solution, but rather provides customizable coverage for different industries and professions.
14-day full money-back guarantee: You can cancel within 14 days and get a full refund if you change your mind about having the insurance, provided that no claims or losses have occurred.
Worldwide coverage: It covers claims filed in the United States, its territories, and Canada. The incident that resulted in the claim may have occurred anywhere in the world.
Online quotation: Save time—obtain a quote in less than 10 minutes and buy insurance online.
Electronic policy documents: Your Hiscox certificate of insurance and policy documents are emailed immediately.
Available in most states: It currently is licensed to offer small business insurance in all states except Alaska, although the types of insurance available per state may vary.
Monthly payment plans available at no additional cost: You can pay your premiums in monthly installments or a lump sum.
Its claims center is available 24/7: File claim anytime online or through phone, mail, and email.
Most Helpful Hiscox Reviews
There is a mix of positive and negative Hiscox reviews online. Customers who left positive ratings found its price competitive and customer support team very responsive in processing their application. Meanwhile, clients who wrote negative reviews complained about uncovered claims and delayed refunds.
Easy application and payment processes
One policyholder who wrote a positive review on Trustpilot liked how easy it is to use its online quotation functionality and how its consultants clearly explained to him his policy. He added that processing payment is also very easy and that his experience with the provider is going smoothly so far.
Multiple complaints about claims being turned down
One Hiscox client who left a negative review on Trustpilot complained about her claim being denied by the provider even if her policy states that the claim should be covered. She added that she has been paying premiums for about 10 years already and ended up not being able to use her insurance.
Hiscox Frequently Asked Questions (FAQs)
Every business situation is unique, and small business owners should seek out answers before selecting an insurance provider. We've gathered some of the most frequently asked questions about Hiscox below and answered them.
Can I cancel my policy at any time?
Yes, you can cancel your policy at any time, and Hiscox will refund any amount due to you on a prorated basis. However, should your business then be subject to a claim, it will not be covered.
What payment options does Hiscox accept?
Hiscox offers a range of payment options, including debit and credit cards—Visa, MasterCard, and American Express. You can also choose to pay the full amount in one lump sum each year or pay on a monthly basis with no fees added.
What types of businesses does Hiscox offer business insurance to?
It covers most types of professional service businesses with 10 employees or less. This includes information technology (IT) or technology, marketing, business, and management consultants. It also caters to recruiters, public relations (PR) specialists, graphic designers, photographers, interior designers, and other types of service professionals. You may contact the provider if you don't see your business type in the above list to see if it can provide coverage for your business.
Our Top Business Insurance Provider Picks
In case you still are not sure if Hiscox is right for you, then this article on the best small business insurance companies is a review of our top choices. In this guide, we reviewed dozens of providers and narrowed them down to our top picks based on key criteria like coverage types, customer service, and pricing.