Overview of HubSpot CRM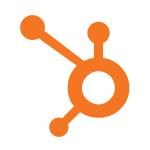 HubSpot is a free CRM software that is designed to provide a central contact database for leads you generate through social media and content marketing (blogging, landing pages, and free resource downloads). It includes features that help you capture, score, and nurture leads, and includes deal management tools that help you move sales opportunities through your sales pipeline.
HubSpot is also designed to work with the higher-level Sales Hub and Marketing Hub software that adds advanced functionality and process automation. Even without those add-ons, however, HubSpot includes a range of functionality like email marketing, live chatbots, and visitor activity tracking not usually found in a free CRM, especially free versions of other popular CRM software.
What We Like
Having used HubSpot, one of the things we like the most (other than the fact that it's free) is that it is highly intuitive and simple to use. It's also designed from the ground up for marketing and sales teams that generate large numbers of inbound marketing leads and want to be able to easily determine which are the most qualified to pursue as well as create automated email campaigns to move them through the sales pipeline.
We also like that it includes many of the features found in paid versions of other contact relationship management (CRM) tools. HubSpot is also known for its vast library of educational and training resources to help businesses learn how to best use the software effectively. Finally, HubSpot allows you to manage up to one million contacts in the free CRM, making it a versatile tool for growing sales and marketing teams that want to get started with a solution that can keep up.
What We Don't Like
HubSpot's pricing for higher-end features gets expensive quickly, especially if you have a large number of leads or contacts. We also don't like that if you do upgrade to the Sales or Marketing Hub, HubSpot requires a one-year upfront commitment, which can be a significant obstacle for smaller or newer businesses. Finally, the sales process is more aggressive than other CRMs and can be a turnoff for some businesses, especially those that are only interested in the free version.
Which CRM Provider Is Right for You?
HubSpot CRM Pricing
HubSpot CRM is free and includes many common CRM features like contact management, deal management, and email marketing. HubSpot also offers additional sales and marketing functionality through the Sales Hub and Marketing Hub for businesses that need advanced tools like automated workflows, which range from $50 per month to $800 per month, depending on the specific features added.
HubSpot CRM Features
Like any CRM, HubSpot is set up to help you generate leads, qualify and nurture them, and convert them into customers. One of the most unique aspects of HubSpot, compared to other CRMs, is that it includes the core features needed to effectively manage your customer relationships in a straightforward, free product. Also, because it is primarily designed to help you attract, nurture, qualify, and convert leads into customers, it makes it easy to automate the sales process.
Here are a few of the standout features of HubSpot:
Form-based Lead Capture
One of my favorite features of HubSpot CRM is that it allows you to embed forms on your website to capture leads and contact information. Additionally, if you already have forms on your site through your content management system, HubSpot can simply capture the information submitted using a tracking code. Contacts that are captured as leads in this manner can then be easily moved into email marketing drip campaigns and tracked as they move through the sales process.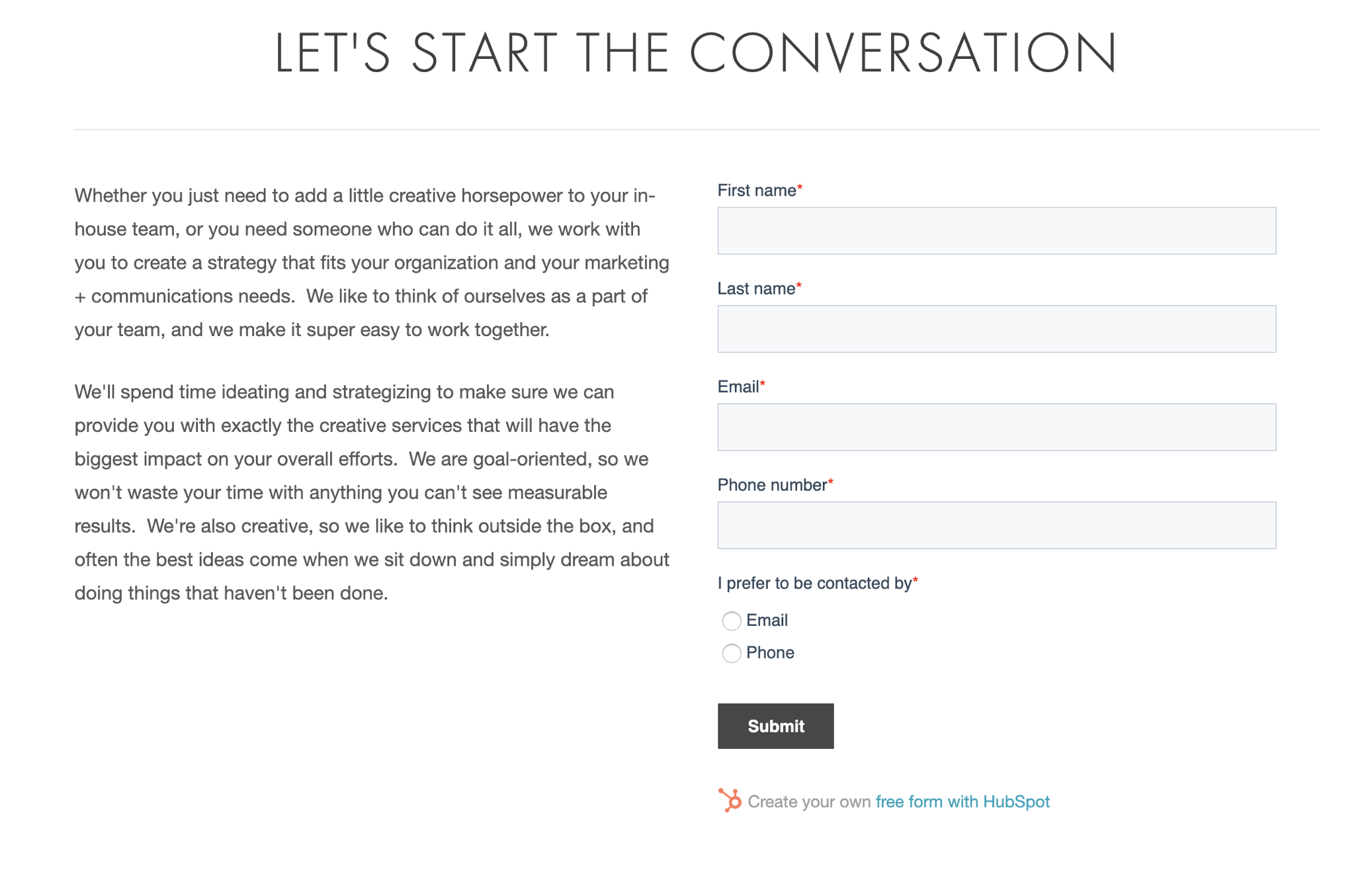 Contact Management
HubSpot CRM includes contact profiles that can be automatically updated based on the forms on your site, via visitor activity, or from publicly available information like social media profiles. HubSpot allows you to organize contacts by their company and provides insights such as a newly added contact's recent activity on your website.
As a cloud-based CRM, HubSpot also auto-enriches profiles based on information it pulls from social profiles and information it knows about companies. HubSpot scores leads based on both profile information and website activity, which is something other free options offer only in a limited manner.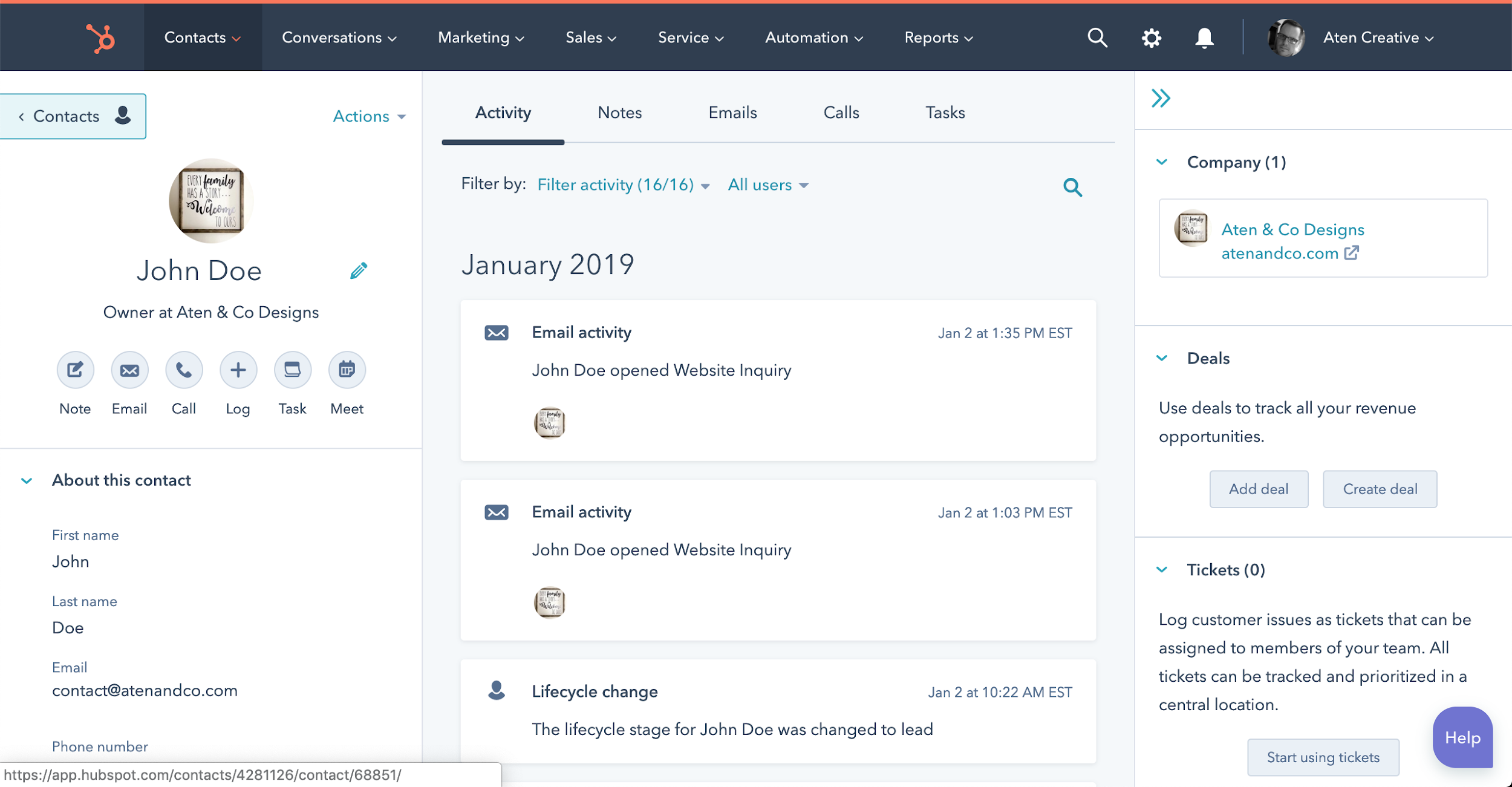 Lead & Task Management
HubSpot CRM lets you schedule tasks for follow-up or to-dos, and includes a visual workflow editor that allows you to create workflows to handle regular marketing tasks. Compared to free plans of other CRM providers, these tools are often more intuitive in moving leads through the sales process. HubSpot also includes a free, embeddable chat tool that allows you to use conversational bots to prequalify leads that engage on your website.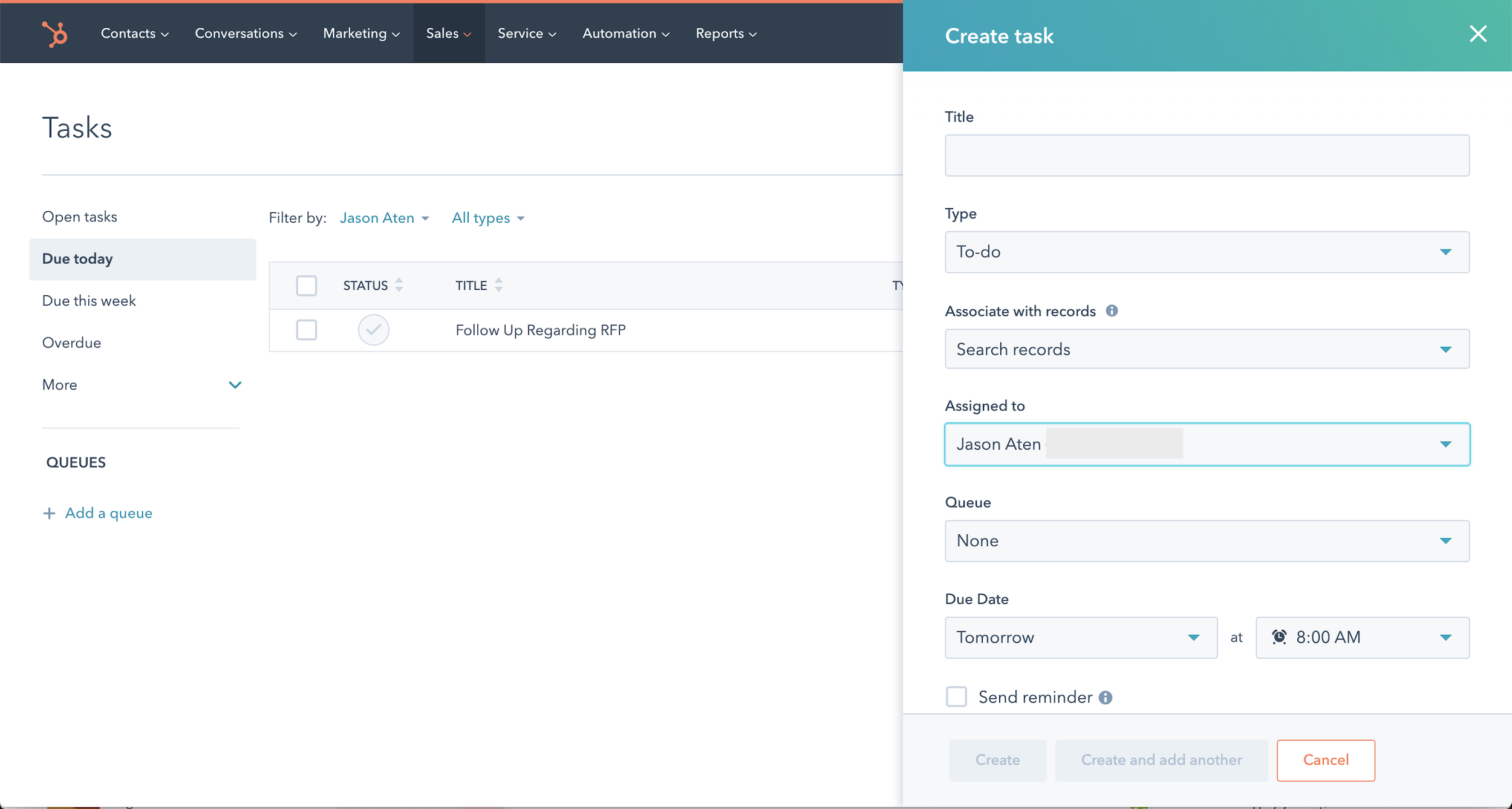 HubSpot CRM Alternatives
While HubSpot is great for many types of businesses, it's not the only solution. For businesses that need more advanced CRM features, but aren't interested in signing up for the more expensive HubSpot Sales Hub and Marketing Hub products, these alternatives may be a good fit.
| | | | |
| --- | --- | --- | --- |
| | | | |
| Best for | Small businesses that want a CRM with enterprise-class sales and support features | B2B businesses that need a customizable, robust, and competitively priced CRM with built-in phone | B2B companies looking for an intuitive CRM to work smarter in sales, marketing, and service |
| Pricing | | | |
| | | Read Reviews | |
Our Recommendation
Based on our research, and experience with HubSpot, we recommend it for users looking for an intuitive and powerful free CRM. It is especially well-suited to agencies and other brands that use social media and landing pages to generate customer leads that they then move through their marketing and sales process.
The free CRM is also ideally suited for consultants, designers, and solopreneurs who need a place to keep track of leads and customers and want to keep track of customer engagements like website design projects or marketing consulting. Since it integrates easily with third-party tools like Mailchimp, it's a great way to generate email campaigns to keep your customers engaged.
The Sales and Marketing Hub software are really designed for businesses with dedicated marketing or sales support teams. Many of the features available in those higher-priced optional add-ons can be used in a more limited fashion in the free CRM. That's helpful for businesses that want to try them out first, and HubSpot even offers 30-day free trials of those services.
HubSpot CRM is a great option for small businesses that need to manage contacts and deals and want an intuitive software tool that is both free and easy to learn. Because HubSpot CRM includes many features that require paid subscriptions with other CRMs, it's a great choice for freelancers or growing businesses that are just starting with a CRM. Visit HubSpot's website to sign up for your free CRM account today.