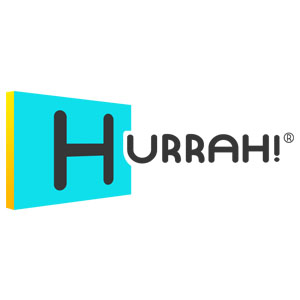 Hurrah! Leaderboards is a sales performance management solution that uses gamification to motivate and engage professionals and teams. It connects directly to companies' customer relationship management (CRM) software to broadcast data in real-time. Its prices are customized, and it's best for medium to large businesses.
Hurrah! Leaderboards Pros and Cons
| Pros | Cons |
| --- | --- |
| Real-time announcements | Software sometimes crashes |
| Easy to use | Unable to change colors on charts |
| Has fun and attractive templates | |
Who Hurrah! Leaderboards Is Best For
Medium to large businesses: Its achievement broadcasting and general announcement tools are an efficient way of informing an entire office about top performers, milestones reached, targets hit, and more.
Hurrah! Leaderboards Pricing
The Hurrah! Leaderboards pricing guide isn't provided on its website, though it does show two plans: Standard and Enterprise. Other applications similar to it have fees that range from $20 to $400, depending on the features included. Contact Hurrah! Leaderboards for a quote.
Standard
The Standard plan covers unlimited slides and metrics, real-time updates, one data source connection, standard client success services, and a standard implementation. It also includes biannual system upgrades and unlimited customer support.
Enterprise
The Enterprise plan covers everything in the Standard plan, plus unlimited data source connections, enterprise implementation, integrations with Google Sheets and Microsoft Excel, and a dedicated account manager. This option also includes unlimited system upgrades and priority customer support.
Hurrah! Leaderboards Features
Hurrah! Leaderboards' sales performance management tools help businesses motivate their sales teams and boost their overall productivity. Here is a list of some of Hurrah! Leaderboards' features.
Leaderboards
Its multiformat leaderboards enable users to measure the progress of sales and display key performance indicators (KPI) in real-time. Users may choose among progress-tracking bar graphs, performance rankings, and multicolumn boards to display different achievements at once.
KPI Dashboard
Hurrah! Leaderboards allows users to build customized sales KPI dashboards to keep teams informed. This helps increase accountability and transparency by providing live custom updates on the Hurrah! channel.
Contests
Hurrah! Leaderboards hosts live sales competitions based on a chosen KPI. Users may set the start and end times, as well as track and broadcast performance rankings while the contest is ongoing. When the event is over, users may select a video to announce the results and congratulate top performers.
Communications
Its announcement tools enable users to broadcast updates across the office for everyone to see. Users may also interrupt regularly programmed slideshows with news flashes and message updates on selected display screens.
Most Helpful Hurrah! Leaderboards Reviews
Users who gave positive Hurrah! Leaderboards reviews like its user-friendly interface and described the solution as a fun and efficient motivational tool for sales teams. Meanwhile, those who gave negative Hurrah! Leaderboards reviews mentioned that the software sometimes crashes. Others said that they wish that its chart and announcement colors were more customizable.
Fun and effective motivational tool
One user who gave Hurrah! Leaderboards a positive review said that it motivates his company's sales representatives to be more competitive on a daily basis. He added that this enables the management team to identify weak performers immediately, helping them devise new ways to boost productivity and morale.
Color customization options are limited
One user who gave Hurrah! Leaderboards a negative review said that he is unable to change the colors on charts. He noted that while this is a minor issue, it would be better if the software offered more editing capabilities.
Hurrah! Leaderboards Frequently Asked Questions (FAQs)
Does it offer a demo?
Yes, it does. Visit the Hurrah! Leaderboards website to gain access to its free 20-minute demo.
Does it have a free trial?
No, it does not. Those interested may obtain key information from the free demo and then ask further questions during the one-on-one session with a sales representative.
Which browsers are compatible with it?
Hurrah! Leaderboards is a web application that is currently compatible with Google Chrome and Internet Explorer 11.