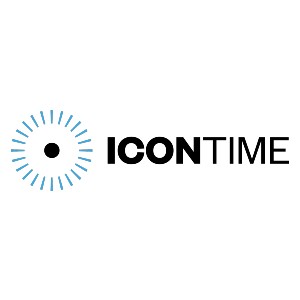 Icon Time TotalPass P400 is a wall-mounted time tracking device that supports PIN code and proximity card employee clock-ins/outs. It also has a built-in web-based time and attendance management software that comes with multiple pay item types, payroll data exports, and reporting and tracking tools. The device costs $299 and is best for small to mid-sized businesses (SMBs) that want flexible time tracking for multiple departments.
Icon Time TotalPass P400 Pros and Cons
| Pros | Cons |
| --- | --- |
| Free 25-employee capacity (can be upgraded to 250) | Costly upgrades (like benefit tracking and increasing the employee capacity) |
| No recurring monthly fees | Lacks a biometric fingerprint option |
| View missed punches in real time | Only 30-day free support |
Who Icon Time TotalPass P400 Is Best For
SMBs that want flexible time tracking for multiple departments: With Icon Time TotalPass P400, you can create up to 99 department codes for monitoring time and payroll data on a per-group basis. It also allows you to easily add new department codes, especially if you have plans to segment your organization into several functions. Moreover, the device comes with an upgradable employee capacity that can handle up to 250 employees.
Icon Time TotalPass P400 Pricing
Icon Time TotalPass P400 costs $299. You get the time clock, USB and Ethernet cables (15-feet each), 30-day free setup support, one-year manufacturer warranty, a power supply, and a locking mounting plate.
Icon Time also offers add-on solutions to help enhance its time tracking functionalities. Here are some of its upgrade packages and time clock accessories:
| Upgrades and Accessories | Fees | Functions |
| --- | --- | --- |
| Proximity cards | $39.99 (pack of 10) and $59.99 (pack of 20) | Employee time-ins/outs via RFID badge |
| Web punch entry licenses | $99 (pack of 5) | Web clock-ins/outs via computer, smartphone, and tablet |
| Custom employee ID PIN | $35 | PIN codes for employees |
| Email productivity pack | $99 | Time punch-related email alerts |
| Benefit tracking pack | $99 | Custom rules for overtime transactions and benefit accruals (such as vacation and sick leaves) |
| Advanced pack | $150 | Contains all the functionalities of the email productivity and benefit tracking upgrades; also includes five web punch licenses, custom employee PIN codes, custom user logins, multi-clock system support, and a 50-user employee capacity increase |
Icon Time TotalPass P400 Features
Icon Time TotalPass P400 is designed to streamline time tracking processes and enhance productivity. Its built-in web-based time tracking system also lets you monitor employee clock-ins/outs in real time. Let's look at some of its essential features to help you determine if it fits your business' requirements.
Employee capacity: The device comes with an initial employee capacity of up to 25 users. You can expand this to 250 users by purchasing the advanced pack upgrade ($150), which increases the employee capacity by 50.
Multiple departments: It can handle up to 99 department codes, plus it has multi-clock support that lets you connect several devices together. This is helpful if you want to have departments with employee time clocks that are mounted in different areas inside the same work location. However, these features are available only if you get the advanced pack.
Time tracking: Your employees can time in/out using an RFID proximity card and a four-digit code. The codes are random numbers generated by Icon Time; but for $35, you can create custom PIN codes for employees.
Web time punches: Available as an add-on ($99 for a pack of five licenses), this feature allows employees to clock in/out from a computer, smartphone, and tablet via a web browser. Note that Icon Time TotalPass P400 can handle only 50 employee licenses. If you need more, then you have to purchase additional time clocks.
Geolocation reporting: With GPS verification using a smartphone or tablet, you can track and capture time entries of remote and mobile employees. However, access to this functionality is only granted if you purchase the web punch upgrade.
Multiple pay item types: Icon Time TotalPass P400 supports regular, overtime, holiday, non-worked, day, and week pay items.
Payroll integration: You can export time data into HTML and CSV file formats, which most accounting and payroll software can import. Icon Time also integrates with payroll providers such as QuickBooks, ADP, SurePayroll, Paycom, Paylocity, and Paychex.
Customer support: Aside from an online ticket-based system, Icon Time offers phone support from Mondays to Fridays, 5 a.m. to 5 p.m. Pacific time. The first 30 days' help is free, but you have to pay an additional fee (starts at $120 per year) for ongoing support.
Most Helpful Icon Time TotalPass P400 Reviews
Users who left positive Icon Time TotalPass P400 reviews like that it is reasonably priced and easy to set up. Others commended its helpful support team and said that its web-based time tracking system (ATS) enables them to easily access employee time data. Meanwhile, several reviewers expressed disappointment about its basic reporting options and having to pay extra to access additional features (like custom PIN codes and custom administration logins).
Ease of use and set up
A reviewer who gave positive feedback on Amazon described it as an affordable time tracking device that's very easy to set up and use. He also appreciates that he doesn't need to pay monthly fees in order to access its web-based time and attendance solution.
Basic features don't include free custom PINs; customization costs extra
One user who left a review on Amazon dislikes not being able to customize employee ID PINs for free. He commented that it would have been better if it were like what most similar software offer.
Icon Time TotalPass P400 Frequently Asked Questions (FAQs)
Which payment method does it accept?
Icon Time accepts credit card payments (Visa, Mastercard, American Express, and Discover) made through PayPal.
What reports can it generate?
Icon Time TotalPass P400 can generate basic time card and attendance reports. It also offers additional reporting tools, such as labor distribution, timecards by department, and individual employee timecard reports—provided that you purchase its advanced pack.
What browsers can I use to access its web-based time tracking system?
You can access Icon Time's web-based time tracking system via Internet Explorer, Firefox, Safari, and Google Chrome.
Our Top Employee Time Clock Picks
If you aren't sure if Icon Time TotalPass P400 is right for you, then this article on the best employee time clocks for employers examines our top choices. Our team looked at a variety of solutions and narrowed our recommendations down based on price, ease of use, and features such as time reporting, overtime calculation, and payroll integrations.