Disclaimer: Jive officially changed its name to GoToConnect since June 2020. To view the updated review, please click here.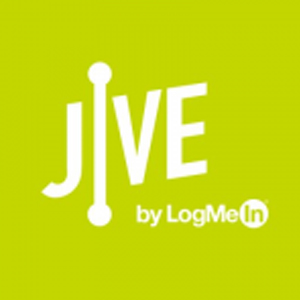 Jive is a Voice over Internet Protocol (VoIP) provider that offers cloud-hosted private branch exchange (PBX), video conferencing, and contact center tools and services. It features call recording, auto-attendants, and virtual fax. Monthly VoIP fees range from $19.95 to $29.95 per user for up to 50+ users. It is best for educational institutions, government organizations, law firms, and remote teams.
Jive Pros and Cons
| Pros | Cons |
| --- | --- |
| Intuitive and easy to set up | While it gives users access to all Jive Voice features/inclusions, the video conferencing solution is available as an add-on |
| Affordable pricing | Call recording requires a third-party storage account |
| | Occasional mobile app bugs and crashes |
Who Jive is Best For
Educational institutions: Jive offers VoIP and unified communications tools for students' real-time collaboration, as well as increased access to learning materials and their instructors. Its tools and services are flexible, depending on an institution's needs, without the need for upgrading phone hardware and purchasing additional software and licenses.
Government organizations: Apart from its robust VoIP features, Jive makes procurement easier for government organizations with its state and federal collaborative contracts such as BuyBoard, Mojave, GSA, and CES. Additionally, the security of all information is guaranteed and all calls are encrypted.
Law firms: Its wide range of features and inclusions help law firms maintain high credibility by providing a customized phone experience for their clients. Jive also displays users' office phone numbers, even when they are utilizing it through their mobile phones—maintaining their personal numbers private.
Remote teams: Through its cloud-based VoIP system, teams may collaborate across various locations and address customer concerns from anywhere with an internet connection. They may also access Jive's virtual voicemail and fax from any device such as a mobile phone, desk phone, or an outside line.
Jive Pricing
The Jive pricing scheme depends on the number of seats and has monthly fees that range from $19.95 to $29.95 per user for up to 50+ seats. Those who need more than 100 seats may contact its sales team to obtain special rates. All pricing tiers have access to its Jive Voice features.
Number of Users

Pricing
($/User/Month)

1-4

$29.95

5-9

$25.95

10-24

$23.95

25-49

$21.95

50-99

$19.95

100+

Customized
Jive Alternatives 2020
| VoIP Phone Service | Best For | Pricing |
| --- | --- | --- |
| | Larger companies with high call volumes that need enterprise-level features | $39.99-$69.99+/user/month |
| | Businesses that want a great combination of price and features | $21.95-$31.95/user/month |
| | Small business owners looking for a great phone system with no contracts | $19.95 and $24.95/user/month |
| | Solopreneurs who want a business number on their personal device | $29-$78/month |
| | Solopreneurs and small business owners who want an affordable turnkey vanity number and VoIP provider | $12.99-$59.99/month |
| | Businesses that need unlimited international calling and SMS messaging | $12-$110/user/month |
| | Solopreneurs and small business owners who want an affordable turnkey vanity number and VoIP provider | $19.99-$39.99+/line/month |
Jive Features
Jive offers cloud-hosted PBX tools and services that enable you to make, receive, and manage calls from anywhere with an internet connection. Here are some of Jive's most essential features.
Auto-Attendants
You may set up an unlimited number of auto-attendants that provide automated answering prompts and present callers with options to identify their needs. After callers choose their options through their dial pads, they will either be directed to their specified extension or exited out of the auto-attendant.
Ring Groups
Ring groups help ensure that no incoming call will be left unanswered. This function allows you to group a set of devices that will simultaneously ring when a specific extension is dialed. Ringing will stop immediately after the call is answered.
Call Analytics
You may view detailed information about your call traffic with Jive. Its call analytics feature displays the number of inbound and outbound calls, average calls and minutes per extension, and more. You may use all these data to identify trends, optimize the allocation of staff, and determine where calls are coming from.
Virtual Voicemail and Fax
Jive offers both virtual voicemail and fax, which are among users' most desired features in VoIP systems. Through its cloud-based virtual voicemail system, you may easily listen to audio messages from your email inbox and set up customized audio greetings.
Meanwhile, its virtual fax allows you to receive and send an unlimited number of faxes that can also be viewed in your email inbox. Additionally, Jive lets you set up a separate extension number and a dial plan for your fax needs at no extra charge.
Which VoIP Provider is Right for You?
Most Helpful Jive Reviews
Most Jive reviews available online are positive, and a lot of users like its ease of use and setup. Others commended its affordable and all-inclusive pricing, however, some wished for other add-ons—such as video conferencing—to be included in its plans.
Meanwhile, those who left negative reviews mentioned that they sometimes encounter mobile app errors like issues with call and Bluetooth connections. A few also said that they experienced poor customer service after signing up.
Affordable and easy to use and set up
"Jive is a very affordable and easy-to-use VoIP system. We use Jive for all of our phones in the office. It is very easy to set up a new phone and monitor the activity on the back end. Jive is a modern company with a client portal that is very easy to navigate. It is easy to port over numbers from other phone services and easy to see a breakdown of your billing."

—JaCoby Marston, CPA
Mobile app crashes sometimes
"The mobile app crashes a lot when it rings on my cell. I try to answer it and it hangs up, though not every time, but it is annoying. It also doesn't work properly when I connect it to my car Bluetooth hands-free speaker."

—J G
Jive Frequently Asked Questions (FAQs)
How do I set up a call recording?
You may set up its call recording feature through the Jive User Portal. Those with the "Administrator" role may enable PBX-wide recordings or record calls on specific extensions and phone numbers. However, recordings may only be set before the call takes place (mid-call recordings are not allowed).
Does it integrate with third-party apps?
Yes, it integrates with Google Chrome (enabling call initiation and web pops), Zoho CRM, Salesforce, Redtail, and Microsoft Outlook.
How many minutes of recording can be stored? Is there an additional cost for storage?
Typically, 1GB of storage may save about 5,000 minutes of call recordings. However, Jive requires a configured Amazon S3 account as the third-party cloud-based storage for call recordings. Amazon S3's Standard plan costs $0.023 per GB for the first 50TB per month. Those interested may check its website for a complete list of rates.
Bottom Line
Jive offers powerful and all-inclusive business VoIP tools and services. It provides you with all the core functions that you need to make, receive, and manage calls through the internet—minimizing all hardware upgrades and maintenance costs. Additionally, Jive is among the affordable options available in the market, given that it offers all of its VoIP features and inclusions like unlimited local call minutes.
Take note that its rates are comparable with its alternatives. Nextiva has more functionalities (including team collaboration and file sharing), and Grasshopper provides a free toll-free number with each new account. If these aren't deal breakers for you, then Jive's robust VoIP system is worth considering.
If you aren't sure if Jive is right for you, this article on the best small business VoIP phone service providers is a review of our top choices. Our team looked at a variety of solutions and narrowed our recommendations down based on price, ease of use, and features like call management, call quality, and CRM integrations.