Overview of Jive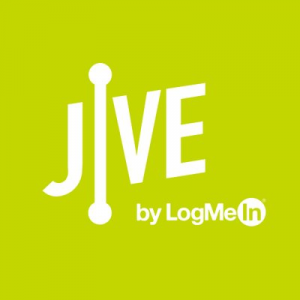 Jive is an easy-to-use voice-over-internet-protocol (VoIP) service that provides features such as an automated attendant, call management, a toll-free number, and call conferencing. However, what makes Jive stand out from other internet-based phone systems is the fact that it offers unlimited international calling to 52 countries.
I've used Jive several times in the past, and I find that it is an intuitive, effective small business phone service. The fact that you can call countries throughout the world without any extra fees is a great bonus. However, Jive might not be the right software for your needs. In this review, we will cover information about Jive's pricing, features, and support to help you decide if the platform is right for your company.
What We Like
Most VoIP phone services charge a per-minute fee for all international calls outside of North America. While these calls usually start at a few cents per minute, this can quickly add up for workers that spend a great deal of time speaking with international contacts. Jive, on the other hand, allows you to make unlimited international calls with its service. That, along with call management features, the ability to adopt a toll-free number, and an automated attendant that greets and routes callers automatically makes Jive a fantastic solution.
What We Don't Like
As good as Jive is, it's not a perfect solution. It is lacking some of the more advanced features found in competing systems like RingCentral, such as team web messaging and file sharing. Additionally, the system's user interface is a bit cluttered and does not look as modern as the likes of Nextiva or Grasshopper. We'd also like to see Jive support SMS as a customer support channel.
Which VoIP Provider Is Right for You?
Jive Pricing
The Jive pricing scheme includes a monthly plan that has five tiers, where fees depend on the number of users. It is offered as a month-to-month plan to businesses that have one to 99 users ($19.95 to $29.95/user/month) or as a long-term contract for those who have more than 100 users (custom priced).

Number of Users

Price
($/user/month)

1-4

$29.95

5-9

$25.95

10-24

$23.95

25-49

$21.95

50-99

$19.95

100+

Custom
Jive Features
As a business phone service, being able to make and receive calls is Jive's most important feature. However, being able to choose between a local or 1-800 toll-free number and international calling are also huge benefits. In this section, we will examine some of Jive's details in closer detail.
Call Management
In basic terms, call management refers to the ability to make, receive, route, and block all calls on a network. This functionality is the foundation of any phone service, and Jive is no different. We are pleased to report that Jive makes call handling a snap and feels almost as natural as making a call on your personal smartphone.
In my experience, Jive makes it very easy to manage all of your call traffic. The service has call waiting, call transfer, call forwarding, block, and caller ID. A nice bonus here is that it comes with a do-not-disturb feature that automatically blocks all calls during set times. It also comes with an E911 function, so that your employees can make emergency calls from any connected device.
Phone Numbers
Having a dedicated phone number helps your organization have an established, respectable business presence. If the scope of your business is confined to your community, then you will have no problem with just a phone number representing your local area code. However, if you want to appear as a nationwide establishment, then you'll want a toll-free number with a 1-800 prefix.
Like other VoIP services, Jive comes with the ability to adopt a toll-free 1-800 number. This is great for giving your company the appearance of a respectable, established organization. It also comes with the ability to adopt an international number. These cost $19.99 to set up, followed by a monthly cost of at least $5.99 depending on what country you would like a telephony presence in.
Even though it comes at an additional fee, we love that Jive comes with the ability to adopt an international number. This pairs nicely with the service's international calling functionality. The service is ideal for anyone with an established overseas business presence.
International Numbers
International calling can be very expensive. Even though rates to many countries are just a few cents per minute, that can add up quickly for organizations with high call volumes. If you need to stay in communication with a vendor, employee, or important client who lives abroad, then you need a business phone service that supports unlimited international calling.
All versions of Jive offer unlimited calling to 52 countries around the world, including the United Kingdom, China, Brazil, India, and many others. Other services in this category do not offer an unlimited platform, which makes Jive one of the few choices for United States companies that require overseas calling functionality. For the complete list of countries supported by Jive, click here.
Automated Attendant
Answering every phone call you get manually and routing it to the right extension can take a lot of time and effort. Fortunately, Jive comes with an automated attendant that takes care of this for you. An auto attendant is a feature that greets and routes inbound calls automatically to prespecified extensions, phones, or voicemail boxes. This technology also gives your business a more professional phone presence.
Jive's auto attendant greets and routes callers based on how the caller responds to prompts for keypad input. It also features customizable call routing rules to accommodate different business hour schedules such as holidays and weekends. I have found that Jive's auto attendant is very easy to set up and use. However, unlike some competitors, Jive doesn't offer professionally recorded greetings with its auto attendant.
Jive Alternatives
| | | | |
| --- | --- | --- | --- |
| | | | |
| Best for | Larger companies with flexible budgets that want advanced features and multiple lines | Business owners who want a business phone number on their mobile or personal phones | Small businesses that want the best balance of features, price, and customer service |
| Price | Starts at $39.99 (see more pricing details) | Starts at $29 (see more pricing details) | Starts at $34.95 (see more pricing details) |
While Jive is a fantastic service, it still might not be what you need in a business phone service. If you would like to learn what else is available on the market today, check out our VoIP providers buyers guide for our selection of the six best options. You can also read more of our VoIP service reviews for more information.
Our Recommendation
Based on my experience with Jive, I find it to be an effective, affordable business phone service. However, what makes Jive stand out is its unlimited international calling features. If you have any business presence abroad, then Jive is one of the most attractive options on the market. The service is great for companies large and small alike.
However, if you do not need international calling, Jive is less essential. Pricing is comparable to services like Nextiva, which offer more functionality like file sharing and team collaboration tools. Additionally, a virtual phone service like Grasshopper offers a free toll-free number with each new account for a fraction of the per-person cost of Jive.
With that said, Jive is still a solid product even without international calling. It has all the core features you need to be able to make and receive calls over the internet. Click the button below to get started today.