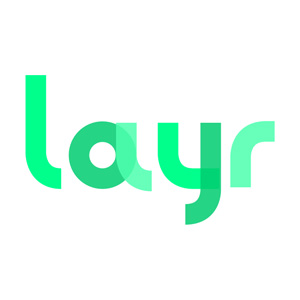 Layr is a tech-enabled insurance broker that helps business owners get coverage quickly and easily from trusted business insurance providers. It specializes in cyber liability protection and offers other policies, such as general liability, commercial auto, property, umbrella, and workers' compensation insurance. It offers customized quotes and is best for ecommerce and technology companies.
Layr Pros and Cons
| Pros | Cons |
| --- | --- |
| Partners with top-rated insurers | Does not provide multiple quotes |
| Can provide a quote in 12 minutes and coverage within 48 hours | Relatively new company |
| Offers flexible payment options and supports claims processing | |
Who Layr Is Best For
Ecommerce and technology business owners looking for cyber liability insurance: Being an InsureTech company, Layr uses artificial intelligence and machine learning to help business owners customize commercial insurance bundles. It understands the challenges and risks these businesses face and, therefore, provides resources to help mitigate these risks and answer evolving needs.
Layr Costs
Layr's costs for its offerings vary depending on certain factors, such as your industry, location, and number of employees. A quick quote can be obtained on its website. I filled out its online application form for a cyber liability policy and was quoted $50 per month. Its coverage limits start at $250,000 and go up to $3 million with deductibles starting at $2,500 up to $10,000.
While policy costs can vary from business to business, Layr states on its website that its pricing and compensation model is straightforward and applies to all. It explains that it generates revenues by receiving commissions from insurance carriers for every policy purchased through its platform and by getting paid by businesses a percentage fee of up to 20% of the premium.
Its 20% finance fee provides you with access to the best small business insurance companies, flexible payment options, a secure insurance portal, and unlimited proof of insurance. Additionally, Layr claims that its customers can save up to 35% when compared to buying commercial insurance traditionally.
Layr Alternatives 2020
| Business Insurance Broker | Best For |
| --- | --- |
| | New business owners who want expert advice to help determine the coverage they need |
| | Sole proprietors and microbusinesses that need general liability and professional liability insurance |
| | Ecommerce businesses looking for cyber liability insurance and cybersecurity resources |
| | Small business owners who want transparency about extra fees |
| | Tech-savvy business owners who prefer to easily manage their policies online |
| | Contractors who see declines because of high-risk operations |
| | High-growth businesses that want directors & officers insurance for investors and their board |
Layr Features
Layr's modern business insurance platform is designed to make purchasing and managing insurance fast, easy, and smart. It is aimed to assist entrepreneurs and business owners by providing useful features like the ones listed below.
Insurance Proposal Generator
Its streamlined online application tool uses its own rating algorithm that lets you receive real-time quotes without talking to a representative over the phone. The whole process takes no longer than 12 minutes, and once you've decided what coverage you need, its partner insurance carrier can bind policies within 48 hours.
Proof of Insurance
With Layr, you have 24/7 access to your certificate or proof of insurance. You can generate unlimited certificates to be stored on your portal or securely sent via email to your clients at any time.
Secure Insurance Portal
This serves as your digital wallet where you can manage your insurance, view your payment history, change your payment method, and update your business profile. It uses bank-level security to insure account privacy and confidentiality.
Insurance Claim Wizard
Unlike other insurance brokers that are pretty much out of the picture once the policy has been purchased, Layr continues to support its customers and insurance carrier partners even after sales. It even assists policyholders with claims processing. Its claim wizard walks policyholders through the process and then forwards their claims straight to the carriers.
Layr then works with the insurance company's adjusters to ensure that the claim is handled quickly and resolved properly. When all is settled, Layr then maintains a well-documented claim history that you can access through your online portal anytime.
Flexible Payment Option
One of the biggest advantages Layr has over its competitors is its capability to offer flexible payment setup. It is one of the few insurance brokers to accept credit cards for insurance premium payments. It also offers monthly schedules without down payments, which is uncommon among other providers who typically require customers to pay the annual premium upfront.
Top-rated Insurance Providers
Layr works exclusively with A+ and A-rated insurance companies, such as CNA, Chubb, Ace, One Beacon, and Philadelphia. It also researched and compiled on its website some of the best commercial insurance carriers to help its customers better understand the differences between them. Information you can find on its website includes the carrier's financial ratings, market share, and company histories.
Most Helpful Layr Reviews
Despite its short tenure, Layr reviews found online are overwhelmingly positive. Those who wrote positive feedback are happy with its simple, easy, and fast process. Many also appreciate its competitive pricing and amazing customer portal. There are also a lot of positive mentions of its responsive customer support team.
Great overall service and competitive pricing
One policyholder who left a positive review on Capterra like how Layr made researching, purchasing, paying, and renewing her insurance easy. She also commended its team, who were personable and well-versed with insurance. Furthermore, she noted its monthly billing option and low annual premiums, which she said were very helpful to small business owners, like herself.
Unauthorized bill
As of this writing (July 29, 2020), only one recent negative Layr review is available online. It was written on Google by a policyholder who complained about an unauthorized bill. It is notable, however, that Layr made an immediate response to this customer complaint.
Layr Frequently Asked Questions (FAQs)
Every business situation is unique, and small business owners should seek answers before selecting an insurance provider. We've gathered some of the most commonly asked questions about Layr below and answered them.
What other types of insurance policies does Layr offer?
It also sells all types of commercial property and casualty insurance. These include general liability, professional liability, property, automobile, workers' compensation, umbrella, errors and omissions, directors and officers, employment practices liability, crime, fiduciary liability, kidnap and ransom, product liability, and more. It does not sell personal insurance, life insurance, or any kind of health insurance.
Can I keep my existing agent and use Layr's platform?
No, you can't. Until Layr becomes the "broker of record," it won't have the ability to execute any insurance-related transactions on your behalf. You'll be required to continue working with your current agent for things like initiating claims, making payments, and changing coverage and limits.
However, you can transfer your existing coverages to Layr for free by generating a broker of record letter. Please note that your current agent will be notified that a new agent is taking over the management of the transferred policies when you transfer them to Layr.
How do I transfer my current insurance policies to Layr?
Layr has created an online "broker of record" change request form where you can upload your company logo and specify your current insurance carriers and policy numbers. You need to provide your contact information and signature, and Layr will handle the rest. The policies typically are transferred within 10 days.
Our Top Business Insurance Provider Picks
In case you still are not sure if Layr is right for you, then this article on the best business insurance brokers is a review of our top choices. In this guide, we reviewed several providers and narrowed them down to our top picks based on key criteria like price options, available carriers, coverage types, and customer service.