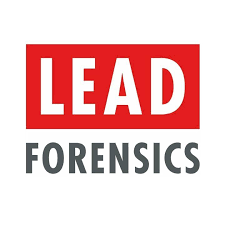 Lead Forensics is a business-to-business (B2B) lead generation software that enables users to capture their website visitors' business information in real-time. Its features include actionable leads, decision-makers identification, visitor insights, and lead watchlists. Estimated pricing ranges from $99 to $2,000 per month. It is best for marketing teams looking to convert website visitors into leads and sales teams looking for comprehensive lead insights.
Lead Forensics Pros and Cons
| Pros | Cons |
| --- | --- |
| Can effectively track and monitor website visitors' activities | Visitors' contact details are purchased separately |
| Provides an onboarding and customer success team | Does not identify visitors' individual names |
| Can have unlimited users | |
Who Lead Forensics Is Best For
Marketing teams that want to convert website visitors into leads: Lead Forensics can help marketing teams identify which businesses and organizations are visiting their websites, along with their contact information.
Sales teams looking for comprehensive lead insights: Lead forensics provides deep lead insights. These include what they searched for, how many times they visited, time spent on each page, and their likelihood to buy.
Lead Forensics Pricing
Lead Forensics pricing is customized depending on the amount of website traffic. However, third-party sources indicate that its prices range from $99 to $2,000/month with a 12-month commitment contract. Those interested may contact its support team to request a detailed pricing quotation.
Lead Forensics Alternatives 2020
| Lead Generation Software Companies | Best For |
| --- | --- |
| | Purchasing scrubbed lists of leads |
| | Creating a prospect list of decision-makers at target companies |
| | Generating leads through inbound marketing |
| | Engaging with leads in real-time on your website |
| | Building websites and landing pages to collect leads |
| | Engaging with and capturing leads on social media |
Lead Forensics Features
Lead Forensics' features are designed to help users generate more leads by identifying their website visitors. Some of its main features include actionable leads, decision-makers identification, lead watch list, and lead manager.
Actionable Leads
Lead Forensics identifies website visitors and other relevant details, such as email address, location, website, and telephone number. It also provides actionable insights, including their search query, site activity, and buyer consideration stage.
Decision-makers Identification
As Lead Forensics identifies businesses and organizations that are visiting the user's website, it can also provide key information about each business' key decision-makers. These include their names, job titles, and email addresses.
Lead Watch List
Lead Forensics users can add certain leads to their watch lists. Whenever a lead on these watch lists revisits their website, the platform alerts them automatically.
Lead Manager
The lead manager enables users to perform end-to-end lead management processes, such as adding contact details, setting callbacks, scheduling appointments, and tracking notes, quotes, and proposals.
Most Helpful Lead Forensics Reviews
Most Lead Forensics reviews are positive. Many said that the ability to track visitor activity has enabled them to personalize their approach when converting a lead. Some added that the notifications help them respond faster to their visitor's activity. However, some complained that it does not display specific names of people visiting their websites.
Provides actionable insights about website visitors
Users who gave positive Lead Forensics reviews said that its ability to detect and track visiting businesses helped them personalize sales strategies for each of them. Some added that its notifications and trigger alerts enable them to respond quickly to visitors who are more likely to be converted.
It does not show the names of specific individuals who visited
Users who gave negative Lead Forensics reviews reported that it does not display specific names of people who visited their websites. Some also complained that there is an additional payment for decision-makers' email addresses.
Lead Forensics Frequently Asked Questions (FAQs)
Does Lead Forensics have a mobile app?
Lead Forensics' mobile can perform all of the functionalities available on the desktop version. These include visitor identification, appointment scheduling, notifications, reminders, and lead assignments.
Can Lead Forensics integrate with third-party software?
Lead Forensics can integrate with third-party customer relationships management (CRM) software, such as Salesforce, Microsoft Dynamics CRM, and Zoho CRM.
Does Lead Forensics train new users on operating the platform?
All Lead Forensics users have access to a customer success team for the onboarding program. The team also helps users maximize the platform to achieve their business goals.
Our Top Lead Generation Software Picks
If you aren't sure if Lead Forensics is right for you, this article on the 13 Best Lead Generation Software for Sales is a review of our top choices. Our team looked at a variety of solutions and narrowed down our recommendations based on price, features, and customer support.