LendingHome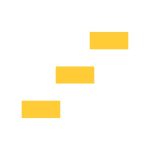 is a direct hard money lender offering bridge loans for real estate investors. As of 2018, LendingHome has originated more than $2 billion in loans, financed more than 10,000 homes, and returned more than $1 billion to investors, becoming the largest online mortgage marketplace in the country.
Founded in 2013, LendingHome is revolutionizing the world of mortgages to put the power, and the keys, where they belong — in the borrower's hands. Our built-from-scratch technology has transformed a slow, painful, paper-based process into a fast, transparent, online experience for homebuyers and real estate professionals. At the same time, as a marketplace lender, LendingHome provides institutional and accredited investors with access to attractive, high-yield real estate assets. Ready to learn more? Visit LendingHome.
LendingHome: Rates & Terms
*LendingHome offers different terms for borrowers depending on how many flips they have completed in the previous 24 months.
Top Lenders 2019
Lender Information
States Currently Lending In
Arizona, California, Colorado, Connecticut, Florida, Georgia, Kentucky, Maryland, Massachusetts, Michigan, Missouri, Nevada, New Jersey, New York, North Carolina, Ohio, Oregon, Pennsylvania, South Carolina, Tennessee, Texas, Utah, Virginia, Washington, West Virginia