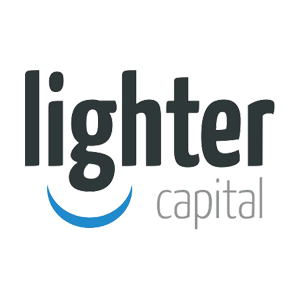 Lighter Capital is an alternative lender that offers term loans, lines of credit, and revenue-based financing designed to help technology and software businesses. Since 2012, it has invested $200 million in more than 350 ventures in over 650 rounds of financing. It can lend up to $3 million and is best for technology companies with strong revenues.
Lighter Capital Pros and Cons
| Pros | Cons |
| --- | --- |
| Wide loan range | Exclusive for tech and software companies |
| Flexible remittance schedule | High revenue requirement |
| Long repayment terms | Long approval and funding process |
Who Lighter Capital Is Best For
Technology and software companies: It works exclusively with software, SaaS, digital media, tech services, and other similar businesses. It provides non-dilutive revenue-based financing, which is helpful for these companies to grow without having to give up equities and shares.
Those with high monthly revenue: The lender's loan decisions are primarily based on your revenue, which should be at least $200,000 annually or $15,000 on average monthly. Because of this stringent revenue requirement, those who are just starting out may find it hard to qualify for Lighter Capital funding.
Companies that are looking for flexible repayment schedules: Its unique repayment schedule allows you to make payments based on your monthly revenue, which means that if your monthly sales go down, so does your remittance. While this is beneficial to some, it may be a drawback for others, especially those who want to have fixed and predictable payments.
Lighter Capital Costs and Terms
Lines of Credit

Revenue-Based Financing

Loan Amounts

$50,000 to $1 million

$50,000 to $3 million

Repayment Schedules

Pay only when you start drawing funds

Monthly

Funding Speed

On-demand

Up to 30 days

Repayment Terms

Three to five years
Unlike other loans, Lighter Capital's costs and repayment amounts are not based on origination fees. Instead, they are determined by a percentage of your revenue, which is usually 2% to 8% but never more than 10%. This fee is calculated and debited monthly until the total repayment cap (1.35x to 2.0x) is reached.
This type of repayment schedule could be beneficial since payments adjust to the rise and fall of your sales and do not affect much of your cash flow. Additionally, it provides a wide range of loan amounts ($50,000 to $3,000,000), where you can qualify up to 33% of your annual revenue run-rate. It also allows you to take long repayment terms and multiple loans.
Do You Qualify for Lighter Capital Financing?
| | |
| --- | --- |
| Minimum Credit Score | Not a factor |
| Time in Business | Not a factor |
| Monthly Revenue | Minimum average of $15,000 monthly recurring revenue (MRR) |
Lighter Capital has stricter qualifications compared to similar providers, and these include a higher revenue requirement of $15,000 MRR or at least $200,000 annual revenue. While it does not ask your business to be profitable, it does look at your profitability potential—requiring your business to have a gross margin of at least 50%. Most importantly, it should be noted that the lender's services are completely dedicated to tech companies that are located in the US.
Lighter Capital Application Process
To start your application, you can fill out a short form on Lighter Capital's website. After that, someone from its investment team will get in touch to gather more information about you and your business as well as to discuss your qualifications and options. If approved, then your funding should be completed in two to three weeks.
Lighter Capital Alternatives
Best For

Businesses that need to borrow against their invoices or need a low-rate line of credit quickly

Businesses with good credit that need fast financing and low rates

Newer businesses with less-than-perfect credit that need fast funding

Loan Amount

Up to $5 million for invoice factoring;
up to $250,000 for line of credit






Up to $500,000

Up to $100,000

Terms

Six or 12 months for line of credit

Three to 36 months

12 or 24 weeks

Funding Time

One day

One day

One day

Credit Score

530+ for invoice factoring

600+

No minimum credit score requirement
What Business Owners Should Know About Lighter Capital
It does not require collateral and personal guarantee: It offers non-dilutive revenue-based financing, which means that you won't have to give up any of your business equity or share. You will also not be personally liable if your business fails to pay the loan.
It can provide follow-on rounds in as fast as three to four days: While initial funding can take two to four weeks, succeeding ones can be released in a matter of days. This helps you continue to grow your business and not miss out on opportunities.
Most Helpful Lighter Capital Reviews
As of the date that this article was written (April 3, 2020), there are no Lighter Capital reviews available online. If you are a past or current Lighter Capital customer, then leave a review to help others who are deciding whether or not to use the service.
Lighter Capital Frequently Asked Questions (FAQs)
Can I repay the loan early?
Yes, you can. While there are no prepayment penalties for early repayments, there are also no incentives offered.
How does Lighter Capital fund loans?
It funds loans by issuing the payment to borrowers in a lump sum through a direct deposit.
How are repayments processed?
Repayments are calculated and debited monthly via Automated Clearing House (ACH).
Bottom Line
Lighter Capital is perfect for businesses that are in the technology industry and have high monthly revenues. It provides a wide loan range of $50,000 to $3 million and flexible repayment schedules that are based on your monthly revenue. However, it has strict qualifications and high revenue requirements. Its funding time of two to four weeks is also relatively longer compared to other lenders. Among all, its biggest catch is that it works exclusively with technology companies.
If your company does not meet its qualifications, then you may consider looking into alternative lenders. This article on the best quick business lenders (fast business loans) is a review of our top choices. In that guide, we compared the top providers according to their terms, costs, and qualifications.