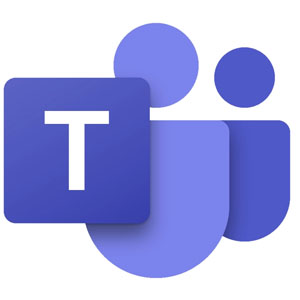 Microsoft Teams is a business communications software that comes with video conferencing, chat, and collaboration tools. It integrates with Microsoft 365 productivity apps, allowing teams to access, edit, and share documents in real time. Its monthly fees range from $0 to $20 per user when paid annually, and it's best for healthcare professionals and businesses with remote workers that prioritize collaboration.
Microsoft Teams Pros & Cons
| Pros | Cons |
| --- | --- |
| Sleek and modern user interface (UI) | Not very useful for G Suite users |
| Free version is available | Paid plans can get expensive |
| Syncs with Microsoft 365 products | Free version lacks admin tools and customer service |
Who Microsoft Teams Is Best For
Businesses with remote workers that prioritize collaboration: Microsoft Teams is designed to help remote teams collaborate and communicate easier from anywhere. Users are allowed to work together on shared projects in real time to avoid confusion that can be brought by having multiple document versions.
Healthcare professionals: Virtual visits for patients and clinicians are possible with Microsoft Teams' meeting tool that comes with audio, video, and screen-sharing features. It also allows messaging and real-time patient care coordination in a single hub, among others. Microsoft Teams complies with the Health Information Technology for Economic and Clinical Health (HITECH) Act, Health Insurance Portability and Accountability Act (HIPAA), and more.
Microsoft Teams Pricing
Microsoft Teams' pricing page displays four plans with monthly fees that range from $0 to $20 per user when billed annually (exclusive of taxes). Paid plans are for the Microsoft 365 subscriptions, which include Microsoft Teams. The main differences between the plans are access to premium features like meeting recordings and the maximum number of users.
Microsoft Teams

Microsoft 365 Business Basic*

Microsoft 365 Business Standard*

Office 365 E3*

Pricing
($/User/Month)

$0

$5

$12.50

$20

Maximum Number of Users

500,000

300

300

500,000

Guest Access to Teams

✓

✓

✓

✓

Web Versions of Word, Excel, and PowerPoint

✓

✓

✓

✓

24/7 Phone and Web Support

✕

✓

✓

✓

Meeting Recordings

✕

✓

✓

✓

Online Events for up to 10,000 Participants

✕

✕

✕

✓
*All paid plans include Microsoft Teams.
Microsoft Teams Alternatives 2020
Best For

Pricing

Anybody looking for a free to low-priced screen-sharing software for hosting virtual meetings

Starts at $14.99/host/month

Companies that want a full VoIP service plan as well as screen-sharing software

Starts at $19.99/user/month for two to 20 users

Budget-conscious teams wanting to collaborate using screen-sharing technology without paying for service

$0 +
3.9 cents per minute for toll-free calling for meetings

Freelancers, solopreneurs, and small teams that want the ability to host video and audio conferences for a low price

$0 or $15/user/month

Businesses looking for a cheap alternative while still getting great stock features

$0–$34.99/month
Microsoft Teams Features
Microsoft Teams enables remote teams to chat, call, meet, and collaborate from anywhere. Here are some of Microsoft Teams' most essential features.
Meetings & Calling
Communicate with your colleagues from anywhere through Microsoft Teams video and audio calls. Its platform lets users share screens, schedule meetings, customize backgrounds, record meetings, and host video and audio conferences.
Chat & Collaboration
Stay connected with your team with Microsoft Teams. It allows you to send an unlimited number of chat messages. File sharing is also featured in chat, teams, and channels. You may also collaborate on Microsoft 365 documents and utilize over 250 integrated apps and services.
Productivity Apps & Services
Microsoft Teams users may access web versions of Word, Excel, and PowerPoint. When subscribed to a paid plan, they can also utilize OneDrive, additional Microsoft 365 services, Exchange email hosting for a custom email domain address, and more.
Privacy Options
Decide who among your external guests are allowed to join meetings directly and who should be directed to the lobby for someone to let them in. Recording consent, channel moderation and control, multifactor authentication, advanced thread protection, and external access are also available.
Most Helpful Microsoft Teams Reviews
Most Microsoft Teams reviews online are positive. The majority of users are impressed with its intuitive collaboration and communication tools—letting them track projects and teams. Additionally, there are very few negative comments about Microsoft Teams, although some shared their preferences for improvement, such as a more extended display of notifications.
Great tool for document collaboration
"Teams is a really awesome tool for document collaboration using Office products. We are able to utilize Teams for sales tracking, screen sharing, document editing, and general communication with team members that are in different locations."

— Meredith Barnes
Occasional accidental message broadcasting
"When I'm in a meeting, if someone is playing around on their phone or voicemail, it sometimes broadcasts the message to all participants. That part can be distracting, but the overall quality is what one would expect from Microsoft."

— Ed Kachur
Microsoft Teams Frequently Asked Questions (FAQs)
Is there a required internet speed for HD calling?
Microsoft Teams requires a broadband connection with at least 4 Mbps for HD calling, as well as compatible HD hardware.
Is my data in Microsoft Teams secure?
Yes, it is. Microsoft Teams encrypts data at rest and in transit. It also utilizes Secure Real-time Transport Protocol (SRTP) for audio, chat, video, files, and desktop sharing.
Does Microsoft Teams comply with industry standards?
Yes, it does. Microsoft has a wide range of compliance offerings to help you comply with industry-specific, regional, and national requirements on the collection and utilization of data. You may view its complete list on its website.
Bottom Line
If you aren't sure if Microsoft Teams is right for you, this article on the best video conferencing software is a review of our top choices. Our team looked at various solutions and narrowed our recommendations down based on price, ease of use, and features, like call control, customer support, and business application integration.