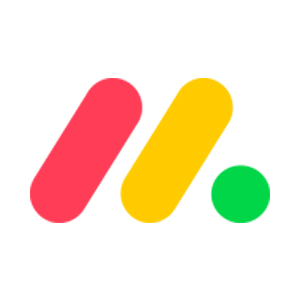 monday.com Pros & Cons
| Pros | Cons |
| --- | --- |
| Projects can be set up and sorted any way you like | Limited guest access |
| Has Gantt, Kanban, calendar, and unique mapping views | Limited file storage |
| Has a shared workspace for collaboration | No free plan; could be expensive for small businesses as subscription plans require a minimum of five users |
Who monday.com Is Best For
Users who need to present projects in various visual formats: monday.com provides around 20 column types—including timeline, Kanban, calendar, and map views—enabling you to present data and information to your team in the most appropriate and easy-to-understand format.
Users who want to use a project management tool with time-tracking capabilities: monday.com provides users with a time-tracking functionality, giving them visibility into their team's time usage and helping them manage their time better. This feature also enables managers to evaluate the workload of their team members and be able to assign projects accordingly.
monday.com Pricing
monday.com's pricing varies depending on the number of users and your chosen plan. Monthly pricing starts at $49 to $99 for five users, and could go as high as $399 to $799 for 40 users. The main differences in its plans include file storage allocation, duration of activity log, and number of boards per dashboard.
Basic

Standard

Pro

Enterprise

5 Users

$49/month

$59/month

$99/month

Customized

10 Users

$99/month

$119/month

$199/month

Customized

30 Users

$299/month

$359/month

$599/month

Customized

40 Users

$399/month

$479/month

$799/month

Customized

50 to 200+ Users

Customized

Customized

Customized

Customized

File Storage

5GB

50GB

Unlimited

Unlimited

Activity Log

1 week

Unlimited

Unlimited

Unlimited

# of Boards per Dashboard

1

3

10

26
The company also offers annual subscription options for those who prefer a long-term contract.
Basic Plan
The Basic Plan provides monday.com's essential features, such as unlimited free views (which means other team members can view your boards, but not have editing access) and unlimited boards (allowing you to create as many boards as you need for all your projects). Other features include whiteboard integration (brainstorming boards), form embedding, two-factor authentication, knowledge base, and 24/4 customer support.
Standard Plan
The Standard Plan builds on the features of the Basic Plan. While both plans' features are not very different from one another, the most significant additions include third-party integrations, form customizations, and being able to view projects in calendar, timeline, and map formats. This plan is ideal for users who want to diversify the management of their projects by using a wider range of choices in terms of board views.
Pro Plan
The Pro Plan offers advanced features that include time tracking, being able to view projects in chart view, access to formula columns, and custom tags. It also offers private boards, making it ideal for teams that need to maintain confidential boards with restricted access to select members.
Enterprise Plan
monday.com's most advanced plan, the Enterprise Plan, includes an audit log, 99% uptime, advanced account permissions, and tailored onboarding. The additional features of this plan are focused on security and personalized onboarding, and it is mostly ideal for big teams and established companies.
monday.com Alternatives 2020
| Project Management Software | Best For |
| --- | --- |
| | Teams of 10 or more; it combines project management with group chat and cloud storage |
| | Small teams and those who want simple task management that adapts quickly into your team's existing workflow |
| | Larger teams that require a high level of organization and task automation |
| | Creative teams that produce videos or graphics as deliverables |
| | Businesses that want built-in time tracking and invoicing tools for easy client billing |
monday.com Features
monday.com provides you with a set of project management tools to help you manage your tasks and responsibilities better and continuously grow your business. Below are some of its key features:
Task management: Projects are created using an easy-to-understand, spreadsheet-like tool. Each row is a new task, and each column is a new data point, which allows you to track items such as assignee, budget, due date, location, and so on.
Multiformat board views: Once you have created your projects, you can visualize them in many different ways or in the format that your team mostly prefers, including a timeline or Gantt chart, Kanban board, calendar, interactive map views, and more.
Time tracking: Users can simply click a play button next to a task to begin recording time and a pause button to stop. This provides you with a simple way to track time spent by your team on a task and have visibility on planning and assigning tasks among team members.
Customizable forms: monday.com allows you to integrate web forms into your project management system. When somebody submits an order form or support ticket, you can automatically send the details to your account and initiate a new project.
Third-party integrations: monday.com supports some key integrations, like Zendesk, Salesforce, Zoom, Slack, Shopify, and WooCommerce, to help you manage your business data in various software applications that your business is using.
Customer support: monday.com provides email support that is available 24/7. According to reviews, concerns and inquiries usually get a response in an average of 10 minutes.
Most Helpful monday.com Reviews
Most users who left monday.com reviews online reported that it is easy to use and mentioned that it is particularly useful in managing web and online projects. Some users, however, noticed that the system tends to slow down when boards become larger and accumulate more data.
Most helpful positive review: Enables team to manage tasks end-to-end
One user who gave monday.com a positive review said that they have tried using a lot of project management tools, but found monday.com to be the most useful. She shared that they have multiple groups of individuals within their marketing department who are concurrently using the tool to coordinate various aspects of their work—from accommodating order requests, managing web and online projects, all the way to collating varied updates and responses to particular projects from different team members. Overall, monday.com makes all of these tasks convenient and easy to follow.
Most helpful negative review: System slows down as data becomes heavier
One user who gave monday.com a negative review said that their team's main concern is the system speed, stating that as use increases and boards become larger, the interface becomes significantly slower as well. He also noted that the company's promised improvements in speed have yet to be seen. He added that large boards are hard to manage due to speed and bulk update, as well as automatic date fields and so forth.
monday.com Frequently Asked Questions (FAQs)
Does monday.com offer plans to nonprofits & non-governmental organizations (NGOs)?
Yes. monday.com offers discounted pricing for qualified nonprofit organizations. Interested organizations can visit its website and fill out an application form, which may be found in the FAQs on its pricing page.
How secure is monday.com?
monday.com is built with strict security requirements and protocols to secure your data, such as ISO/IEC 27001 and ISO/IEC 27018, and is undergoing annual security audits and assessments. It uses high physical, procedural, and technical security measures to preserve the integrity and security of customers' data, as well as adhering to the strictest data protection laws.
Can I change my plan?
You can make changes to your plan at any time by changing your plan type and adding and removing users. To change your plan, simply go into the Admin section and click on the Billing option.
Bottom Line
monday.com's biggest benefit is its ability to offer users flexibility and diversification. Apart from providing users with various formats to present information and manage tasks and projects, it also lets them handle other tasks such as billing and customer profiles.
It provides users access to some of its main features in the more affordable plans, such as the Standard Plan, reducing the need for them to choose the more expensive options if their budgets are limited.
If you aren't sure if monday.com is right for you, this article on the best project management software is a review of our top choices. Our team looked at a variety of solutions and narrowed down our recommendations based on price, features, and customer support.
Disclaimer: The following information was provided by monday.com and does not necessarily reflect the views of FitSmallBusiness.com.
What is monday.com?
monday.com is the easiest work platform to manage any team and any project: Simply pick from a variety of templates or create your own workflow to get started. Sync, plan, organize, and track your teams projects from the high-level overview down to the smallest details. Over 70,000 teams use monday.com to focus on whats important, see whos in charge of what, and stay updated in one collaborative tool.
monday.com News & Activity
monday.com is designed for teams of all sizes, it helps both tiny startups and huge enterprises work better as a team. It's so versatile, their customers span a wide range of markets and industries.
monday.com Customer Service
24/7 phone and chat support. 10 minutes response time
monday.com Unique Features
– Simple and Intuitive Team Management Tool – monday.com makes it easy for teams to get on-board and adopt the software. To build the team, users simply have to send an email to invite new members. For a quick start, they can select from a list of templates for their particular project or requirement. And the team can use as many templates for a variety of use cases, to address different workflows. Assigning tasks to team members is easy, and the process is highly visual and transparent.
-Flexible and Customizable Software – The team management software is applicable for different types of teams. After setting up the team and project, users can customize and manage their workflow or process, whether simple or complex. They can use columns to capture and visualize all the information they need. They can choose to capture and view information about time, assigned team member, locations, and other information, whether text, number, links, and other types of data.
-Visual Planning and Tracking Application, Mobile Apps, Integration, and more – monday.com provides users multiple options of how they want to plan projects and track progress. They can look at the overview or go into details with a calendar, charts, files, Kanban board, map, or a timeline. The smart tools allow for easy and visible planning, progress tracking, and advanced weekly view across multiple projects and teams. Collaboration is centrally built-in, so users can have all their conversations, files, briefs, checklists, and spreadsheets in one place for easy discussion and review. This helps eliminate long meetings and confusing email threads.It has native iOS and Android mobile apps for keeping everyone in the loop even when on the go. The software also integrates smoothly with popular apps and services such as Dropbox, Excel, Google Calendar, Google Drive, Integromat, Slack, Trello, and Zapier.