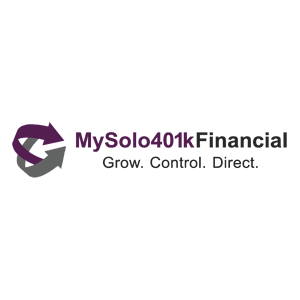 MySolo401k is a lender that provides 401(k) business financing, which is also known as rollover for business startups (ROBS). It helps entrepreneurs, small business owners, and investors finance their businesses using their retirement funds without paying any taxes or penalties. It lends up to 50% of your account balance and is best for those looking for low fees and zero interest.
MySolo401k Pros and Cons
| Pros | Cons |
| --- | --- |
| Low maintenance and set up fees | Only caters to owner-only businesses or self-employed individuals |
| Monthly or quarterly payment schedules | Limited financing options |
| Tax-deferred | Additional maintenance fees apply for businesses with more than 10 employees |
Who MySolo401k Is Best For
Those seeking readily available capital without having to pay for interest or tax penalties: MySolo401k provides interest-free and no-hassle business financing. It also offers one of the lowest rates in the market.
Businesses with less than 10 employees: While its fees are one of the lowest there is, it can get a little costly for companies with more than 10 employees as its administration fee only covers up to 10 participants. Each additional employee will be charged separately, starting in the second year of your plan with fees waived in the first year.
MySolo401k Costs and Terms
| | 401 (k) financing (ROBS) |
| --- | --- |
| Loan Amounts | Borrow up to 50% of the account balance (not to exceed $50,000) |
| Repayment Terms | Five years |
| Repayment Schedules | Monthly or quarterly |
| Funding Speed | Two to three weeks |
| Setup Fee | $4,000 ($3,500 for veterans) |
MySolo401k costs include a one-time setup fee of $4,000 and an annual maintenance fee of $899 (around $75 per month). These costs are lower compared to those offered by similar providers, which range from $97 to $120 per month. Another good thing about its pricing is that its maintenance fee is waived for the first year of your plan. The only catch is that it charges an additional fee of $75 per employee after the first 10 participants starting in the second year.
Do You Qualify for MySolo401k Financing?
| | |
| --- | --- |
| Qualification 1 | Self-employed individuals and owner-only businesses |
| Qualification 2 | Without any W-2 employees |
| Qualification 3 | Must operate as a C-corporation |
| Qualification 4 | Must be an active business |
| Qualification 5 | Must have no existing debts |
| Qualification 6 | Must use pretax funds coming from non-Roth fund sources |
MySolo401k specifically caters to self-employed individuals and owner-only businesses, which can be considered as a limitation. Additionally, it requires its borrowers to operate—and be an employee of—an active business operating as a C corporation (C-corp) with no existing debts and W-2 employees.
Moreover, the funds to be used in the ROBS transaction need to be pretax funds and must purchase the employer stock at fair market value. You must not also charge any commissions on the stock you purchase when you roll over your retirement fund.
If you are funding an existing business, on the other hand, you will be required a valuation. Additionally, if your business has existing employees, then you will also need to provide them the option to roll over their retirement funds and invest in the business if they wish to do so.
MySolo401k Application Process
To apply, you just need to fill out an application form on its website, where you'll be asked information about yourself, proposed business, retirement account, and more. Once that is complete, a representative from MySolo401k will reach out to you for the next steps. After that, you will receive funding in two to three weeks.
MySolo401k Alternatives 2020
| Company | Best For |
| --- | --- |
| | Businesses that want the highest level of service including free legal consultations |
| | Entrepreneurs looking to fund a franchise with ROBS or ROBS + SBA loans |
| | Startups looking for the provider that has been doing ROBS successfully the longest |
| | Exploring funding alternatives on a free online marketplace |
What Business Owners Should Know About MySolo401k
It provides an audit guarantee: Its guarantee states that in the event of an audit, it will step up as the plan provider to help you respond to the audit at no additional charge. Additionally, if your 401(k) business financing plan is challenged as a prohibited transaction, it will pay for legal counsel to represent you—still at no additional cost.
It offers Small Business Administration (SBA) loans: You can use the proceeds of your ROBS 401(k) rollover as a down payment to secure an SBA loan. MySolo401k is very well-versed with SBA rules and works with various other SBA providers.
Most Helpful MySolo401k Reviews
All of MySolo401k reviews left online are rated 5 stars by clients who are happy with its level of customer service. Some customers mentioned that its fees are a lot lower than those offered by similar providers.
Lives up more than its reputation
One customer who left a positive review of MySolo401k on Google commended its team who were very responsive and patient in helping him out every step of the process. He also appreciates the amount of money he was able to save because his annual fee was waived in the first year. He added that despite its low costs, its services remained excellent.
MySolo401k Frequently Asked Questions (FAQs)
What services does its setup fee cover?
Its setup fee of $4,000 includes:
C-corp formation
Business financing 401(k)/profit-sharing plan (PSP)
Employer identification number (EIN) for 401(k)/PSP
EIN for corporation
Corporation bank account setup
Brokerage account for 401(k)/PSP
Preparation of transfer forms
An audit guarantee
What does its maintenance fee include?
It covers the following:
Form 5500 preparation
Addition of participants as they become eligible to participate in the plan
Form 1099-R reporting
Annual routine corporation valuation for Form 5500 preparation
Mandatory amendments
Review of annual participant statements
Monitor contributions and vesting
Computation of plan contributions
Annual nondiscrimination testing
Annual top-heavy, additions, and coverage
What types of business can I start with MySolo401k's business financing plan?
You can start any type of business using its ROBS program as long as the business is not engaged with investment or lending of capital.
Bottom Line
MySolo401k is best for those looking for competitive fees yet great service as it offers the lowest costs in the market. All of its reviews found online are positive. It also provides monthly and quarterly payment options and even waives your annual maintenance fee in your first year.
On the other hand, it may not be ideal for fast-growing companies and businesses with more than 10 employees. It charges an additional fee of $75 for each employee after the first 10 participants starting in the second year, which tends to be a little expensive. Most importantly, it limits its clients to owner-only businesses and self-employed individuals. If you don't fall in any of the above or aren't sure if MySolo401k is right for you, this article on the best ROBS providers is a review of our top choices. Our team looked at a variety of solutions based on rates, fees, and services offered.