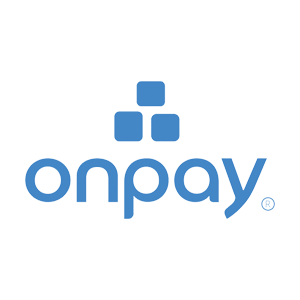 OnPay is a full-service payroll solution that lets you process employee and contractor wages and automate payroll tax payments and filings. Its built-in HR tools allow you to track paid-time-off (PTO) and manage new hire onboarding, while its benefits solutions enable you to provide health and retirement plans to employees. Designed for accountants and small and growing businesses, its monthly fees start at $36 plus $4 per active employee.
OnPay Pros and Cons
| Pros | Cons |
| --- | --- |
| Intuitive and feature-rich software | Glitchy integrations |
| Good customer support | Doesn't offer tiers that cater to varying needs |
| Offers benefits in all 50 states | |
Who OnPay Is Best For
Small and growing businesses: OnPay's cloud-based platform allows you to process employee and contractor payroll in multiple states. You also get unlimited monthly payroll runs at no extra cost. Moreover, its benefit solutions cover all 50 states—enabling you to offer a wide range of medical, dental, vision, life and disability, and 401(k) retirement plans to your employees.
Accountants: The system seamlessly integrates with QuickBooks Desktop, QuickBooks Online, Xero, and other popular accounting and time tracking software. This helps accountants and bookkeepers deliver accurate payroll and tax filing services to clients.
OnPay Pricing
OnPay offers an all-inclusive plan for up to 1,000 employees, and its monthly fees range from $40 to $4,036. Aside from having access to the features listed in my "Best For" section, you get unlimited payroll runs per month and free direct deposit, check, and debit card employee payment transactions.
OnPay also doesn't charge fees for withholding, remitting, and filing payroll taxes. You can print W-2 and 1099 forms for free, and you may request OnPay to print and mail these to you for $5 per form (plus shipping and handling fees). In case your bank account for employee payroll has insufficient funds to cover the cost of a pay run, OnPay will charge a non-sufficient funds (NSF) fee of $50 per returned item. However, if the returned item is less than $50, then the NSF fee will be the same amount as the said item.
For new users, OnPay offers a one-month free trial that grants you access to all of its payroll, tax filing, benefits, and HR tools. On a tangent, it also offers free data migration services that allow you to easily transfer employee payroll-related information from your old provider to its platform. Moreover, if you take advantage of its benefits add-ons, then you will have to pay the employer-related fees for the plans that you choose to provide to employees.
OnPay Features
OnPay offers a full-service payroll solution that not only automates payroll and tax filing processes but also comes with built-in HR tools and benefit options that cover 50 states. Let's look at some of its essential features to help you determine if it fits your business' requirements.
Payroll Processing
Apart from unlimited payroll runs and multi-state pay processing, you can choose multiple payroll schedules for different employee types. You can also pay employees either through direct deposit, check, or debit card. It also comes with more than 40 payroll reports, which you can download as a PDF file or export to your accounting system.
Tax Filings and Payments
OnPay will withhold, remit, and file state and federal payroll taxes for each pay run. You also gain access to printable year-end tax forms for W-2 and 1099 staff. If you have agricultural workers, then it can process the tax filings (Form 943) for the said employees.
Garnishments Deductions
You can set rules for when garnishments deductions should stop. OnPay also records garnishments on employee pay stubs and expense reports automatically. For restaurant business owners, its platform can help you calculate an employee's tipped wages.
HR Tools
OnPay comes with essential HR tools such as new hire reporting, automated onboarding workflows, customizable offer letters, e-signable documents, and PTO management with automatic accrual tracking. You also gain access to a library of customizable forms, legal templates, and HR guides.
Employee Benefits
OnPay is a licensed health insurance broker across 50 states, enabling it to offer a wide range of benefits options for your employees—from medical and dental to retirement and workers' compensation plans. With the platform, you gain access to the following major providers:
Aetna
America's Best 401k
Anthem
BlueCross BlueShield
Guardian
Guideline
Humana
United Healthcare
Vestwell
Its employee benefits solution also integrates with OnPay's payroll platform, making it easy for you to manage premium deductions. Additionally, if you need assistance in finding a good benefits plan for your staff, then OnPay's in-house team of licensed professionals can help you identify the best options.
Employee Self-Service
The self-service tool lets your employees view pay stubs, access tax forms, check employment documents, update personal information, and revise voluntary payroll deductions such as 401(k) plans.
Third-party Integrations
Here are some of OnPay's integration options:
Accounting: QuickBooks Online, QuickBooks Desktop, and Xero
Time tracking: Deputy, Humanity, TSheets, and When I Work
Farm financial management: Magnify
HR and compliance: ThinkHR and PosterElite
Most Helpful OnPay Reviews
A majority of the OnPay reviews online highlights its affordability, ease of use, and efficient payroll and tax filing tools. Additionally, users who left positive feedback said that its customer support is top-notch and that its platform enables them to process payroll quickly and accurately.
On the other hand, those who left negative reviews said that they wish it offered additional form printing options and a lower cost pricing tier for businesses that require certain functionalities but not a full-service payroll service. Some others complained about having experienced occasional glitches and integration issues with QuickBooks.
Easy to use software with good customer support
"I use OnPay for my clients, as well as my own payroll. Over the years, I have used many payroll services and programs and find OnPay to be the best by far. The software is very intuitive and easy to use. When I can't find the answer, their tech support reps are available and know the platform well. I get none of the typical 'give me five to seven minutes and I'll research this for you' line."

—Norman M. Golden
Form printing needs additional options
"It is hard to knock the program, but if there were to be changes, I would like to see more options in the type of paper for printing Form W-2s for employees. Right now, there is only one choice."

—Norman M. Golden
OnPay Frequently Asked Questions (FAQs)
Who does OnPay cater to?
OnPay caters to several industries (including hospitality, restaurant, farming and agriculture, healthcare, and dental) and organizations (like nonprofits and religious).
Can I process employee and contractor payments in the same payroll run?
Yes, you can.
Does OnPay offer an accuracy guarantee?
Yes, OnPay has an accuracy guarantee that ensures all of your payroll tax payments and filings are done correctly. OnPay also asserts that if a payroll tax issue occurs, then it will talk to the Internal Revenue Service (IRS) for you.
Our Top Payroll Software Picks
If you aren't sure if OnPay is right for you, then this article on the best payroll software is a review of our top choices. Our team looked at a variety of solutions and narrowed down our recommendations based on price, customer support, and features such as payroll tax calculations, electronic tax payments, and direct deposits.
Disclaimer: The following information was provided by OnPay and does not necessarily reflect the views of FitSmallBusiness.com.
What is OnPay?
OnPay sets a new standard in payroll my making it faster and easier for every small business (and their accountant) to get payroll right. We get top ratings and reviews because we do a lot more for a much lower price. OnPay's low, monthly fee includes:
 Unlimited monthly pay runs
All tax filings and payments (including W2s and 1099s)
Best-in-class integrations with QuickBooks, Xero and top time-tracking software
A complete set of HR tools (onboarding, offer letters, PTO management, org charts and much more)
An in-house team to help with benefits and workers' comp
Our error-free guarantee
Our goal is to give your small business more of its most valuable asset — you. We combine 30 years of payroll experience with the latest technology to simplify payroll and HR for any business with 1 to 500+ employees, even if you run a restaurant, farm, nonprofit, church, or other organization with special tax requirements.
We also give accountants a single dashboard, flexible permissions, and best-in-class GL integrations so you can do everything your way.
Highlighted Features
Full-service payroll: OnPay handles all paychecks, taxes, and everything else you need to take care of your team.
Built-in HR. No extra cost: Get organized, stay compliant, and save time with self-onboarding, offer letters, PTO tracking, org charts, and much more.
Integrated benefits: From health insurance to workers' comp to retirement plans, our experienced team makes it easy.
OnPay News & Activity
Here's the latest from OnPay. You can see all our latest news, announcements and accolades on our News Page.
Social Media
CEO Quote
"OnPay was originally part of a traditional payroll company that had to figure out how to take care of every kind of client that came our way. When we launched our cloud-based payroll ten years ago, we felt like we couldn't leave any of our existing clients behind, so our payroll simply had to be able to serve everyone well — no shortcuts."
OnPay Customer Service
Everyone on OnPay's award-winning customer support team receives training from the American Payroll Association. In addition to friendly, expert help, we offer:
Free migration of all your employee information and prior wage data
Help setting up and validating software integrations
An error-free guarantee
Responsive support by phone, email or chat. Try us out: 1-877-328-6505.
OnPay Unique Features
There are two things that really set OnPay apart from other modern payroll providers:
We have the features and functionality to serve EVERY small business well. From customizable HR tools that growing businesses can use to stay organized to making it simple for small businesses to process garnishments or bonuses, OnPay checks all the boxes (and then some).
Our low pricing is totally transparent. Unlike other providers, all our services are included for a single monthly fee of $36, plus $4 per person. No fine print. And no extra fees for W-2s or 1099s, direct deposit, HR tools and advice, software integrations, multiple locations, or anything else you can think of.