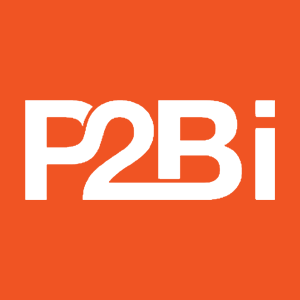 P2Binvestor, also known as P2Bi, is a peer-to-peer lender that offers term loans and asset-backed lines of credit (LOC). It connects you to a crowd of private investors and bank partners to ensure that you get the flexible capital you need at a competitive rate. It can lend anywhere from $500,000 to $10 million, and it's best for high-growth companies.
P2Binvestor Pros and Cons
| Pros | Cons |
| --- | --- |
| Provides flexible and scalable capital | Not a direct lender |
| No credit score requirement | Charges origination and annual renewal fees |
| Competitive rates and fees | Has high qualification standards that can be difficult to meet |
Who P2Binvestor Is Best For
Companies that are scaling fast: P2Binvestor offers fast funding, quick application process, and high loan amounts, which are highly beneficial to fast-growing businesses. The major catch here is that it requires strict qualifications, such as $2 million or more in annual revenue and at least 10% annual revenue growth.
Businesses that are looking to build a bank relationship: While the ultimate goal is to work with a bank to get the lowest rates, some businesses are just either too risky or not established enough for banks. This is where P2Binvestor comes in. It works directly with a bank to co-fund loans and creates a blended annual percentage rate (APR), which is usually lower than that offered by other online lenders. Moreover, P2Binvestor can graduate you eventually into full financing with one of its bank partners as your business grows.
P2Binvestor Costs and Terms
Line of Credit
(Primary Product)

Term Loans
(Supplemental Product)

Loan Amounts

$500,000 to $1 million

Discount Rate

8% to 20%

Info not available

Origination Fee

1.5%

Info not available

Advance Rates

70% to 80%

Not applicable

Funding Speed

Two to four weeks
P2Binvestor's costs for its LOC include a one-time origination fee that is equal to 1.5% of your maximum credit line, a daily discount cost on the outstanding principal that gets paid down with any receipt, an annual renewal fee that is also 1.5% of your maximum credit line, and a discount rate that ranges from 8% to 20%.
P2Binvestor provides high loan amounts of up to $10 million and even accommodates additional line increases within 24 hours for a 1.5% fee. Since it is an asset-backed LOC, the amount of your credit line largely is determined by the value of assets available to secure it.
Assets primarily come in the form of accounts receivables (A/R) and inventories. Other factors considered in deciding your credit line maximum include the amount you request, your company's year in business, and its growth trajectory.
Furthermore, P2Binvestor lets you draw 70% to 80% of the full value of your A/R and between 25 to 50% of the value of your inventory, depending on the strength of your paying customers and your business profitability. Meanwhile, P2Binvestor's term loans are supplemental products to its LOC offering. Its amount must be equal to or less than your LOC.
Do You Qualify for P2Binvestor Financing?
| | |
| --- | --- |
| Minimum Credit Score | Not a factor |
| Time in Business | At least 12 months |
| Gross Annual Revenue | At least $2 million |
As mentioned, P2Binvestor sets higher qualifications compared to other online lenders. It looks for the following characteristics on its ideal candidates:
United States-based company
At least one year in business
Has 10 to more than 30 employees
$2 million to more than $10 million in revenue
10% or more annual revenue growth
Business-to-business (B2B) company
Experienced management team
Has accounts receivable (A/R) that mostly pays within 90 days (or inventory)
Trending toward cash flow break even or already profitable
Despite the stricter requirements, the good thing about P2Binvestor is that it does not give too much weight on your credit score, although its underwriting team may look at it. Rather, it gives more importance to your company's profitability and growth potential.
P2Binvestor Application Process
To start your application with P2Binvestor, you may give them a call, send an email application, or submit a prequalification questionnaire online. Prequalification can take as little as two weeks. If you prequalify, you will be asked to provide certain documents like balance sheets, income statements, A/R aging reports, and accounts payable (A/P) aging reports.
Once all documents are submitted, you will be provided with a nonbinding term sheet that lays out the terms of the facility, rates, and preliminary line amounts. If you agree to the sheet, P2Binvestor will then proceed to the credit underwriting process, which can take five to 10 days.
Upon completion, you will receive a final borrowing agreement, which you will need to review and sign. Finally, you will go through an onboarding period where you will receive a tutorial about its platform and be introduced to your account manager.
P2Binvestor Alternatives 2020
Best For

Businesses that need to borrow against their invoices or need a low-rate line of credit quickly

Businesses with good credit that need fast financing and low rates

Newer businesses with less-than-perfect credit that need fast funding

Loan Amount

Up to $5 million for invoice factoring;
up to $250,000 for line of credit






Up to $500,000

Up to $100,000

Terms

Six or 12 months for line of credit

Three to 36 months

12 or 24 weeks

Funding Time

One day

One day

One day

Credit Score

530+ for invoice factoring

600+

No minimum credit score requirement
What Business Owners Should Know About P2Binvestor
It requires a guarantor: P2Binvestor requires any equity owner with a 20% share in the business to sign a personal guarantee. In cases where there are no significant owners or operators, it asks that the company CEO signs a validity or good actor guarantee. By doing this, the lender minimizes its risks and you―as the borrower―receive better offers.
It has a Bank Participation Program: This enables partner banks to offer asset-based loans to high-growth businesses that do not yet qualify for a traditional consumer and industrial (C&I) loan facility. This results in lower rates for borrowers and lets them establish a relationship with the bank. It also benefits the bank since it increases its C&I portfolio without taking 100% of the funding risk.
Most Helpful P2Binvestor Reviews
As of this article's writing (July 8, 2020), there are very few recent P2Binvestor reviews available online. If you are a past or current P2Binvestor client, please leave a review to help other business owners decide whether to work with the company.
P2Binvestor Frequently Asked Questions (FAQs)
Are there industries excluded from P2Binvestor financing?
P2Binvestor does not provide LOCs to businesses in the construction, real estate, medical insurance billing, and transportation industries.
Does P2Binvestor LOC require collateral?
Your LOC is secured by A/R or, in some cases, finished inventories.
What happens if my company defaults on our line of credit or term loan?
In the event of a default, the first assets that provide liquidity to pay off the loan are cash held in the accounts of the company and payments on invoices made by the company's clients. Secondly, the company's inventory will be sold.
Third, the remaining assets of the company (or the company itself) are liquidated to cover off the amounts owed on the loan. If these sources of capital are insufficient, then the lender is forced to go after the loan guarantors for the gap.
Bottom Line
Fast-growing companies can take advantage of P2Binvestor's competitive rates and scalable capital. These businesses would also find it easier to meet its rather stricter qualification requirements, as well as several loan charges, such as an origination cost and an annual renewal fee.
Its application process is easy, but qualification and funding can take two to four weeks, which is relatively long compared to other online lenders. Despite being a young company, it's able to secure an A+ Better Business Bureau (BBB) rating and partner with about 10 institutional investors and more than 230 accredited private investors.
If you aren't sure if P2Binvestor is right for you, then this article on best peer-to-peer business lending options is a review of our top choices. In this guide, we compared the top providers according to their rates, terms, costs, loan amounts, and qualifications.