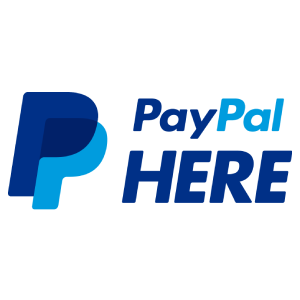 PayPal Here is a point-of-sale (POS) app that enables users to process payments through a mobile device. Its features include fund transfers, inventory management, sales reporting, and a credit card and chip reader. It charges 2.7% per United States card swipe, and it's best for merchants who are looking for a mobile solution to help manage their businesses.
PayPal Here Pros and Cons
| Pros | Cons |
| --- | --- |
| Free app | Payment verification system is too strict |
| Process payments on your mobile device | Mobile card reader isn't compatible with newer Apple devices |
| Access to a live customer service agent | |
Who PayPal Here Is Best For
Merchants who are looking for a mobile solution to accept and track payments: Take payments using the app's key-in payment feature or any of the portable PayPal Here swipe and chip card readers.
Merchants who need to monitor their sales and inventory online: See how much sales and stocks your store has in real-time.
PayPal Here Pricing
Downloading the PayPal Here app is free, and PayPal Here's pricing system takes effect when you start processing payments. It charges 2.7% of the transaction amount per US card swipe. It also costs 3.5% + 15 cents to key in card information, 2.9% + 30 cents to process an invoice, and 1.5% to complete cross-border transfers.

Transaction Types

Fees

Credit or Debit Card Swipe

2.7% per US card swipe

Keyed or Scanned Credit or Debit Card Information

3.5% + 15 cents per transaction

Invoicing

2.9% + 30 cents per transaction

Cross-border Transfers

1.5% per transaction
If Funds Are Coming From PayPal
If you're selling goods or services and the funds you receive come from a PayPal account, then the corresponding fees are as follows.
Transaction Types*

Sources of PayPal Payment

Fees

Online

In the US

2.5% per transaction
+ a fixed fee** based on the currency

Outside of the US

4.4% per transaction
+ a fixed fee** based on the currency

In-Store

In the US

2.7% per transaction

Outside of the US

4.2% per transaction
*PayPal Here accepts PayPal payments, Venmo, PayPal Credit, and all major credit and debit cards with either PayPal Checkout or PayPal Payments Standard.
**Visit its website for more details on per-country fixed fees.
Cost of Card Readers
Accepting in-store swipe or chip card payments requires the use of a PayPal accredited card reader. Here are the available options, which you may purchase from PayPal's online shop.
Type of Card Reader

Pricing
($/Reader)

Mobile Card Reader

$19.99

Chip and Swipe Reader

$24.99

Chip and Tap Reader

$59.99

Chip and Tap Bundle

$79.99

Chip Card Reader

$99.99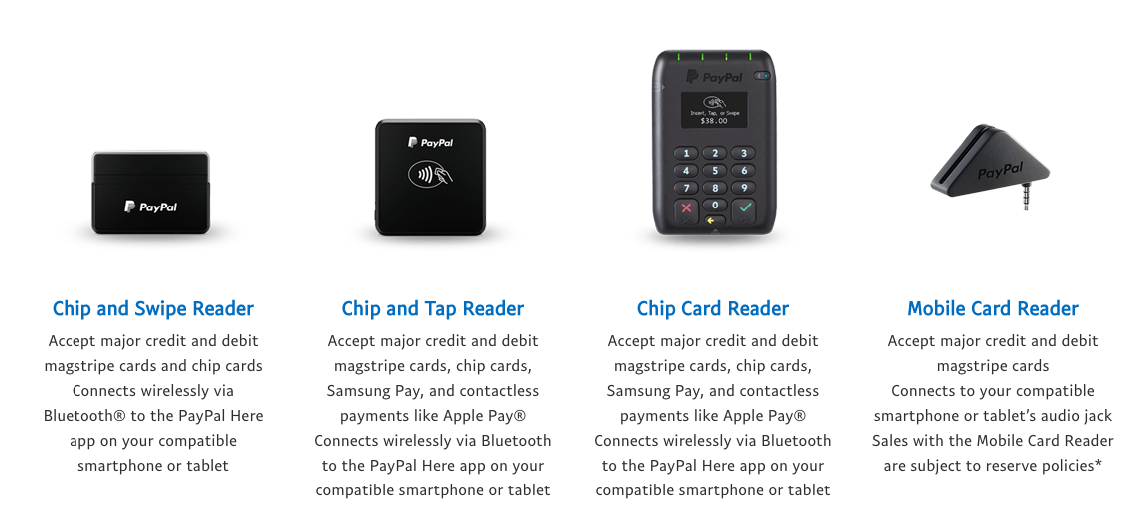 PayPal Here Alternatives 2020
| Retail POS System | Best |
| --- | --- |
| | Free retail POS system |
| | Retail analytics and inventory management |
| | Budget iPad retail POS |
| | Omnichannel POS |
| | Retail POS for choosing your own payment processor |
PayPal Here Features
PayPal Here's features are meant to make taking and monitoring payments easier for users who prefer the online or contactless route. I've discussed some of these to help you decide whether or not it's the payment gateway that your business needs.
Inventory Management
You can manage your inventory using your phone, tablet, or desktop by adding, editing, and deleting items. PayPal Here also lets you organize stocks into categories and make them easily searchable.
PayPal Here Reporting
The provider has sales reporting features and a basic custom report builder, including the ability to see sales by date, time, product, and employee. It also lets you track sales across multiple stores or locations. Unlike many other free POS apps that have a separate dashboard for reporting, these features are available right in the PayPal Here app.
Business Management
Business management tools and features are where the PayPal mobile POS app is lacking. PayPal is primarily a payment app, but it does have some very basic management tools like product listings, track items per sale, and the ability to collect customer data.
PayPal Here also has features to set up employee accounts with different roles and permissions so that multiple people can accept payments under a single account. However, that is the extent of the login features.
Other Features
Mobile card reader
Magnetic chip reader
Swipe card reader
Secure payments
Mobile payments
International transactions
Fund transfers
Which POS Software Provider Is for You?
Most Helpful PayPal Here Reviews
Users who gave positive PayPal Here reviews like its user-friendly interface and the convenience of taking and monitoring different types of payments. Meanwhile, those who gave negative reviews said that its payment verification process is too strict, whereas others pointed out that its transaction fees might be too steep for small businesses.
Accepts multiple types of payments
"We manage multiple online stores, allow customers to place orders over the phone and sell both physical goods and information products in person at conferences and other events. We also manage a nonprofit organization that accepts charitable contributions online or in person. The PayPal Here app and card reader facilitate manual entry of orders or donations and credit card processing in person."
—Jim Nelson
Overly rigorous payment verification process
"The only thing I do not like about PayPal Here is its rigorous payment verification system. It is quite annoying because, sometimes, your transaction is withheld up to 24 hours. It blocks your account for no apparent reason. The customer support team does not help a lot as well."
—Arnaldo Casadiego
PayPal Here Frequently Asked Questions (FAQs)
Are there any setup fees?
No, there aren't. PayPal Here is free to download, and charges apply only when you perform a transaction.
Do I need to have a PayPal Business account to use the app?
Yes, you do.
What's the difference between the PayPal (Consumer) app, Business app, and PayPal Here?
Each of these apps is geared toward a specific type of user, and you might need to use only one app or even all three, depending on your needs.
The PayPal (Consumer) app is mainly for consumers to use for sending or receiving money to or from individuals or businesses. It may also be used for paying online or in-store, making donations, and managing card information.
Meanwhile, the PayPal Business app is for those who use the software for business purposes. You may use it to create and send invoices, transfer funds, provide refunds, and manage customer information.
Finally, PayPal Here lets you accept multiple payment types online or in a physical setting. The app's tools include inventory management, invoicing, pricing, report generating, and managing multiple users.
Our Top POS Software Picks
If you aren't sure if PayPal Here is right for you, this article on the best POS systems for small businesses is a review of our top choices. Our team looked at a variety of solutions and narrowed our recommendations down based on price, ease of use, and features like inventory management, customer relationship management (CRM), and payment processing.