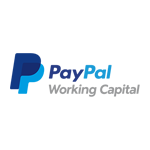 PayPal Working Capital is a direct lender that provides short-term loans to small businesses that receive payments through PayPal. It was launched in 2013 and offers business financing in all 50 states. It can lend anywhere from $1,000 to $500,000 and is best for businesses that are PayPal merchants or need quick funding.
PayPal Working Capital Pros and Cons
| Pros | Cons |
| --- | --- |
| Flexible payments | Only available to PayPal sellers |
| No credit score required | High APR |
| Funding in minutes | |
Who PayPal Working Capital Is Best For
Businesses that are already using PayPal's services: PayPal Working Capital is available only to those who have already been processing payments through its platform for at least three months.
Businesses seeking fast cash without the strict qualifications and a credit check: Since the lender solely depends on the borrower's PayPal sales history, it does not require a minimum credit score or any collateral and personal guarantees.
PayPal Working Capital Costs and Terms
| | Short-term Loans |
| --- | --- |
| Loan Amounts | $1,000 to $500,000 |
| APR Ranges | 24% to 136% |
| Repayment Terms | Up to 18 months |
| Repayment Schedules | Automatic deductions from PayPal account |
| Funding Speed | Same day |
The PayPal Working Capital costs include a one-time fee similar to a factor rate, which is typically less than 20% of the amount borrowed. It can lend up to 35% of the borrower's annual PayPal sales but not exceeding $125,000 for the first two loans. It does not charge any late fees and early repayment penalties.
Repayments are automatically deducted from every sale received, starting 72 hours after receipt of the loan. Daily repayments are based on a percentage of the borrower's PayPal earnings (known as the repayment percentage). This repayment percentage is set by the borrower himself upon loan application and is a determining factor of the one-time loan fee stated above.
Do You Qualify for PayPal Working Capital Financing?
Personal Credit Score

None

Time in Business

At least three months

Annual Revenue

$20,000 in PayPal Sales (Premier Account)

OR

$15,000 in PayPal Sales (Business Account)
It is easy to qualify for a PayPal Working Capital loan especially if you already have an active PayPal merchant account (Premier Account or Business Account) with the minimum annual sales requirement. It does not check for the business' or the owner's credit history so there is a very high chance of getting approved for a loan.
However, there are several reasons why a merchant may be denied a loan. These reasons include PayPal technical errors, poor eBay seller rating, active PayPal disputes, seasonal sales fluctuations, and history of chargebacks on the merchant's account.
PayPal Working Capital Application Process
PayPal Working Capital offers a straightforward application process and quick funding turnaround. Those interested just need to follow these steps:
Log in to your PayPal account.
Confirm your personal and business information so that the lender can determine your eligibility.
If approved, then indicate your desired loan amount.
Choose the percentage of PayPal sales that you want to pay back (repayment percentage).
Review and agree to the terms of the loan.
Upon acceptance of the loan, the working capital will be automatically deposited by the lender into the borrower's PayPal account in just minutes.
PayPal Working Capital Alternatives 2020
Best For

Businesses that need to borrow against their invoices or need a low-rate line of credit quickly

Businesses with good credit that need fast financing and low rates

Newer businesses with less-than-perfect credit that need fast funding

Loan Amount

Up to $5 million for invoice factoring;
up to $250,000 for line of credit






Up to $500,000

Up to $100,000

Terms

Six or 12 months for line of credit

Three to 36 months

12 or 24 weeks

Funding Time

One day

One day

One day

Credit Score

530+ for invoice factoring

600+

No minimum credit score requirement
What Business Owners Should Know About PayPal Working Capital
PayPal requires borrowers to pay 5% or 10% of their loans every 90 days: PayPal Working Capital gives its borrowers flexible repayment schedules, which means that they can either speed up paying off their loans or choose a lower repayment percentage. However, it has a set minimum of 10% repayment requirement every 90 days for shorter loans and 5% for loans that have terms longer than 12 months.
On-time payments don't get a boost on credit: PayPal Working Capital doesn't report borrowers' payments to personal or business credit bureaus, which means that good payment performance does not affect their credit.
The larger the repayment percentage, the lower the fee: Although the lender does not provide borrowers any prepayment discounts for paying their loans early, it does reward those who opt for a higher percentage to speed up repayment by lowering their factor rate or fee.
Most Helpful PayPal Working Capital Reviews
The PayPal Working Capital reviews available online and on our website consist of a mix of positive and negative ratings. Customers who left positive reviews like its quick approval and funding processes, while those who left negative reviews said that it has high interest rates and unclear repayment terms.
Easy application and fast funding
One customer who left a positive review on Merchant Maverick appreciates how PayPal Working Capital quickly approved and funded her loan. She added that this allowed her to continue doing business and earning instead of looking for lenders that would extend her the financing she needs. She also loves the fact that she is allowed to make extra payments to pay back her loan faster.
Fees keep going up
One client who left a negative review on Merchant Maverick commented that its interest rates are relatively higher than that of other loan providers. He also noted that its minimum repayment percentage was set to 10%, which is too high for him. He furthered that it takes quite a bit of his profit away, especially since most of his revenues come in through PayPal.
PayPal Working Capital Frequently Asked Questions (FAQs)
Does it allow its borrowers to have more than one loan at a time?
No, its loans are issued one at a time. Borrowers, however, may apply for a new loan after paying off the existing one. They just have to keep in mind that it can take up to three business days for their final payment to be processed.
Can borrowers change the repayment percentage after they receive the loan?
No, they can't. The repayment percentage they choose stays in effect until their balance is paid in full, so they have to choose carefully.
Will the borrower's credit score be affected if they apply for or use PayPal Working Capital?
No, it won't. The lender determines their eligibility based on their businesses' PayPal sales history, not their business' or personal credit scores.
Bottom Line
If you are a small business owner looking for urgent funding without having to go through stringent qualification and credit checks, then PayPal Working Capital is the right fit for you. It provides flexible repayment terms, easy application, quick approval, and same-day funding.
On the other hand, if you are seeking larger loan amounts and lower interest rates, then it might be better to check an alternative lender. PayPal Working Capital offers only anywhere from $1,000 to $500,000 and exclusively lends to PayPal merchants.