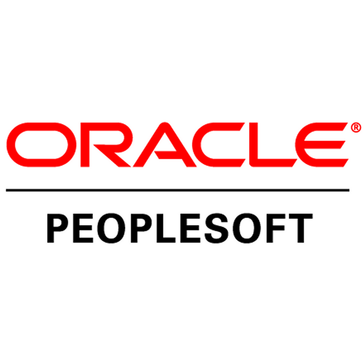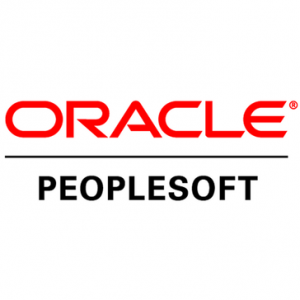 PeopleSoft by Oracle offers a suite of comprehensive business solutions to address your human capital management (HCM) and enterprise resource management (ERP) needs. Its HCM solution enables you to streamline human resources (HR) processes like payroll, benefits, time and labor, and recruitment. License fees start at $35 per employee, and it's best for businesses that want an integrated HCM platform to handle basic to complex employee management requirements.
PeopleSoft Pros and Cons
| Pros | Cons |
| --- | --- |
| Comprehensive HR tools | Licenses fees are too costly for small businesses |
| Good customer support | Software lags from time to time |
| Flexible and customizable platform | Interface looks dated |
Who PeopleSoft Is Best For
Businesses that want a flexible and integrated HCM platform: Boost your HR operational effectiveness with PeopleSoft's flexible HCM tools, which are designed to integrate seamlessly. It can also help simplify and automate core and strategic HR processes, allowing you to manage all aspects of the employee lifecycle efficiently.
PeopleSoft Pricing
PeopleSoft's pricing information isn't published on its website. However, after having done extensive research, I found a PDF pricing guide that shows 11 applications under its HCM solution―the license fees that range from $35 to $225 per employee. It also charges additional fees that start at $7.70 per employee for software update license and support.
HCM Applications

License Fees
($/Employee)

Software Update License and Support Pricing
($/Employee)

Absence Management

$52

$11.44

Benefits Administration

$85

$18.70

eCompensation

$35

$7.70

ePerformance

$105

$23.10

Human Resources

$185

$40.70

Payroll

$225

$49.50

Payroll Interface

$70

$15.40

Pension Administration

$85

$18.70

Recruiting Solutions

$75

$16.50

Succession Planning

$70

$15.40

Time and Labor

$110

$24.20

Last updated on 03/26/20
Absence Management
Plan and manage your workforce's leave requests with Absence Management. It includes integration with Microsoft Outlook, allowing your employees to request unpaid and paid time off (PTO) directly from their Outlook Calendar.
Benefits Administration
With Benefits Administration, you can easily monitor employee benefits programs while automating staff enrollment processes. Its features include benefit plan and program setup, retroactive deductions processing, Consolidated Omnibus Budget Reconciliation Act (COBRA) administration, employee benefits billing, and Family Medical Leave Act (FMLA) management.
eCompensation
eCompensation provides you and your managers with online tools to administer employee compensation plans. Its configurable matrix and automated proration rules enable you to calculate employee salary increases efficiently, thus eliminating manual computations.
Additionally, your people managers are granted access to their staff's compensation history, allowing them to view an employee's salary progression as well as their cash and noncash variable compensation awards.
ePerformance
Streamline your performance review and planning processes with PeopleSoft's ePerformance tool. Its features include embedded analytics, business object management, and collaborative goal and performance setting between your managers and employees. It also enables you to run profile-based assessments to measure the competency and skills of your staff based on their job roles.
Human Resources
This tool allows you to store and access employee-related information securely. It also comes with a robust workforce management functionality that enables you to improve your talent planning processes and manage employees more effectively. Additionally, you can access its cloud-based platform on multiple devices, such as computers, mobile phones, and tablets.
Payroll
PeopleSoft's payroll solutions are designed to handle the diverse wage processing requirements of businesses based in North America and other global locations. Its full-featured system enables you to define unlimited codes for earnings and deductions, track deduction arrears, utilize any number of balance year types like calendar, fiscal, or benefits plan year, and process multiple direct deposits for employees.
It can even manage complex pay calculations like gross-to-net and net-to-gross pay, Fair Labor Standard Act (FLSA) overtime rates, final pay computations, and non-United States and Canada resident taxes. Meanwhile, its global payroll tool has a multicurrency functionality that can manage, calculate, and distribute employee wages in several currencies.
Payroll Interface
With PeopleSoft's Payroll Interface, you can calculate benefits and general pay deductions and then create an export file that can be submitted to your third-party payroll provider or in-house payroll system. You can also import employee paycheck information from your payroll provider to PeopleSoft's platform.
Pension Administration
The Pension Administration solution comes with robust tools for managing a wide range of retirement plans and pension options. Not only does it streamline the administration of employee pension plans, but it can also handle individual and group benefit calculations, buy-back transactions, service purchases, and preparation of pension benefit statements.
Recruiting Solutions
PeopleSoft offers a highly configurable talent acquisition tool that allows you to search for top talents online efficiently, create job requisitions and offer letters, post job listings, and schedule applicant interviews. It also comes with screening questionnaires, compliance tools, and an Integrated Interview Management plug-in that enables you to schedule interviews through Microsoft Outlook.
Succession Planning
Identify, track, and manage key employees for your company's critical positions with Succession Planning. It features a "Succession 360" functionality that allows your identified managers to view successors for each key position, access an employee's personal and job details, compare emerging talents to successors, and more.
Time and Labor
The Time and Labor module can help you reconcile anticipated labor supply with your staff's actual work hours. It supports fixed and dynamic work schedule environments, enabling you to create and manage employee shifts systematically. You may also utilize it to view weekly timesheets, monitor schedule deviations, and check your workforce's calculated payable work time.
PeopleSoft Alternatives 2020
| HR Software | Best For |
| --- | --- |
| | Businesses (with less than 100 employees) that want integrated and simple-to-use HR, benefits, and payroll tools |
| | Small to midsize businesses looking for a single platform to manage HR, employee attendance, benefits, and payroll |
| | Businesses that need user-friendly employee scheduling and time tracking solutions |
| | Companies that want a dedicated HR manager to help craft HR policy and maintain compliance |
| | Businesses that require customizable payroll tools and reports |
PeopleSoft Features
Apart from PeopleSoft's suite of HCM solutions for managing core and strategic HR processes, it has other functionalities that are designed to minimize paper forms and ease the handling of HR operational tasks. Here are some of PeopleSoft's important features.
Self-service Tools
With its self-service tools, your employees and managers are granted access to view their information, such as personal details, pay statements, and benefits entitlements, online. Managers may even approve PTO requests, timesheet-related applications, and more.
Workflow Management
PeopleSoft has robust workflow management tools that allow you to create and implement an approval matrix for HR processes from compensation planning to time and absence management. Some of its modules even come with predefined workflows like its benefits administration solution.
Rules-based System
You may configure PeopleSoft's HCM solutions to follow your company's workforce-related policies, such as pay guidelines and employee attendance rules, and entitlement and eligibility mechanics for benefits plans, pension options, and salary increases.
Reporting and Analytics
You are granted access to reporting tools, from recruiting metrics to employee absence cost analyses, headcount movements reports, payroll analytics, and a performance review summary.
Most Helpful PeopleSoft Reviews
Many users who left PeopleSoft reviews online like that its platform is customizable and that its workflow capabilities enable them to automate HR processes. They also appreciate its accurate payroll solution and efficient time and labor management tools.
Meanwhile, there are mixed reviews about its ease of use. Several users said that it is relatively user-friendly while others noted that navigating through some of its features can be challenging for beginners. A few reviewers also mentioned that its interface looks dated and that investing in all its HCM applications can be costly.
Flexible HR system
One user who gave a positive review on TrustRadius described it as a stable HR system with a solid payroll tool. He also appreciates its customizability, adding that it offers a lot of integration options with other Oracle products and third-party solutions.
Antiquated user interface
One user who left a negative review on G2 said that its interface has an old-fashioned design. He added that its platform isn't intuitive.
PeopleSoft Frequently Asked Questions (FAQs)
Does it have a multilingual platform?
PeopleSoft's HCM solution has a multilingual platform that supports 17 languages.
Can I use its self-service tools to handle employee queries?
PeopleSoft's HCM solution has a "Helpdesk for HR" tool that comes with complete case management capabilities to help you capture and address employee queries.
Does it offer a learning management system (LMS)?
PeopleSoft has an Enterprise Learning Management module that allows you to create and deploy targeted learning sessions to your workforce.
Our Top HR Software Picks
If you aren't sure if PeopleSoft is right for you, then this article on the 7 Best HR Software for Small Business is a review of our top choices. Our team looked at a variety of solutions and narrowed our recommendations down based on price, ease of use, and features like payroll, leave management, onboarding and employee self-service, and applicant tracking.