Pipedrive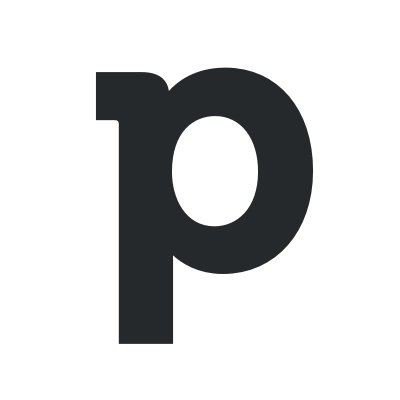 is a highly intuitive customer relationship management (CRM) tool that includes a visual pipeline that makes it easy to quickly see where individual sales opportunities are in your sales process. Pipedrive offers a robust set of contact and deal management tools at a price point that fits any small business budget. We'll cover Pipedrive reviews, pricing and more in this review.
Which CRM Provider Is Right for You?
Pipedrive Pricing and Plans
Pipedrive offers plans that range between a competitive $12.50 per user, per month and $49.17 per user, per month, which is comparable to other options on this list. Pipedrive does not offer a free-forever plan but does allow users to try out any plan for 14 days before you buy.
| | Silver | Gold | Platinum |
| --- | --- | --- | --- |
| Pricing | $12.50/user per month | $24.20/user per month | $49.17/user per month |
| Storage | 2GB/user | 5GB/user | Dedicated storage |
| Contact Management | ✔ | ✔ | ✔ |
| Web-to-Lead Capture | ✔ | ✔ | ✔ |
| Lead Scoring | ✔ | ✔ | ✔ |
| Activity Feed | ✔ | ✔ | ✔ |
| Sales Pipeline Tracking | ✔ | ✔ | ✔ |
| Customized Sales Processes | ✔ | ✔ | ✔ |
| Opportunity Management | ✔ | ✔ | ✔ |
| Configurable Dashboards and Reports | ✔ | ✔ | ✔ |
| Product Statistics | N/A | ✔ | ✔ |
| Email Tracking | N/A | ✔ | ✔ |
Essential
The Essential plan costs $12.50 per user, per month and includes contact management tools, visual pipeline, and configurable reporting. Pipedrive is intuitive and easily customized, even at the entry level, which makes it an ideal choice for businesses focused on moving sales opportunities through their sales pipeline.
One area in which Pipedrive excels compared to other comparable plans is the ability to set both individual and company sales goals in the entry-level plan and monitor your progress. You also have the ability to set user permissions, which is something only available in higher-priced plans in other CRMs. Pipedrive also has a much more intuitive sales pipeline tool, making it much easier to get set up and running.
Advanced
The Advanced Plan is $24.20 per user, per month, and is one of the best values of the options listed here. This plan adds features that include the meeting scheduler, which allows users to send their availability to prospects so they can pick a time to meet. It also includes the task scheduler and products catalog, making it a great alternative for businesses that manage product sales.
This plan is ideal for businesses that sell both products and services and want insight into their sales, including margins, discounts, and splits. The analytics tools give you the information you need to better focus your sales efforts on the opportunities most likely to buy and on the products that make you the most money.
Professional
The Professional plan is $49.17 per user, per month, and includes many of the same features as the Advanced plan, but adds additional sales forecasting and advanced reporting features. The Professional plan also includes the ability to set specific permissions for different team member roles, which is similar to other higher-end plans of competing products.
The Professional plan is one of the pricier options we reviewed, but the intuitive pipeline tool, scheduling, and role-based permissions make it an ideal choice for hierarchical teams and teams that want product catalog management without the complexity and setup of some other small business CRMs.
Pipedrive Pros & Cons
Pros
Pipedrive's biggest advantage and benefit is that it's extremely intuitive to use. This is especially true of the sales pipeline tool that makes it easy to quickly view the current status of deals as you move them through your sales process. Pipedrive is easy to set up and use, and the design makes it easy to navigate and find important information. Pipedrive also lets you set individual, team, and company sales goals and keep track of your performance.
Cons
Pipedrive doesn't have some of the more robust CRM features found in other options we regularly try out and review. Some of the features missing include lead assignment and order management. In addition, as a standalone app, Pipedrive does not offer other customer or productivity software like help desk, chat, or marketing automation.
Pipedrive Ease of Use
Pipedrive is easy to set up, making it especially painless to import your information from another CRM. Pipedrive handles all of the details using a third-party service that transfers all of your information. Additionally, Pipedrive focuses the user experience around the sales pipeline, giving you the ability to see where your sales opportunities stand at a glance. This is especially useful for individuals and smaller teams tracking progress on a few big projects.
Pipedrive Customer Support
Pipedrive doesn't offer phone support, but users can contact support via chat and email. Pipedrive also offers an extensive support knowledge base with videos and webinars covering important help issues like getting set up, configuring your CRM, mobile app, and integrations. Overall, Pipedrive does a great job of taking care of its customers.
Pipedrive Features
Contact Management
Pipedrive makes managing contacts simple. The interface makes it easy to quickly add contacts, search for information, and keep track of both leads and customers. Contacts are automatically linked to sales opportunities you create, and you can track both individuals and the businesses or organizations they represent.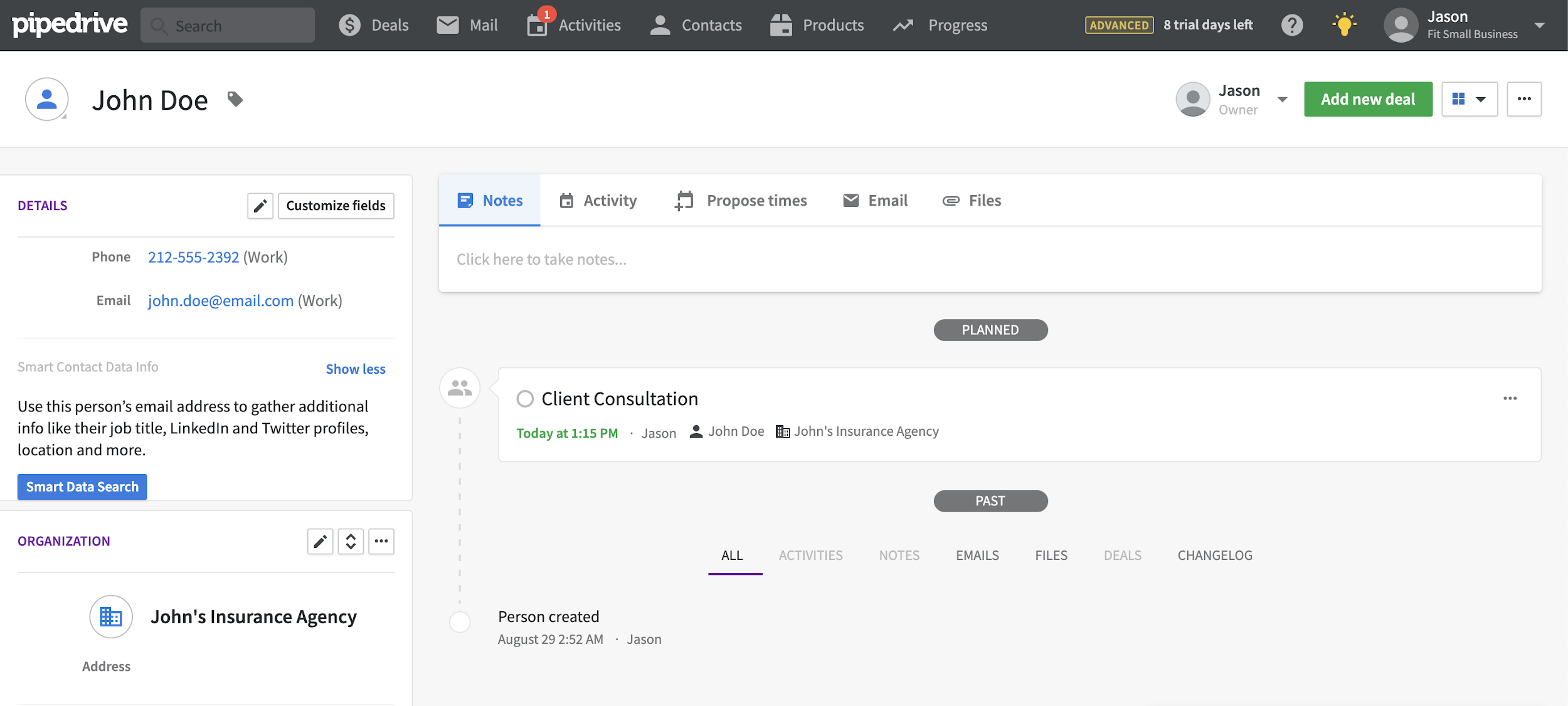 Deals
Pipedrive allows you to easily create and manage deals while keeping track of the sales activities associated with closing each deal. It also allows you to track your communications by sending emails directly from this interface, which keeps the important information linked in the right place. You can upload proposals and even add custom fields for fine-tuning the way your business handles sales opportunities and deals.
Sales Pipeline
Pipedrive's visual sales pipeline tool is the centerpiece of the software and is the default landing page when you log in. This is meant to help you keep focused on moving deals through your sales process by giving you a quick look at where each deal is and what action is necessary. In addition to dragging deals through each stage (represented by a column), you can see the value of a deal, when you last contacted them, and even send an email or start a phone call directly from this feature.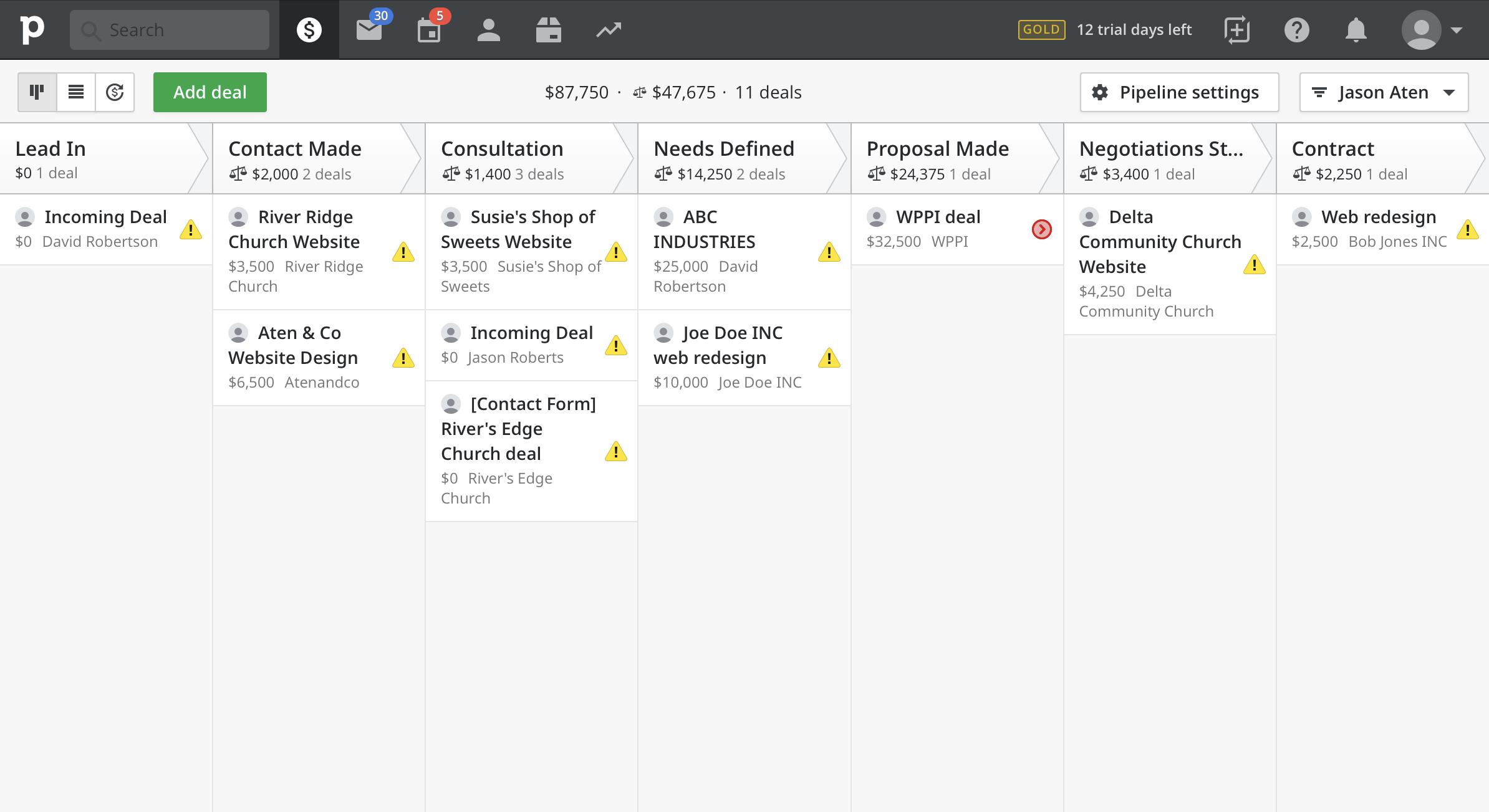 Popular CRM Software 2019
| Best CRM for Small Business | Best For |
| --- | --- |
| | B2B businesses that need a customizable, robust, and competitively priced CRM with built-in phone |
| | Small businesses that want a CRM with enterprise-class sales and support features |
| | Businesses that want a free, no-frills CRM with basic features and unlimited users |
| | Teams that want a user-friendly and visual pipeline to manage sales |
| | Organizations seeking free lead & management software with integrated reporting |
| | Businesses looking for a robust CRM with a top-notch mobile app |
Pipedrive Integrations
Here is a list of some of Pipedrive CRM's popular integrations:
Mailchimp
QuickBooks
SharpSpring
Slack
Xero
Gmail
HubSpot
Overview of Pipedrive Reviews
Pipedrive users give it good reviews for the visual pipeline and intuitive interface. They also like that Pipedrive requires little onboarding support, is easy to set up, and integrates with other third-party software like marketing automation and email marketing tools. Users do wish it had more advanced search and filtering capabilities, though.
Our Top CRM Picks
If you aren't sure if Pipedrive CRM is right for you, this article on the 10 Best CRMs for Small Business is a review of our top 10 choices. Our team looked at a variety of solutions and narrowed down to our recommendations based on price, features, and customer support.
Pipedrive FAQs
What does the free trial cover?
Pipedrive's free trial covers 14-day access to the features of your preferred paid plan.
Which browsers are best to use with Pipedrive?
Pipedrive works best with Chrome and Firefox.
Is Pipedrive Right for You?
Pipedrive is an intuitive and simple CRM software that includes a sales pipeline tool, contact management, sales opportunities, performance goals, and email sync. Pipedrive's paid plans are $12.50, $24.90, and $49.90 per user, per month. Pipedrive is ideal for businesses and contractors who want a highly visual pipeline tool to manage their sales process.