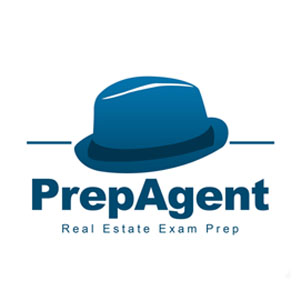 PrepAgent is a Texas online real estate school that provides exam prep solutions as an add-on to the state-required prelicensure coursework. It delivers licensing exam study aids in many different formats, like flashcards, videos, audios, and practice tests. Its pricing ranges from $59 to $99 per package. It is best for aspiring Texas agents who need extra help in studying for their licensing exam beyond what is offered by their primary course provider.
PrepAgent Pros & Cons
| Pros | Cons |
| --- | --- |
| Provides three exam prep package options to suit different learning needs | Does not offer real estate courses like CE or prelicensing |
| Offers one free national practice exam, test-taking tips, and access to a real estate dictionary | Only upper-level packages offer additional study aids |
| 100% money-back guarantee | The basic package provides access for only seven days |
Who PrepAgent Is Best For
Aspiring Texas agents who need extra help in studying for their licensing exam: PrepAgent offers packages with webinars and study aids that are developed exclusively for their licensing for passing the licensing exam.
Students with limited time for studying: There are webinars, audiobooks, and other mobile-friendly exam prep tools that allow students to listen in on lessons during their break and other free time.
PrepAgent Pricing & Features
PrepAgent's pricing is based on three packages: Basic ($59), Deluxe ($79), and Premium ($99). The main differences between the options include the duration of account access as well as access to premium features such as exam prep videos, audio lessons, live online webinars, and more. All the packages include thousands of national and Texas-specific questions.
Plans

Basic

Deluxe

Premium

One-time Pricing

$59

$79

$99

Account Access Duration

7 days

1 month

1 tear

National and Texas-specific Questions

✓

✓

✓

Exam Prep Videos

✕

✓

✓

Audio Lessons

✕

✓

✓

Online Interactive Flashcards

✕

✓

✓

Exam Prep E-book

✕

✓

✓

Interactive Vocabulary Worksheet

✕

✕

✓

Live Online Webinars

✕

✕

✓
Students who need additional assistance with their studies can book one-on-one private tutoring with PrepAgent's affiliated instructors at a cost of $50 per hour. The sessions will tackle your study habits, your struggles, and the most important tips for exams.
PrepAgent's exam prep tools for real estate sales associates and brokers are also available in other states, e.g., Florida, California, and New York. In a few selected states, it offers packages that are only for brokers, managing brokers, associate brokers, qualifying brokers, principal brokers, and affiliate brokers. Visit its pricing page to learn which types of exam prep tools are available in your state.
Basic
PrepAgent's Basic package includes thousands of exam prep questions that are updated for 2020. These items also come with explanations to help you understand each main point.
Deluxe
The Deluxe package has additional features designed to help students enjoy their learning experience. This mid-range exam prep tool includes more than 75 animated videos that teach you the core concepts of real estate. It also comes with hours of audio lessons that you can listen to using a computer or smartphone. Moreover, there are online interactive flashcards for learning key terms and an e-book that covers the main concepts of the real estate exam.
Premium
PrepAgent's Premium package provides students with another way of learning key terminology through its interactive vocabulary worksheet system. It also gives you access to live online webinars that cover various exam topics and features question and answer (Q&A) sessions with an expert teacher. These webinars are recorded and categorized so that students can replay them later on.
PrepAgent Alternatives 2020
| Online Real Estate Schools—Texas | Best For |
| --- | --- |
| | Agents seeking a live online, instructor-led real estate prelicensing course |
| | Realty professionals seeking topic variety in continuing education (CE) classes |
| | Future agents wanting an app to study on-the-go from any device |
| | Future agents seeking all-in-one prelicensing coursework bundles with exam prep and coaching |
| | Students wanting to focus on real estate math as part of their exam prep |
Most Helpful PrepAgent Reviews
PrepAgent currently has a 5-star rating on Facebook and 4.5 on Indeed based on student reviews. The majority of those who bought packages find the exam prep materials comprehensive, engaging, and easy to understand. They also loved the mobile-friendly format of the tools and webinars, which allowed them to study anytime, anywhere, and even when in transit. Many attributed their first-time success in their exams to PrepAgent.
As of the date this article was written (June 18, 2020), there are no negative PrepAgent reviews posted online.
Interactive materials and skillful instructors
One student who posted a positive PrepAgent review on Facebook said that its materials helped her understand and prepare for the state and national real estate exams. She shared that she learned more with PrepAgent than in her prelicensing course because of the interactive format of the lessons and webinars. She also commended the instructors for making it easier for them to understand the topics.
PrepAgent Frequently Asked Questions (FAQs)
How updated are the materials?
PrepAgent's content is updated as of May 2020. The company also constantly updates its materials to monitor and include changes to state exams.
Is PrepAgent's material mobile-friendly?
Yes. In addition to using a desktop computer, you can also access PrepAgent's web-based content from your smartphone, tablet, and other mobile devices once you purchase a package.
Can I get a refund if I fail my exam?
PrepAgent offers a 100% money-back guarantee if you are not satisfied with it for any reason—and not just to those who failed their exam. The refund should be requested within 120 days from the date of purchase.
Our Top Online Texas Real Estate Course Picks
If you are not sure if PrepAgent is right for you, this article on the best online real estate schools for Texas is a review of our top choices. Our team analyzed dozens of sites to find the best ones to save you time and take a more strategic approach to real estate and narrowed down our recommendations based on price, ease of use, length of access to course materials, curriculum variety, average pass rates, money-back guarantee, supplemental study tools, and student satisfaction.