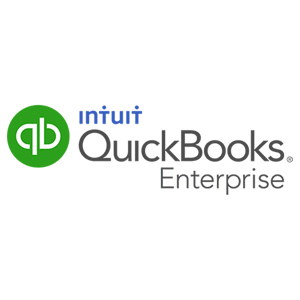 QuickBooks Enterprise is a desktop-based accounting software that helps you track inventory, manage sales orders, create customized reports, and more. Its features include field service management, order management, and mobile inventory bar-code scanning. Prices start at $145/month (with cloud hosting) or $1,213/year (local computer installation only) for the first user. The software is best for manufacturers and wholesale distributors, project contractors, professional service providers, retail businesses, and nonprofits.
QuickBooks Enterprise Pros and Cons
| Pros | Cons |
| --- | --- |
| Industry-specific features | A bit expensive |
| Highly customizable reports | Navigating through all of its features is time-consuming |
| Great expense tracking capability | |
Who QuickBooks Enterprise is Best For
Manufacturers and wholesale distributors: It helps you determine the true cost of your products, combine pick and pack roles, and track inventory by serial number, lot number, or bin location,
Project contractors: It has the functionalities you need to keep track of job costs and cash flow, develop accurate estimates, and simplify payroll tax payments and filings.
Professional service providers: If you need a tool that can help you assign different billing rates by clients, streamline your task delegation processes, and track a job's progress, then QuickBooks Enterprise is for you.
Retail businesses: Create and automate your pricing rules and seamlessly manage your inventory straight from the QuickBooks Enterprise platform.
Nonprofits: The platform has a high capacity for donor lists, enabling you to handle thousands of items, vendors, and donors.
QuickBooks Enterprise Pricing
QuickBooks Enterprise's pricing page shows three user-based plans with fees that start at $145/month (with cloud hosting) or $1,213/year (local computer installation only) for the first user. The more users you enroll, price per user decreases . The plans vary in the availability of advanced features, such as QuickBooks Desktop Payroll Enhanced integration.
Plan

With Hosting*
Starts at ($/Month)

Local Only
Starts at ($/Year)

Silver

$145

$1,213

Gold

$175

$1,577

Platinum

$206

$1,940

Want to streamline customer invoicing and payment collection? Check out Freshbooks.

Last updated on 04/01/2020
*When you choose QuickBooks Enterprise with hosting, your software and files will be stored in the cloud, which means that you can access them from anywhere and anytime using any device.
Silver
Silver gives you access to the following: the QuickBooks Desktop Enterprise software, QuickBooks Priority Circle Program, Advanced Reporting, US-based customer support, online backup data storage, and automatic product upgrades.
If you need a plan for 10 users, then you will be charged $875.97 per month (with hosting) or $5,215 per year (without hosting).
Gold
This plan has all of the features in Silver, with the addition of its integrated QuickBooks Desktop Payroll Enhanced service. Prices can go as high as $905.97 per month (with hosting) or $5,579 per year (without hosting) for 10 users.
Platinum
Platinum contains everything that is in Gold, plus access to Advanced Inventory and Advanced Pricing. It also comes with a paid add-on, The Diamond Package, which allows you to cater to up to 40 users and provides you with advanced features such as TSheets Elite's time tracking tools and full-service Assisted Payroll.
Should you require a plan for 10 users, expect a fee of over $935.97 per month (with hosting) or $5,943 per year (without hosting).
QuickBooks Enterprise Alternatives 2020
| Accounting Software | Best For |
| --- | --- |
| | Businesses that want the most widely used small business accounting software that scales as they grow |
| | Solopreneurs and freelancers who need to streamline customer invoicing and payment collection |
| | Businesses in the nonprofit, manufacturing and distribution, professional services, contracting, and retail industries |
| | Businesses that use other Zoho products like Zoho CRM |
QuickBooks Enterprise Features
QuickBooks Enterprise has robust features such as Advanced Pricing and Advanced Inventory to assist in simplifying your accounting and inventory management tasks. Let's take a quick look at QuickBooks Enterprise's top functionalities to help you determine if it's the accounting tool that you need.
Advanced Reporting
This feature allows you to build highly customizable reports and then categorize them according to multiple metrics such as sales by city, sales profitability, back order, paid invoices by sales representatives, and sales items by forecasting.
Order Management
Simplify the various aspects of your order management workflow such as order processing, invoicing, forecasting, and inventory management. Its Enhanced Pick, Pack, and Ship feature automates the order fulfillment process, reducing the chances of errors.
Advanced Pricing
Available in the Platinum plan, this functionality helps you: 1) create and customize price rules based on certain metrics such as locations and customer vendors; 2) set quantity discounts, markdowns, and promotions; and 3) automatically track your sales tax.
Advanced Inventory
Easily monitor product movement, simplify inventory management with bar-code scanning, merge your vendors' information in one place, and calculate the real cost of your products. This service is also available only in Platinum.
Most Helpful QuickBooks Enterprise Reviews
Users who gave positive QuickBooks Enterprise reviews like that it has industry-specific features. Others commended its highly customizable financial reports, while some praised its great expense tracking capability. Meanwhile, those who left negative reviews dislike that it's a bit expensive and that it has too many features that are time-consuming to navigate through.
Industry-specific and advanced features
"QuickBooks Enterprise offers advanced features that can be tailored according to the type of industry your business caters to, notably manufacturing, wholesalers, and construction segments. Some of these more complex processes and features include advanced pricing, payroll, and inventory tracking."

—Ain _33
Going through all of its features is time-consuming
"At first, it is somewhat hard to navigate and figure out. It took some time to get the hang of it. There is a lot of information and tools, which is a good thing, but they all took time to be figured out. Now that I have it down, it's not that difficult. It just takes time."

—Julia D'Angelo
QuickBooks Enterprise Frequently Asked Questions (FAQs)
What software does QuickBooks Enterprise integrate with?
QuickBooks Enterprise integrates with the following software: Microsoft Word, Microsoft Excel, Microsoft Outlook, Gmail, QuickBooks POS, QuickBooks for Mac, Quicken, and more.
What will I get as a member of QuickBooks Priority Circle?
If you are a member of QuickBooks Priority Circle, then you will get access to premium technical support, self-paced online training, and a dedicated account manager.
What if I'm not satisfied with QuickBooks Enterprise?
If you are unhappy and dissatisfied with QuickBooks Enterprise, then you can request your money back within 60 days of your purchase date.
Bottom Line
QuickBooks Enterprise is a great option for those who need a locally installed accounting tool with incredibly advanced features and built-in payroll support. It has industry-specific editions that are unavailable in most accounting software. However, given its numerous functions, it may take a while to get acquainted with the tool. Also, its increasing cost per additional user may be a burden to many.
If you aren't sure that QuickBooks Enterprise is right for you, then this article on the 4 Best Accounting Software is a review of our top choices. In this guide, we looked at a variety of solutions and narrowed our recommendations down based on features like detailed financial statements, invoicing, and bill tracking.