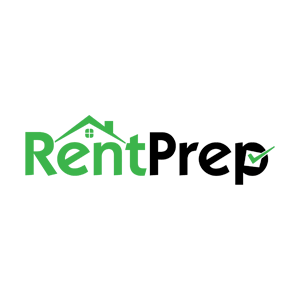 RentPrep is a real estate tenant screening solution that helps you effectively screen potential tenants. It provides landlords and property managers with thorough tenant background checks that include relevant data like Social Security number (SSN) verification, nationwide evictions, and credit reports. Its pricing starts at $18.95 per background check. It is best for landlords that need fast background checks by Fair Credit Reporting Act (FCRA)-certified screeners as well as for enterprise clients that manage more than 50 units.
RentPrep Pros and Cons
| Pros | Cons |
| --- | --- |
| Option to have the applicant pay the fee | Reports made on TransUnion are sometimes inaccurate |
| Chat support is responsive and helpful | |
| Access to a private Facebook group for community support | |
Who RentPrep Is Best For
Landlords that need fast tenant background checks compiled by FCRA-certified screeners: RentPrep helps landlords and property managers run a thorough background check with essential data, such as eviction, history, and credit check reports.
Property managers that manage more than 50 properties: Its Enterprise package is particularly designed for property managers who have a portfolio of more than 50 units.
RentPrep Pricing
RentPrep offers two options for screening tenants. You may order RentPrep Background Check for $18.95 or SmartMove Full Credit Report for $38. The main differences between the two are the data included in the reports like a full credit check and a nationwide criminal and sex offender search.

| Pricing & Data Included | RentPrep Background Check | SmartMove Full Credit Report |
| --- | --- | --- |
| Prices (Per Tenant Report) | $18.95 | $38 |
| SSN Verification/Address History | ✓ | ✓ |
| Nationwide Evictions | ✓ | ✓ |
| Nationwide Criminal & Sex Offender Search | $4 | ✓ |
| Judgment and Liens | ✓ | +$4.95 |
| Full Credit Report | ✕ | ✓ |
If you need a credit decision report in your RentPrep Background Check, then you will be charged an additional fee of $9.95. You can visit the provider's website to check out sample reports.
Those who are managing more than 50 units may be eligible for RentPrep's high-volume tenant screening packages called Enterprise Clients. To qualify, you must have a dedicated and secure office that will pass an on-site inspection, which will serve as proof that you can view sensitive data securely.
RentPrep Background Check
This report includes a thorough rental background check that is prepared by RentPrep's team of in-house screening professionals. It includes the following: SSN verification or address history, nationwide evictions, bankruptcies, and judgment and liens. You will only need the applicant's information, so there is no participation from the tenant.
Available add-ons include a nationwide criminal and sex offender search and a credit decision report. Please note that the credit decision report provides the score range only, and not the actual FICO score.
SmartMove Full Credit Report
The SmartMove report provides the applicant's full credit score called ResidentScore. Compared to a standard credit score, ResidentScore provides you with a more accurate risk assessment. This package requires the involvement of the tenant, and you may even have him pay for the report.
SmartMove also includes SSN verification or address history, nationwide evictions, bankruptcies, a nationwide criminal and sex offender search, and an applicant pay option. Judgment and liens are available as add-ons.
RentPrep Alternatives 2020
Tenant Screening Services

Best For

Pricing
($/Applicant)

(Best overall) Those who need a screening service with affordable options that include credit checks

$7.99 to $34.99

Background screening and the ability to insure rental income

$24.95 to $49.95

Those who need flexibility to choose from an a la carte menu

$10 to $57

Those looking for scored reports rather than credit reports that include recommendations

$10 to $35

Users who want screening directly from a credit bureau (TransUnion)

$25 to $40
RentPrep Features
Once you create your RentPrep account, it's dashboard gives you instant access to essential functionalities like properties, orders, and credit card management. Below is what a standard RentPrep dashboard looks like.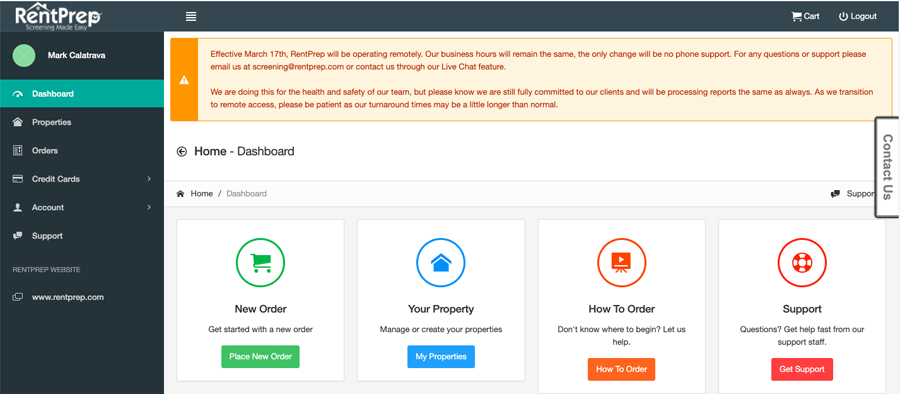 Tenant Background Check
RentPrep's background reports are hand-compiled and validated by its team of FCRA-certified screeners. The data included in a background check includes the following:
SSN verification
Address history
National eviction search
National United States criminal search
Judgments and liens search
US sex offender search
Global homeland search
Credit check
Credit Decision Report
RentPrep runs an internal tenant credit check that gives you a range of the applicant's score. You will choose a star rating from zero to five as criteria. For example, if your applicant matched your preferred or higher FICO score, then an "approved" report would show up. On the other hand, if the applicant does not meet your criteria, a "declined" report would appear.
FCRA-Certified screeners
Its team of in-house FCRA-certified screening professionals are tasked to answer any questions you may have regarding tenant background checks. They are available throughout the week through live chat, but you may also contact them via email and phone.
Application Programming Interface (API) Platform
RentPrep has partnered with TransUnion to build an easy-to-use SmartMove API that can be plugged into WordPress or other websites easily. The API comes in two versions: a SmartMove API that you can plug into TransUnion credit reports and hand-compiled RentPrep background checks. Meanwhile, its screening partners include TenantCloud, RentZend, Landlord Studio, and Schedule My Rent.
Summary of RentPrep Reviews
As of the date that this article was written (May 8, 2020), there are not many up-to-date RentPrep reviews online. However, one user who shared a positive review of RentPrep on Yelp mentioned that its chat support is responsive, whereas a few dislike that reports made on TransUnion are sometimes inaccurate.
RentPrep Frequently Asked Questions (FAQs)
How long will it take for my reports to arrive?
RentPrep's team of FCRA-certified background screeners typically will compile and deliver RentPrep Background Check reports in an hour after you order. As for SmartMove Full Credit Reports, you will get your order report as soon as your applicant responds to an email, where they will be required to provide their personal information and submit payment for the report.
What payment options does it accept?
RentPrep accepts Mastercard, Visa, American Express, and Discover credit cards. It uses Verisign secure sockets layer (SSL) certificates to ensure the security of payment transactions.
What format is my report delivered in?
Your report will be sent to you in a PDF format. There's no report generation or formatting needed.
Our Top Tenant Screening Service Providers
If you aren't sure that RentPrep is right for you, then this article on the best tenant screening services is a review of our top choices. In this guide, we looked at a variety of solutions and narrowed our recommendations down based on pricing and essential features, such as criminal background checks, landlord, residence and eviction history, and income and employment verification.