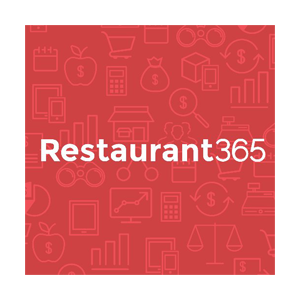 Restaurant365 Pros and Cons
| Pros | Cons |
| --- | --- |
| Robust features | No free trial |
| Integrates with POS, payroll, HR, and bank apps | Can be expensive for small businesses |
| Designed specifically for restaurants | Functions may be more robust than what a small restaurant needs |
Who Restaurant365 Is Best For
Multi-location restaurants that need industry-specific accounting and inventory management tools
Users who want a restaurant management software that also offers accounting, payroll, and HR products
Restaurant365 Pricing
The Restaurant365 pricing page shows four monthly plans with fees that start at $259 per location. The main difference between the tiers is access to premium features that include accounting, a smart labor matrix, and business analytics. You may schedule a free demo to explore the app.
Plans

Monthly Pricing
($//Location)

Accounting

Smart Labor Matrix

Business Analytics

Core Accounting

$249

✕

✕

✕

Core Operations

$249

✓

✕

✕

Professional

$369

✓

✓

✓

Essential

$459

✓

✓

✓
Core Operations
This plan focuses on the operations side of the foodservice business and is designed to help optimize labor resources and control food cost. It has scheduling and inventory features plus the ability to integrate with your preferred POS software like Xpient, Lavu, Toast, Revel Systems, Shopify, Square, POSitouch, and Profitek.
Core Accounting
As its name states, this plan is focused on the accounting side of a business and is designed to help organize back office systems. It has accounting and inventory management features and also integrates with leading POS apps.
Professional
This tier merges the capabilities of Core Operations and Core Accounting and is built to enable users to maximize their business' profitability. It has accounting, inventory, and scheduling features, plus the following:
Manager logbook
POS integration
Recipe costing
Smart labor matrix
Smart ordering
Smart Prep
Essential
This plan provides an all-in-one platform that is designed to simplify all aspects of operating a restaurant. It includes everything in Professional plus the features below.
Custom financial reports
Fixed asset management
Smart labor matrix
Business analytics
Restaurant365 offers HR and accounts payable (AP) automation tools as add-ons—this includes features like hiring, payroll, invoice capture, payments, and more. You may contact the provider for pricing details.
Restaurant365 Alternatives 2020
| | | | |
| --- | --- | --- | --- |
| | | | |
| Best For | Small- to mid-sized restaurants that need robust reporting and a simple interface | Restaurants that want reservation and at-a-glance table management | Brick and mortar businesses that want scheduling and timekeeping (free for one location) |
| Pricing | Starts at $69 per month | Starts at $69 per month, per terminal | Starts at $0 per month |
| | | | |
Restaurant365 Features
Restaurant365 is designed to help simplify all aspects of operating a food service venture so that owners and managers can focus more on growing their businesses. Here are some of its key capabilities.
Inventory management: Easily count your stocks using your tablet or phone and then track inventory transfers between stores, all while ensuring that true product usage is reflected in your cost report. Through suggestive ordering, you can also buy stocks at the right level in order to reduce food waste and prevent over-ordering.
Recipe costing: Monitor ingredient usage and yield from every food item so that you can accurately determine how much a recipe will cost to make. For example, if you started the day with 100 carrots and then used the last one 10 minutes before closing, then that means you have calculated your carrot usage correctly. This tool also tracks variations between your actual and theoretical usage.
Smart prep: Receive system-generated suggestions on how to prepare a recipe based on shelf life and forecasting. You may use this feature to save time on multiple and simultaneous prep log productions and to receive alerts on the scheduled service of delivery trucks, kitchen equipment, and other assets.
Accounting: You can save time and reduce errors because the app automatically enters sales data from your POS into the general ledger. You can also generate payroll data and spread an invoice over a specific period (monthly or quarterly). In addition, you can simplify end-of-month bank reconciliation tasks by directly integrating with your bank and reconciling money-related activities daily.
Employee scheduling: Use your hourly sales data and create a custom labor model so that the app can suggest the optimal number of staff for each hour. This way, managers can make informed adjustments in a way that maximizes jobs skills and profitability. You can also receive overtime alerts and set blackout dates on holidays and other important occasions.
Most Helpful Restaurant365 Reviews
Users who gave positive Restaurant365 reviews said that they like the software's robust features, while others appreciate that it has foodservice management-specific tools. Meanwhile, those who gave negative comments said that it might be too expensive for small businesses in the long run, whereas others complained that the platform occasionally experiences glitches.
Efficient tool for restaurants
"R365 does all of our accounting! It's amazing for accounts payable, bank reconciliations, accounts receivable, and general KPI reporting for restaurants."

—Irfan Shikari
Unresponsive customer support staff
"Its customer service staff are very slow to respond. It doesn't help that they mostly operate on West Coast time and we are on the East Coast. I've had numerous open support 'tickets' with them—that initial support cannot help with or answer—that remain open with their upper level teams or stay in development for weeks on end."

—Brian Borcziak
Restaurant365 Frequently Asked Questions (FAQs)
Where may I download the Restaurant365 app?
Restaurant365 is available on Google Play and the App Store.
Which types of businesses will benefit the most from using the software?
The app is designed for independent restaurants, franchise groups, multi-concept restaurant groups, and accounting firms.
Does the app generate financial reports?
Yes, it does. Restaurant365 can help generate and personalize your balance sheets, trial balance reports, profit and loss (P&L) statements, and other documentation that can help with decision making.
Our Guide to Restaurant Software Tools
If you aren't sure where Restaurant365 fits into your restaurant software plan, then check out our definitive guide to the best restaurant inventory management software to see how this app can sync with the other tools you might be using.