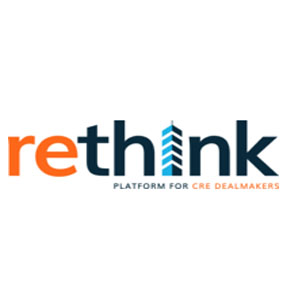 Rethink is a real estate customer relationship management (CRM) software that features deal management, real estate database, analytics, and reporting dashboards. It lets users track and manage close dates, fee types, house fees, and monitor potential net and gross commissions. It helps them forecast their business and potential earnings. It offers customized pricing, and it is best for real estate professionals who are specifically managing commercial properties.
Rethink Pros & Cons
| Pros | Cons |
| --- | --- |
| Has geo-search and targeting features | Could be expensive, based on user reviews |
| Offers robust performance tracking tools | New users can expect a lengthy setup process |
Who Rethink Is Best For
Commercial real estate (CRE) professionals: Rethink provides specialized features, from prospecting to closing deals. These features are particularly designed for users managing commercial and retail spaces, as well as workspaces and other business-related properties.
Users who want to house their comparables database within their real estate CRM: Rethink allows you to provide your clients with the most up-to-date comparables (comps) insights in the market. Through the platform, you can capture and track internal and external lease and sales comps and share them with your clients. You can also capture all internal and external sale and lease comps, as well as search across your existing comps using the software's geo-search tool.
Rethink Pricing
Rethink's pricing is not published on its website. However, similar service providers range from $0 to $60 per user, per month for programs with basic, straightforward functionalities. More extensive options cost around $100 to more than $150 per user, per month.
Factors that affect pricing include the number of contacts and properties being managed as well as access to premium features, such as deal and pipeline management, tenant communication, analytics, and more.
Rethink Alternatives 2020
| Real Estate CRM | Best For |
| --- | --- |
| | Agents who need an affordable and comprehensive industry-specific CRM |
| | Agents who want advanced customization and sales reporting with a free starting price |
| | Agents seeking a CRM with a highly visual pipeline for lead tracking |
| | Agents who need advanced real estate marketing technology like video email |
| | Agents who need an easy-to-use, intuitive real estate CRM interface |
| | Large teams looking for a real estate-focused lead management features and third-party integrations |
Rethink Features
Rethink provides real estate professionals with an extensive set of CRM tools designed specifically to help you manage your customer relationships better and continuously grow your business. Below are its key features.
Prospect Management
Rethink's prospect management tool lets you create and browse call lists, set follow-up reminders, and manage each prospect more efficiently. It provides a platform where all of your prospecting information may be put in one place, helping you make calls easily and close more deals.
Deal Pipeline Management
Its deal pipeline management tool allows you to drag and drop deals as they progress through your pipeline. It also enables you to share deal information with colleagues and clients and see all of your transactions on the dashboard. Transactions include landlord, tenant, buyer, and seller representations.
Lease Management
Rethink lets you track and manage lease expiration dates and rents so that a deal never slips through the cracks. You can proactively reach out to your clients at the most appropriate and critical time.
Geo-search & Targeting
The program lets you easily search for properties, listings, and comps in its database based on any criteria you choose, whether you're searching for Class A, B, or C office, retail, multifamily, or industrial, or land properties, listings, and comps.
Performance Management & Reporting
Rethink comes pre-installed with a suite of reporting tools to help you capture key reporting metrics, such as broker split on closed deals, deal pipeline by revenue stream, and deals closed. It also allows you to see how your team is performing each day, week, month, quarter, and even year.
Which Real Estate CRM Provider Is Best for You?
Most Helpful Rethink Reviews
Most Rethink reviews found online are positive. Users highlighted its simplicity and ease of use. They also said that its multiple listing service (MLS) is reliable and constantly updated. Concerns raised by users include high pricing and lengthy setup process.
Reliable MLS & great customer service
One user who gave Rethink a positive review on G2 said that being able to refresh their listings with the most recent MLS data through the platform made it easy to keep their property database up to date. She added that you didn't have to enter listing information more than once. She also mentioned that the support team is very responsive.
Setup process could be lengthy & tedious
One user who gave Rethink a negative review on G2 said that while most of its features are particularly designed for managing commercial properties, using the program would initially require a lengthy setup process. According to him, there's a lot of back and forth with the company to change and customize the interface.
Rethink Frequently Asked Questions (FAQs)
Does Rethink have a mobile app?
Yes. You may access Rethink via mobile. The mobile app enables you to access real-time contact, property, comp, and deal information, as well as analytics and onsite market canvassing through geo-locations.
Can brokerage firms use the program as well?
Yes. Rethink aims to cater to both real estate agents as well as real estate and brokerage firms.
What types of customer support does Rethink provide?
Rethink offers users support in the form of webinars, support center, training center, and an extensive resource center.
What kinds of properties can be managed in Rethink?
Users can manage and find various kinds of commercial real estate spaces, including industrial, offices, retail, and so forth.
Bottom Line
Rethink CRM offers you with two specialized services. The first one is a CRM dedicated to real estate agents, and the second one is its focus on helping users manage commercial properties—a unique offering compared to most real estate CRMs in the market.
Two of its standout offerings include its geo-targeting functionality and up-to-date, reliable multiple listing service (MLS), which interested parties may consider. Other than that, most of its other features include the basic essentials that may be found in other software.
If you are not sure if Rethink is right for you, this article on the best real estate CRMs is a review of our top choices. Our team looked at a variety of solutions and narrowed down our recommendations based on price, tracking features, ease of use, customer service, and reporting options.