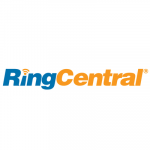 RingCentral is a communication solution that allows businesses to make and receive calls through the internet. Its voice-over-internet-protocol (VoIP) phone system comes with features like call monitoring, directory listing, and more. It costs $39.99 to $69.99+ and is best for small businesses as well as large enterprises with high call volumes.
RingCentral Pros & Cons
| Pros | Cons |
| --- | --- |
| Reliable inter-office communication service | Frequent dropped calls |
| Simple and easy to use | Poor customer support |
| Convenient and portable | Difficulties in requesting payment refund |
Who RingCentral Is Best For
Small businesses: Its small business phone system comes with helpful features that include integrated video conferencing and team messaging, which can be accessed on any device.
Enterprises: RingCentral offers an all-in-one business communication solution for enterprises, such as online meetings, team messaging, cloud private branch exchange, and an inbound contact center, among others.
RingCentral Pricing
The RingCentral pricing is based on the number of users and covers four plans: Essentials (starts at $39.99/user/month), Standard (starts at $49.99/user/month), Premium (starts at $54.99/user/month), and Ultimate (starts at $69.99/user/month). Those interested should note that its monthly fee decreases as the number of users increases.
Plans

Monthly Pricing

($/User/Month)

Annual Pricing*

($/User/Month)

Essentials

Starts at $39.99

Starts at $29.99

Standard

Starts at $49.99

Starts at $34.99

Premium

Starts at $54.99

Starts at $44.99

Ultimate

Starts at $69.99

Starts at $59.99
*The annual plans are paid in full at the start of the billing cycle.
Essentials
The Essentials plan is ideal for small businesses with 20 users or less. The plan includes unlimited phone calls within the United States and Canada, a toll-free or local number, and a voicemail-to-text feature. It has an allotted 100 minutes of toll-free calls per month. This plan is only available for up to 99 users.
Standard
Just like the Essentials plan, the Standard plan also has unlimited phone call access within the U.S. and Canada, a toll-free or local number, and a voice-to-text feature. It also offers unlimited audio meetings, unlimited video conferencing for up to four people per meeting, and unlimited internet fax. It also has a 1,000-minute credit of toll-free calls per month.
Premium
The most popular plan offered by RingCentral is its Premium plan. This plan includes all the features available in the Standard plan. It also has an automatic call recording feature, unlimited video conferencing for up to 100 people per meeting, and 2,500 toll-free minutes per month.
Ultimate
The Ultimate plan offers unlimited video conferencing access for up to 200 people per meeting and 10,000 toll-free minutes of calls per month. All features offered in the Premium plan are also included in this plan.
Top VoIP Providers 2020
| VoIP Phone Service | Best For | Pricing |
| --- | --- | --- |
| | Larger companies with high call volumes that need enterprise-level features | $39.99-$69.99+/user/month |
| | Businesses that want a great combination of price and features | $21.95-$31.95/user/month |
| | Small business owners looking for a great phone system with no contracts | $19.95 and $24.95/user/month |
| | Solopreneurs who want a business number on their personal device | $29-$78/month |
| | Solopreneurs and small business owners who want an affordable turnkey vanity number and VoIP provider | $12.99-$59.99/month |
| | Businesses that need unlimited international calling and SMS messaging | $12-$110/user/month |
| | Solopreneurs and small business owners who want an affordable turnkey vanity number and VoIP provider | $19.99-$39.99+/line/month |
RingCentral Features
RingCentral offers an all-in-one solution that helps businesses streamline their communication processes. It offers features that include a cloud phone system, meetings, messaging, security, analytics, and an app for mobile and desktop.
Cloud Phone System
Being hosted in the cloud, it gives businesses the flexibility and mobility of a phone system. This feature enables businesses to choose from a variety of available phone numbers and access the system using a computer or a mobile phone. The system also offers call forwarding, call flip, and call delegation functionalities.
Meetings
This feature allows businesses to meet with their employees through the web, audio, and video conferencing. Its video conferencing functionality can accommodate a meeting with up to 500 people in different locations worldwide, while its audio conferencing function can accommodate 1,000 people.
Security
RingCentral protects its users' data with a system fortified by seven layers of security. It also has 17 data centers across four regions and has a global cloud infrastructure with more than 45 direct peering connections with Tier 1 international carriers.
RingCentral App
The RingCentral app allows its users to access RingCentral's features and services from their mobile phones and computers as well.
Most Helpful RingCentral Reviews
Users who gave positive RingCentral reviews like that it has many features that are easy to use. Others appreciate that they can make and receive calls through multiple platforms—from mobile devices to computers and actual phone units. However, some of them complained that they frequently experience dropped calls and experienced difficulties in obtaining refunds when they cancel their subscriptions. They added that its support team is not helpful and lacks the knowledge to address their queries properly.
Phone calls, meetings & screen sharing within the same app
"RingCentral recently updated its app to have phone calls, meetings, and screen shares all within the same app, which is very nice. They allow our team to make phone calls and host screen sharing. It's very user-friendly and takes seconds to download. The layout itself is very modern and yet sleek and simple."

— Jared DeLong
Non-existent customer support & terrible voice quality
"It has a non-existent customer service. The account managers have no clue how to help. They repeatedly apologize but can never seem to solve a problem. I was billed for a number I did not have or use. To this day, I have not been able to have the number canceled or receive a credit for the payments they deducted from my credit card. They advertise HD Voice but I have experienced terrible voice quality. Many times, incoming calls are interrupted and you have to wait for the call to reconnect. I usually end up calling from another line."

— Susan Gonzalez
RingCentral Frequently Asked Questions (FAQs)
Does RingCentral charge a setup fee?
No. RingCentral does not charge its users a setup or activation fee.
What types of resources does RingCentral offer?
RingCentral offers analyst reports, case studies, white papers, blog posts, infographics, e-books, press releases, product videos, and webinars to help its users maximize the use of the service.
What are RingCentral's payment options?
As of this writing (December 26, 2019), RingCentral only accepts credit card payments.
Our Top VoIP Software Picks
If you aren't sure if RingCentral is right for you, this article on the Best VoIP Phone Service Providers is a review of our top choices. Our team looked at a variety of solutions and narrowed down our recommendations based on price, features, and customer support.