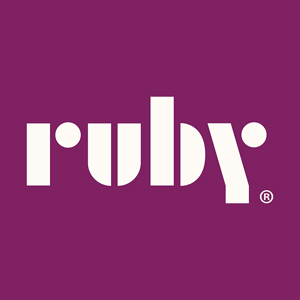 Ruby provides U.S.-based virtual receptionists for your live call and chat answering needs. It features custom greetings, voicemail transcriptions, appointment scheduling, and bilingual answering. Its monthly fees range from $309 to $1,369, and it is best for solo entrepreneurs, healthcare businesses, legal firms, and finance professionals.
Ruby Pros & Cons
| Pros | Cons |
| --- | --- |
| Offers customized frequently asked questions (FAQs) and scripts | Although you can customize hold music, they have additional costs |
| Provides bilingual assistance in all plans | Does not support call overflow |
| Knowledgeable and friendly virtual receptionists | Occasional mobile app bugs and lags |
| | Not for those with tight budgets |
Who Ruby Is Best For
Solo entrepreneurs: Solo entrepreneurs may focus on their high-level tasks and let Ruby's virtual receptionists handle their calls, messages, and appointment schedules. Updates on all client and lead communications are sent in real-time to ensure that they are not missing anything.
Healthcare businesses: Ruby offers Health Insurance Portability and Accountability Act (HIPAA)-compliant receptionist and chat services, ensuring that all communications are private and secure.
Legal firms: Ruby ties up with state and local bar associations nationwide and offers its clients discounts with their partners. It also integrates with law firms' commonly used tools, such as Lexicata, Clio, and Rocket Matter, to simplify client management.
Financial professionals: Ruby has partnerships with leading associations like the Financial Planning Association (FPA) and The National Association of Personal Financial Advisors (NAPFA), providing exclusive perks to some finance organizations. Moreover, its mobile app helps ensure that client and prospect calls are attended to—either by you or its virtual receptionists.
Ruby Pricing
Ruby's pricing page for its virtual receptionist services shows three plans with monthly fees that range from $309 to $1,369. The main difference between these options is the number of monthly receptionist minutes. Customized plans are also available, and those interested may contact Ruby to get started.
Plans

Pricing
($/Month)

Numbers of Receptionist Minutes

Call Ruby 100

$309

100

Call Ruby 200

$589

200

Call Ruby 500

$1,369

500
All users—regardless of their plans—are provided with access to its core features, such as customized greetings, usage alerts, and voicemail transcriptions.
Ruby Alternatives 2020
Answering Service

Best For

(Best Overall) Businesses that want a full-featured auto-attendant instead of a live receptionist

Teams looking for an affordable, no-frills answering service

Organizations looking for custom scripting and customer troubleshooting functionality

Businesses that need dedicated human receptionists to provide a live experience to callers

Managers who want features to help with outbound sales, marketing, or lead generation calls

last updated on 04/8/20
Ruby Features
Ruby provides professional U.S.-based virtual receptionists who handle calls from 5:00 a.m. to 9:00 p.m. (weekdays) and 6:00 a.m. to 6:00 p.m. Pacific Time (weekends). Below are some of Ruby's most essential features.
Customized customer experience: Its wide range of personalized capabilities—such as custom frequently asked questions (FAQs), intake, and greetings—help you provide an optimal customer experience.
Bilingual answering: Ruby offers a Spanish bilingual service with each virtual receptionist account for free. Personalized options for both Spanish- and English-speaking callers are also available.
Hold music: You may select from their seven hold music options at no cost or choose to upload your own audio for an added fee.
Appointment scheduling: Ruby's virtual receptionists may also schedule appointments directly to your calendar via Calendly. They can also make outbound calls to confirm appointments on your behalf.
Live call transferring: Calls may be transferred to your preferred phone or cellphone number at your specified time. You may also update your availability status via the mobile app or through Ruby's website, email, or phone number.
Mobile application: Its Android and iOS-compatible mobile app allows you to make calls and send text messages from your business number, receive notifications for messages and voicemails, track receptionist minutes, and more.
Which VoIP Provider Is Right for You?
Most Helpful Ruby Reviews
The majority of Ruby reviews online are positive. Most users are impressed with its virtual receptionists' performance, applauding them for their professionalism and friendliness. Many shared that their prospects and clients also commend them for great customer experience.
Meanwhile, there aren't many up-to-date negative reviews available. A few considered its prices to be high, while others mentioned that they encountered occasional service outages and mobile app bugs.
Helped them look professional to leads & clients
One user who left a positive review said that its virtual receptionists helped his business sound professional to clients and leads. He said that Ruby is among the reasons why his start in business was a success.
Fees are a bit pricey but worth it
As of the date this article was written (April 16, 2020), there are very few negative Ruby reviews online. A user said that its services are on the steep side. However, he emphasized that its costs are valid due to the virtual receptionists' efficiency, quality of service, and attention to detail.
Ruby Frequently Asked Questions (FAQs)
How do Ruby receptionists work?
Ruby's virtual receptionists may take on several tasks, such as answering and connecting calls to you, taking messaging, scheduling appointments, responding to caller questions, returning or making calls on your behalf, screening for solicitors, and more.
How are receptionist minutes counted?
Receptionist minutes are calculated in 30-second increments, and all calls are rounded up to the nearest 30-second mark. For incoming calls, receptionist time is counted from the time the call is received through to when it is transferred or disconnected. The calculation also includes hold time.
However, outgoing call minutes start from the time the Outbound Call Specialist is on the call up to the time they spend in sending a follow-up email to update you on the results of the call.
You may monitor your receptionist service usage through the mobile app or its website.
Can I change my plan at any time?
Yes, plans and billing may be changed anytime by giving Ruby a call or sending them an email.
Bottom Line
Ruby offers live bilingual virtual receptionist services that help businesses in providing an exceptional customer experience. All of its plans are inclusive of its key features, like custom FAQs, voicemail transcriptions, appointment scheduling, and outbound calling. Ruby also lets you build your plans according to your needs.
Though some of its customers consider its prices to be on the expensive side, a higher number of current users justified its costs. Most of the latest reviews online mentioned how customers are impressed with the quality of its services, and how Ruby had a positive impact on their businesses and organizations.
If you are not sure if Ruby is right for you, this article on the best answering services is a review of our top choices. Our team looked at a variety of solutions and narrowed our recommendations down based on price, ease of use, and features such as customer support and an auto-attendant.