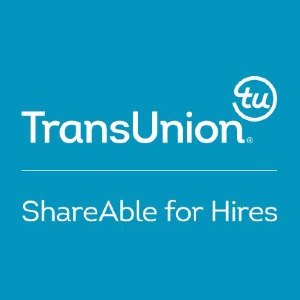 ShareAble for Hires is a background check solution by TransUnion, a consumer credit reporting agency. It offers screening tools for verifying candidate information, validating employment and address histories, and checking financial and criminal records. ShareAble for Hires is optimal for small to midsize businesses (SMBs) that want to conduct pre-employment credit and financial background checks. Its fees start at $35 per screening package.
ShareAble for Hires Pros and Cons
| Pros | Cons |
| --- | --- |
| User-friendly platform | Integration options are unavailable |
| Straightforward pricing with no setup fees | Lacks drug testing, driving record check, and global screening solutions |
| Reports are Fair Credit Reporting Act (FCRA)-compliant and backed by TransUnion data | |
Who ShareAble for Hires Is Best For
SMBs that want reliable pre-employment credit and financial background checks can depend on the provider to deliver accurate results. Its credit reports are directly from TransUnion, one of the trusted consumer reporting agencies in America. Moreover, ShareAble for Hires's background check processes comply with FCRA and state consumer reporting regulations.
ShareAble for Hires Pricing
ShareAble for Hires's pricing page shows three screening options with fees that range from $35 to $60 per package. There are also no setup fees and minimums required. Access to fraud alerts, prior employment details, address histories, deceased persons' Social Security number (SSN) checks, and detailed credit reports are some of the differences between the tiers.
| | Background Check Basic | Background Check Plus | Background Check Pro |
| --- | --- | --- | --- |
| Per Package Fees | $35 | $50 | $60 |
| Instant State and County Checks | ✓ | ✓ | ✓ |
| Federal Watch Lists | ✓ | ✓ | ✓ |
| National Registries (Sex Offender and Most Wanted) | ✓ | ✓ | ✓ |
| TransUnion Identity Verification and Instant Match | ✓ | ✓ | ✓ |
| Fraud Alerts Check | N/A | ✓ | ✓ |
| Name and SSN Match Report | N/A | ✓ | ✓ |
| Deceased Persons' SSN Check | N/A | ✓ | ✓ |
| Prior Employment Verification | N/A | N/A | ✓ |
| Previous and Current Addresses Check | N/A | N/A | ✓ |
| Detailed Credit Report | N/A | N/A | |
ShareAble for Hires Alternatives 2020
| Background Check Companies | Best for |
| --- | --- |
| | (Best overall) Any business, thanks to the full range of affordable background checks offered |
| | Healthcare and nonprofit firms that need to ensure the safety of their clients |
| | Employers in states like California, Massachusetts, and New York with tough labor laws |
| | HR professionals wanting data to interface with top HR and payroll software like ADP and Paychex |
| | Professional companies that don't require drug testing; top-rated affordable alternative to GoodHire |
| | Global firms using enterprise software systems like Workday and PeopleSoft |
ShareAble for Hires Features
Not only can ShareAble for Hires assist you in verifying candidate information, it also delivers screening reports that are reliable and easy to understand. To help you determine if it fits your requirements, I've listed some of ShareAble for Hires's essential functionalities below.
Background Screening Services
With ShareAble for Hires, you get screening services and background check reports that are FCRA-compliant. Here are some of its services:
Instant state and county check: You are granted access to instant criminal reports that show felony and misdemeanor records across state and local jurisdictions. However, the said functionality is not available for the following states:

Delaware
Hawaii
Kentucky
Massachusetts
South Dakota
Washington, DC
Wyoming

National registries and federal watchlist checks: ShareAble for Hires's criminal background search includes looking through federal watchlists, most wanted databases, and the National Sex Offender Public Registry among others.
TransUnion identity verification: ShareAble for Hires will compare candidate details (such as name, address, SSN, and date of birth) against the information in TransUnion's databases. The provider will also search through fraud and deceased person alerts to check whether or not your candidates' SSNs have been used to claim death benefits.
Credit and financial background check: This TransUnion report will show your candidates' credit and payment histories, level of debt, and accounts in poor standing, including derogatory data (such as charge-offs and repossessions). Aside from financial information, this search will show the candidates' employment history.
FCRA and State Compliance Filters
ShareAble for Hires offers compliance tools to help keep you up-to-date with the latest regulations. It has FCRA and state filters that are designed to comply with consumer reporting laws.
Web-Based System
You are granted access to a web-based self-service system where you can place background check requests. It has an advanced screening technology that enables it to search quickly through multiple databases. The platform is also mobile-optimized, enabling you to access it from tablets and smartphones—provided that there is an internet connection available.
Employer Dashboard
With ShareAble for Hires's employer dashboard, you can manage screening requests, monitor background checks, and view reports. It even has a progress bar that shows the status of each background check task.
Summary of ShareAble for Hires Reviews
As of the date this article was written (Aug. 21, 2020), there are no up-to-date ShareAble for Hires reviews available online. Those that I found are old reviews, where users commented that its ease of use and quick turnaround times are its best features.
ShareAble for Hires Frequently Asked Questions (FAQs)
Does it offer discounted pricing?
Yes, ShareAble for Hires offers discounted pricing from time to time. Visit its website to view the provider's latest promo on offer.
How does it work?
With ShareAble for Hires, all of the screening activities are done online, and you just have to create an account and input your applicants' email addresses into the provider's system. Your applicants will then receive a screening invitation, wherein they'll be asked to grant permission for the background check. The said email also contains a link to ShareAble for Hires's system where applicants will input their SSN details and answer several questions to verify their identities. Once the verification process has been completed, the system will release the background check reports to you and your applicant.
How fast does it release screening reports?
According to ShareAble for Hires's website, the provider can release screening reports within several minutes.
Our Top Background Check Company Picks
If you aren't sure if ShareAble for Hires is right for you, then this article on the best background check companies is a review of our top choices. Our team looked at a variety of solutions and narrowed our recommendations down based on price, user feedback, customer support, and features such as employment screening, compliance tools, and software integrations.