Sharestates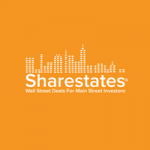 , Inc. offers hard money lending and investing solutions to real estate investors. Its loan rates start at 7%, with loan amounts ranging from $100,000 to $5,000,000. It can lend up to 85% LTV and 100% LTC. Here, we cover Sharestates, Inc. reviews and rates. Ready to get started? Apply now.
Lender Information
| | |
| --- | --- |
| Business Name | Sharestates, Inc. |
| Business Website | sharestates.com |
| Business Address | 11 Middle Neck Road, Suite 314, Great Neck, NY 11021 |
| Business Phone | 212-201-0750 |
| Business Email | hello@sharestates.com |
| Business Established Year | 2015 |
| Social Media | |
Sharestates, Inc. Rates & Terms
The Sharestates, Inc. rates and terms cover loan amounts ranging from $100,000 to $5,000,000, up to 85% LTV and up to 100% of the construction budget, interest rates starting at 7%, and an origination fee that ranges from 1% to 5%.
Types of Properties
Residential
1 to 4 Family property
Multi-Family property
Mixed-Use property
Retail/Office
Condo
Portfolio
Loan Amount
$100,000 to $5,000,000
LTV
Up to 85%
LTC
Up to 100%
Interest Rates
Starting at 7%
Lender Fees
1% to 5% origination fee
Loan Terms
12 to 36 months
Minimum Qualifications
The borrower needs to pass its "34-point screen" that emphasizes the borrower's credit score, experience, and track record
620 or higher FICO score for new projects
Typical Time to Funding
4 to 30 days (depending on the complexity of the deal)
Other Financing Available
Short term bridge loans
Jumbo bridge loans
Mid-term loans
Long-term rental loans
Senior debt financing
Mezzanine financing
Equity financing
*Exceptions may be granted. Lender information is updated often; however, exact lender terms may change.
Popular Hard Money Lenders 2019
| Lender | Best For |
| --- | --- |
| | Investors who want competitive rates and fast funding for residential fix and flips |
| | Landlords wanting to refinance or grow their rental portfolio |
| | Short-term investors looking for a good residential fix-and-flip hard money loan option |
| | Investors who want great customer service with a local bank feel from a 44-state lender |
| | Fix and flippers who want an alternative to LendingHome, but with a commercial component |
Which Hard Money Lender is Right for You?
Summary of Sharestates, Inc. Reviews From Around the Web
We compiled online Sharestates, Inc. reviews from Facebook and the Better Business Bureau and found that it is rated A+ with a 4.7 star rating. As of this article's writing (June 11, 2019), there aren't many up-to-date Sharestates, Inc. reviews online, but customers who left a positive review said that it has a very knowledgeable team.
States Currently Lending In
Nationwide
About Sharestates, Inc.
Sharestates is a real estate investment marketplace that allows individual and institutional investors to participate in rigorously vetted debt offerings. All of the offerings on Sharestates' platform have passed through a 34-point underwriting process. Founded by Allen Shayanfekr and real estate veterans Radni Davoodi and Raymond Y. Davoodi of the Atlantis Organization, Sharestates has combined proprietary technology with a proven track record of business development expertise to become the fastest growing real estate crowdfunding marketplace. Its growth can be attributed to a strong leadership team, strict loan acquisition and underwriting practices, its ability to cut the cost of capital for borrowers, and the platform's ease of use for borrowers and investors.