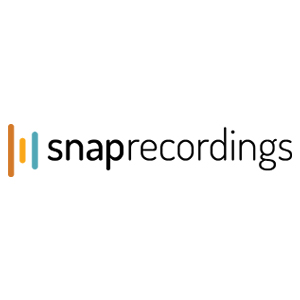 Snap Recordings provides professional voice-over recordings and background music for business telephone systems. Its services include voice prompts, greetings, message on hold, and more. Its standard fees start at $50 per 75 words, and it's best for businesses looking for experienced voice actors for clear audio recordings.
Snap Recordings Pros & Cons
| Pros | Cons |
| --- | --- |
| Professional and bilingual voice talents with real experience | No scriptwriting services |
| Scriptwriting guides are available | Other features like background music and proofreading have additional fees |
| Has an intuitive portal where you can select accents, voices, and languages; it also has sample recordings | Volume pricing is not upfront; it requires a consultation |
Who Snap Recordings Is Best For
Businesses looking for experienced voice actors for clear audio recordings: Snap Recordings provides an impressive vocal variety that lets you choose from professional voice actors in different languages and accents. These options ensure that your audio recordings will appeal to your callers.
Snap Recordings Pricing
Snap Recordings' pricing for greetings and prompts starts at $50 per 75 words (equal to around 30 seconds) or $900 per 1,500 words when you opt to purchase word credits. Meanwhile, a message-on-hold recording has one-time fees that start at $99 for 100 words, while its subscription plans range from $49 to $99 per month for 1,600 to 4,800 words.
Greetings and Prompts

Greetings and Prompts
(Word Credits)




Message on Hold

Message on Hold Subscription Plans

One-time Pricing

Starts at $50

Starts at $900

Starts at $99

✕

Monthly Pricing

✕

✕

✕

$49–$99/month

Annual Pricing

✕

Starts at $900/year

✕

$795–$2,240/year

Numbers of Words

Starts at 75

Starts at 1,500

Starts at 100
(within 1 minute)

1,600–4,800
(4 to 12 messages)
Greetings and prompts word credits expire after 12 months from the date of purchase. Other fees include:
Background music for greetings, announcements, voicemails, and voice prompts: $25 per message
Additional words for message on hold: $40 per 100 words
Rush delivery: $50 for the first 75 words, and $25 for every 75 words after that
Proofreading: $12 per 75 words
Revision fees for messages without music:

Changes to script and rerecords start at $25 for the first 25 words and $1 per word after that
Editing for no rerecords cost $25 for the first message edited and $5 for each message edited after that
Adding music tracks cost $25 per track, per message

Revision fees for messages with music:

Changes to script and rerecords start at $50 for the music license renewal and first 25 words; if you need more words, you will be charged an additional $1 per word
Music change costs $25 per track, per message
Note that Snap Recordings is unable to make edits on orders after a year from the original delivery date.
Snap Recordings Alternatives 2020
| Professional Voicemail Greeting Providers | Best For | Pricing |
| --- | --- | --- |
| | Organizations looking for flexibility in price and talent worldwide | Starts at $5 |
| | Companies that need a full VoIP plan with professional recording services as a feature | Starts at $19.95/user/month |
| | Companies doing a lot of business overseas that need an international calling plan | Starts at $25/user/month |
| | Businesses that want to make use of personal devices in a business setting | Starts at $25/user/month plus $75 per voicemail greeting |
| | Organizations that need phone system-ready professional audio files within 24 hours | $99 per 250 words |
Snap Recordings Services
Snap Recordings offers professional audio recording services, including voice prompts for auto-attendants, interactive voice response (IVR), and call centers. Here are some of Snap Recordings' most essential services.
Snap Portal with voice actors' examples: Choose from English (American, Canadian, British, and Australian), Spanish (Latin), and French (Canadian and European) voice actors through its straightforward Snap Portal. Bilingual recordings include Latin Spanish and U.S. English, French Canadian and Canadian English, European French and U.S. English, and Latin Spanish and United Kingdom English.
Greetings: Snap Recordings provides professional business phone greetings to help you make a great first impression with your callers. It specializes in greetings for business hours, after-hours, holidays or special events, departmental voicemails, and personal voicemail.
Voice prompts: Voice prompts are also available to let you keep your callers engaged by leading them to actions or asking for information from them. Examples of what Snap Recordings produces are caller action prompts, exit, transfer, and system prompts, as well as preparatory messages.
Message on hold: You may also turn your message-on-hold scripts to professional audio that you can play while your callers are on hold. Apart from adding credibility to your business with these quality recordings, you may also provide your callers with essential information—such as answers to typical questions, offers, promotions, and more—to make their holding time worthwhile.
Professional proofreading: Ensure that your messages are flawless with its proofreading services that include correcting grammar and misspelled words. Though its team does not alter sentence structure, they will reach out to you if there is a need to modify your sentences.
Background music: Snap Recordings has a library of over 1,000 prelicensed music tracks in various genres to let you find the perfect match for your customized messages.
Summary of Snap Recordings Reviews
As of the date this article was written (May 20, 2020), there are no up-to-date Snap Recordings reviews online. If you are a past or current Snap Recordings customer, leave a review to help others who are deciding whether or not to use the service.
Snap Recordings Frequently Asked Questions (FAQs)
When can I expect my project to be completed?
Snap Recordings' standard delivery takes three to four business days, while rush projects are delivered within one to two business days.
What are Snap Recordings' file formats?
Snap Recordings present files in the following formats: AIFF (44.1kHz 16-bit), MP3 (128kbps), MP3 (320kbps), VOX, WAV (11kHz 16-bit), WAV (44.1kHz 16 bit), WAV CCITT ULaw (8kHz 8-bit), and WAV PCM (8kHz 16-bit). It also offers a free audio file format converter through its website for those who need to change their audio files' format.
What type of payment does Snap Recordings accept?
Snap Recordings accept payments made through credit cards. Charges are made after checkout once you are done adding a project into the Snap Portal and selecting your voice talent and audio file.
Bottom Line
If you aren't sure if Snap Recordings is right for you, this article on the best professional voicemail greeting providers is a review of our top choices. Our team looked at a variety of solutions and narrowed our recommendations down based on price, ease of use, quality of the recording, and features, like selection, vocal variety, and script writing services.