Overview of Square POS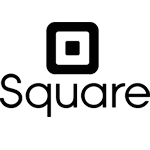 Square POS is an app-based POS system that works on both iOS and Android devices. I've personally used Square POS to process sales and manage inventory for a small business. As a retail writer, I have also set up several Square accounts and tested the Square POS app and Dashboard many times.
The Square POS app is free to download and includes solutions for payment processing, inventory management, card transactions, and more. Users can view reports, see deposits, manage customers, create an online store, edit inventory, and more from Square Dashboard, which can be accessed from any desktop. We'll cover all of these features and pricing in this review.
What We Like
After using Square POS firsthand in a retail environment, I can say it is a very intuitive system. It is really easy to create a free Square account and download the iOS or Android app to start managing inventory or processing sales immediately. Few other POS systems offer such a quick setup, especially with integrated payment processing.
Square is particularly useful for processing sales on the go. It has an offline mode, meaning you can still accept payments even without an internet connection. Square also has an automated customer directory that tracks customers by their payment method to send digital receipts and provide businesses with detailed reporting. I found this feature to be particularly useful when needing to search through past transactions to process returns or refunds.
What We Don't Like
Square's phone support isn't always available when you need it. I know that many retail businesses and vendors operate outside of traditional business hours. Square's support hours are limited and only available to active customers. It can be a hassle trying to verify your account when trying to get support quickly. Square also requires businesses to use its built-in payment processor. While the rates are competitive, they are not the lowest available, especially for high-volume sales.
Which POS Provider Is Right for You?
Square POS Pricing
Square POS is completely free to use. The only fees are for processing card payments or adding on extra features. Every new Square account also comes with a free magstripe card reader that connects to iOS or Android smartphones and tablets to accept credit card payments. In my experience, the free reader arrives fairly quickly in the mail. There are many other hardware options available for purchase.
Specific Square costs include:
Flat-rate transaction fee: 2.6% + 10 cents per transaction
Invoices: 2.9% plus 30 cents per transaction
Online sales: 2.9% plus 30 cents per transaction
Square magstripe reader: Free
Point of sale app: Free
Square has optional hardware items for purchase, including:
Additional magstripe readers: $10
Contactless and chip readers: $49
Square stand with contactless and chip reader: $169
Square Register: $999 or $49 for 24 months
Square Terminal: $399 or $37 for 12 months
Although Square is free, businesses can purchase extra features for a monthly fee, including:
Payroll: $34 per month plus $5 per employee
Marketing: $15 and higher per month
Loyalty program: $45 and higher per month
Square for Retail: $60 per month
Square for Restaurants: $60 per month
Square Appointments: Free for individuals, $50 to $90 per month for businesses
Square Payroll
Square Payroll lets businesses easily set up direct deposit payroll and benefits like healthcare for any number of employees and contractors. You can set different hourly or salary rates, track hours worked, get automated tax documents, and offer healthcare and other benefits. Square Payroll starts at $34 per month plus $5 per month for each person paid.
In my experience, Square Payroll is a great fit for very small businesses that want an easy way to process payroll and offer basic benefits like healthcare. I know several small business owners who use Square Payroll and love it because it is easy to use and affordable compared to other payroll services.
Square Marketing
Square Marketing is a feature that can be added on to Square POS. It can be used to design custom emails and send automated campaigns to your customers. All of your email campaigns, including insights on open rates, offer redemptions, and more can be viewed in Square Dashboard. Square Marketing includes lots of email templates and lets businesses create targeted and segmented customer groups. This add-on is $15 per month for up to 500 contacts, $25 per month for 501 to 1,000 contacts, and $35 per month for 1,001 to 2,000 contacts.
Square Marketing is a good fit for any business that wants to drive sales through email campaigns, offer promotions or discounts, send regular newsletters, or distribute announcements to their customers. Brick-and-mortar, as well as mobile retail businesses, cafes, coffee shops, and service providers, could all benefit from adding Square Marketing to Square POS.
Square Loyalty
Square Loyalty is an add-on for Square POS that can be used by retail stores, coffee shops, breweries, and any other business that would want to reward regular customers. Square Loyalty lets businesses create a custom points-based rewards program that customers can sign up for at checkout. Customers get automatic text notifications when they earn points or a reward.
Square Loyalty starts at $45 per month for businesses with up to 500 loyalty transactions, $75 per month for 501 to 1,500 loyalty transactions, and $105 per month for businesses with 1,501 to 10,000 loyalty transactions.
Square for Retail
Square for Retail is another version of Square POS that is designed specifically for brick-and-mortar retail stores. Square for Retail is $60 per month (additional registers are $20 per month) and includes all of the features in the free Square POS plus the ability to create and print barcodes, process exchanges, create and receive purchase orders, manage vendors, and track projected profits.
Square for Restaurants
Square for Restaurants is another version of Square POS, but it is specifically designed for sit-down restaurants. Square for Restaurants starts at $60 per month. It includes all the features of Square's free POS plus the ability to create floor plans, track tables, build menus, and take food orders. It also includes access to 24/7 customer service.
Square Appointments
Square Appointments is another software program offered by Square that supplements the free POS system. Based on my experience, I would recommend Square Appointments for hairstylists, makeup artists, massage therapists, personal trainers, repair services, or any other kind of service business. Square Appointments is free for individuals, $50 per month for two to five employees, and $90 per month for six to 10 employees.
Square Appointments includes a free online booking page, appointment and customer management, and a cloud-based calendar. Square Appointments automatically syncs with Square POS for payment processing, storing customer data, and reporting.
Square POS Features
Setting Up Square
The first step in using Square to manage your business is creating a free account on Square's website. You can configure business settings like products, taxes, team members, payment processing, and more under the Square Dashboard. Square has a Setup Guide that will walk you through all of the major steps. I found this process to be extremely easy and intuitive. The whole process takes about 10 minutes.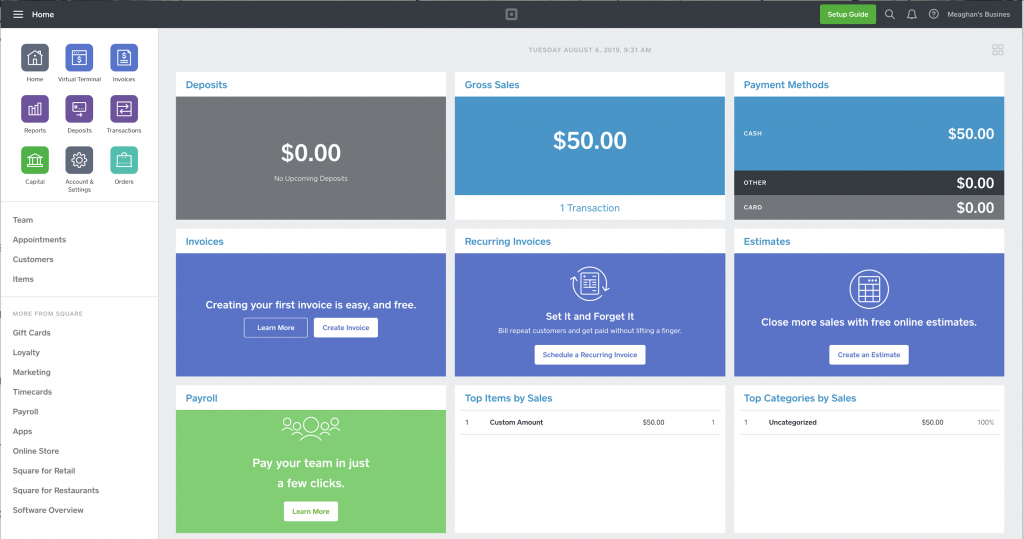 Then download the free Square POS app to start selling. Any of the products or settings that you created in your Square dashboard will automatically sync to your POS app. You can also adjust the settings in the app, which will sync back to your Square account. I recommend uploading inventory in bulk through Square Dashboard to save time, instead of adding products individually through the app.
When you're ready to make a sale, you can connect your free magstripe reader, purchase another kind of reader, or process the payment through an invoice or by typing in the card information. Square also has gift card features and can record cash payments. I've found that very little training is necessary to start selling products or accepting payments through Square POS.
Square POS Customer Relationship Management
One of the best features of Square POS is the customer directory. Square can recognize customers by their payment methods. Businesses can also add new customers directly from the sales screen using the payment method, phone number, email address, and other information. Regular customers can also save their payment information on file for future purchases.
As I mentioned earlier, this semi-automated directory is one of my favorite features. It's super easy to look up purchases and customer history quickly without a physical receipt.
One of the other great Square POS features is the customer feedback. When you send a text or email receipt after a sale, it includes a customer feedback form. Customers can indicate and explain a positive or negative experience. Businesses get this feedback instantly and can respond via text or email, and even issue coupons or refunds as needed. Most POS systems charge a monthly fee for collecting customer feedback or issuing coupons, so this is a fantastic deal.
Square POS Inventory Management
You can add items to your Square POS inventory one at a time, or import all your products in one fell swoop with a CSV spreadsheet. The cloud-based POS software makes it possible for you to access your inventory from any iOS device wherever you are, as long as you have an internet connection. Daily stock alerts are sent to your email, so you'll know when stock is low.
Square POS Employee Management
Square POS keeps it simple and basic with its free staff management features. Your employees can ring up a sale and issue a refund, but that's about it. For more advanced employee management features, you'll have to get the add-on feature.
Square POS Reporting
The Square POS data analytics feature lets you study a variety of reports, so you'll know how your business is doing. You can track sales, customers, and inventory through reports. You can find out what the average sale is, how many customers are new or repeat business, and even which hour is your busiest for the day.
Square POS Customer Support
One of the biggest downsides of Square POS is the limited phone support. Live phone support is available Monday through Friday from 6 a.m. to 6 p.m. Pacific Time. Many reviewers cite difficulties getting in touch with live support when they need it. However, Square does have chat support available on the website and directly through its mobile POS app.
Popular Retail Point of Sale Providers for 2020
| POS System | Best For |
| --- | --- |
| | POS with detailed inventory management and custom reporting |
| | Free POS with built-in payments and basic inventory tracking |
| | Retail POS with built-in CRM and loyalty program |
| | iPad POS with built-in payment processing and marketing tools |
Top POS Software Options
6 Best POS Apps: Point-of-sale (POS) apps are tools that retailers and individual sellers can install on their mobile devices to accept credit card payments, track sales and inventory, and manage various business functions. We compared six top-rated POS apps in terms of price, device compatibility, online integrations, and functions that meet most small business needs.
Our Recommendation
Based on my experience using Square POS, it is a great option for new, small, and startup businesses, particularly businesses that process up to $10,000 per month in sales. Square POS payment processing is one of the most affordable options for businesses with an average transaction of less than $20. Keep in mind that most POS and payment processing solutions have monthly fees or minimums, but Square does not.
Square POS is especially right for:
Cafes and coffee shops: Square's payment processing rates are very low for any business that has an average sale under $20.
Market and pop-up vendors: Offline sales capabilities and the lack of minimum transaction requirements and monthly fees make Square a great option for people who sell at flea markets or the occasional craft fair.
Startup businesses: Square has no minimum processing requirements or upfront costs. If you don't make any sales, you don't have to pay anything.
Food trucks: Square can process credit cards offline, so it's a great fit for businesses that travel around.
Sole proprietors: Square allows massage therapists, hairstylists, makeup artists, handymen, and other individuals an easy option for accepting card payments on the spot.
Seasonal businesses: Square is completely free; there are no fees or monthly minimums, so it is a good fit for people who operate their business for a limited time frame.