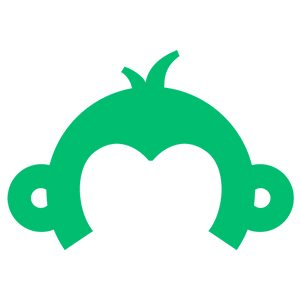 SurveyMonkey is a survey software and data platform that enables users to easily collect and analyze information. Its features include survey templates, custom charts, text analysis, and data sharing. Its business plans have fees that range from $25 to over $75 per user, per month and it's best for researchers, teams, and businesses.
SurveyMonkey Pros & Cons
| Pros | Cons |
| --- | --- |
| Easy to use | Free option has limited features |
| Offers pre-generated and customized question formats | Customer service is slow to respond |
| Design elements allow branding | Expensive pricing for individual users and small businesses |
Who SurveyMonkey Is Best For
Teams and businesses: Teams and companies of any size are able to collect feedback and gain insights from a target audience or the general public.
SurveyMonkey Pricing
The SurveyMonkey pricing guide shows two products, each with several tiers: Personal Plans (ranges from $0 to $99 per month) and Business Plans (ranges from $25 to $75+ per user, per month). The main difference between the products is access to group features, such as a shared asset library and collaboration tools.
Plans

Pricing
($/Month)

Collaboration Tools Feature

Personal

$0 to $99

✕

Business

$25 to $75+ per user

✓
Those interested should note that SurveyMonkey offers only one month-to-month subscription plan, Standard (from Personal Plans), which costs $99 per month. The rest of the Personal and Business plans are billed annually and charged at the beginning of the billing cycle.
Personal Plans
SurveyMonkey's Personal Plans comprise four plan tiers: Basic (free), Advantage ($32/month, billed annually), Premier ($99/month, billed annually), and Standard ($99/month, billed monthly). The main difference between the plans is access to advanced features, including crosstabs, sentiment analysis, unlimited filter and compare rules, and white-label surveys.
Business Plans
SurveyMonkey's Business Plans consist of three subplans, all billed annually, starting at three users: Team Advantage ($25 per user, per month), Team Premier ($75 per user, per month), and Enterprise (custom priced). The main difference between the plans is access to premium features, including white-label surveys, direct API access, and the removal of the SurveyMonkey footer.
SurveyMonkey Alternatives
SurveyMonkey Features
SurveyMonkey's survey creation and distribution features are designed to help users easily and quickly gather responses and insights from their target respondents. Here is a list of some of SurveyMonkey's features.
Survey Builder
SurveyMonkey's survey builder feature offers prewritten templates and customizable formats in different languages. It has 13 essential question types, quizzes, Question Bank-approved questions, video and image questions, skip logic, A/B testing, and more. Users may create an unlimited number of surveys with an unlimited number of questions per survey, and responses can be collected via the web, email, and social media.
Customization & Branding
Its customization and branding features provide users the ability to create specific types of surveys according to a theme, text format, color scheme, and more. Users may add their logo, display a "thank you" and disqualification page, and apply other custom variables.
Analysis & Reports
SurveyMonkey users may receive real-time results and share survey data. It provides access to SurveyMonkey global and industry benchmarks, word clouds, data trends, and tag-written answers. Users may also generate custom charts and reports, download them in XLS, CSV, or PDF formats, crosstabs, and sentiment analysis.
Phone & Email Support
SurveyMonkey provides 24/7 email support to all subscribers, and those subscribed to the highest plans have access to phone support.
Most Helpful SurveyMonkey Reviews
Users who gave positive SurveyMonkey reviews said that it is easy to create and customize surveys for any purpose or event. They also like that it is proactive when it comes to meeting the General Data Protection Regulation (GDPR) standards, ensuring that data is acquired in a compliant manner. On the other hand, users who gave negative SurveyMonkey reviews said that it is a bit expensive for individuals and small business users. They also mentioned that its email support service is slow to respond and gives incomplete information.
Easy to use & allows customization
"SurveyMonkey is a fantastic online platform for building surveys and gathering feedback for your company, business, or nonprofit. It is a fantastically built website that is functional and easy to use. They do have a free account with limited functionality that allows you to use and experience most of what they have to offer at no upfront cost."

— Paul Nichols
Pricey for individual & small business users
"You need to use a lot of surveys to make their pricing worthwhile, in my opinion. Since it tracks your IP address and does not let you share one login, you will need to upgrade your plan to have more than one user, and it's a pretty big headache. We have since shifted away from SurveyMonkey because it was too aggressive about trying to force us to use a different tier that we didn't want, purely because of user seats."

— Nate Casimiro
SurveyMonkey Frequently Asked Questions (FAQs)
What does SurveyMonkey's free plan include?
Its free personal plan, called Basic, includes an unlimited number of surveys, up to 10 questions per survey, and the ability to view 100 responses each. Users may have up to three collectors per survey. It also provides access to 24/7 email support and 40 short survey templates. This plan is free forever.
Does it offer special pricing for educators & students?
Yes, it does. SurveyMonkey offers a discount to any user with a valid student, faculty, or staff ID.
Is there a minimum number of users for business plans?
Yes, there is. Business plans require a minimum of three users.
Our Top Survey Software Picks
If you aren't sure if SurveyMonkey is right for you, this article on the 6 Best Customer Feedback Software is a review of our top choices. Our team looked at a variety of solutions and narrowed down our recommendations based on price, features, and customer support.