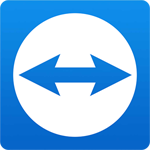 TeamViewer is a remote desktop and video conferencing software that connects any PC, mobile, and server to each other globally. Its features include remote control, file sharing, document management, and session recording. It costs $49 to $199 per month and is best for remote teams or those who are working on joint projects remotely.
TeamViewer Pros and Cons
| Pros | Cons |
| --- | --- |
| Secure and remote connection | Expensive premium subscriptions compared to its competitors |
| High-quality video conferencing | Limited users in basic plans |
| Easy to use and install in any operating system | Doesn't work in proxy servers |
Who TeamViewer is Best For
Remote teams – Collaboration, task management, and monitoring are made easy and secure with TeamViewer's remote desktop and video conferencing features.
IT teams and helpdesk professionals – IT professionals can securely access team members' or employees' computers when troubleshooting reported issues.
TeamViewer Pricing
The TeamViewer pricing scheme is based on three licensing options, all billed annually: Business ($49 per month), Premium ($99 per month), and Corporate ($199 per month). The main differences between the plans are the number of concurrent users who can establish sessions simultaneously and access to more advanced features such as mass deployment and device access reporting.
Choose Your Plan

Annual Pricing
($/Month)

Numbers of Sessions and Users

$49

1 session, 1 user

$99

1 session, multiple users

$199

3 sessions, multiple users
*Annual plans are paid in full at the start of the billing cycle.
TeamViewer also offers the following add-on features: Monitoring and Asset Management ($2.39/month per endpoint), Backup ($0.12/month per GB, unlimited endpoints), and Endpoint Protection ($2.39/month per endpoint).
Those interested should note that TeamViewer provides discounts from time to time. Visit its website to check whether or not it has one on offer today.
Business
Designed for the single user, the Business license can initiate device connection one session at a time. It can assign and manage up to 200 devices. Its features include remote access and control for computers, custom branding, secure unattended access, file sharing, remote printing for Mac and Windows on any printer, and device management and app customization.
Premium
The Premium license is designed for multiple users. Multiple licensed users can initiate device connections, with one session open at a time. It can assign and manage up to 300 devices. It offers customized device information and user access reporting on top of the features included in the Business License.
Corporate
With the Corporate license, multiple-licensed users can initiate device connections up to three sessions open at the same time. They can assign and manage up to 500 devices. Its features include all Business and Premium licenses' features, as well as multiple concurrent connections, mass deployment, device access reporting, and pre-built software integration.
TeamViewer Features
TeamViewer features are designed to make collaboration easy and secure between remote teams or those working on joint projects remotely. Here is a deeper explanation of TeamViewer's most important features.
Remote Desktop: Device Control, Cross-Platform Access, and VPN Alternative
It can control a remote computer, Android, or Windows 10 mobile device and connect across multiple platforms, from PC to PC, mobile to PC, PC to mobile, and mobile to mobile.
Flexible File Sharing Options
Transfer files of any size from a computer or cloud storage using one of TeamViewer's file sharing methods.
User and Device Configuration Management
Users can manage security with special permissions and licenses, set policies, and create channel groups to assign specific access.
HD VoIP Voice and Video Conferencing
Both remote access and remote conferencing sessions are supplemented with HD-quality voice over IP calling solutions.
Most Helpful TeamViewer Reviews
Most TeamViewer reviews are positive, with a majority commenting that it is easy to use and set up. Specific features also stood out for most users such as its file sharing and remote support tools.
TeamViewer is the best for remote connection and high-quality video conferencing
"TeamViewer software offers the best service both remote connection as well as high quality video conferencing. I have been working with TeamViewer for about two years and I must say that its operation is fantastic, has a very easy and stable interface to work, its mobile application provides a unique and comfortable functionality to connect both to computers from the smartphone and to connect to video conferencing. In all the years of experience I have working with different remote connection software, I had never known one with so many features as TeamViewer."

— Kotoyo Okamoto
TeamViewer's Premium and Business plans are quite expensive
"It doesn't work through the proxy servers. The premium version and the business packages are quite expensive to buy. It needs a fast continuous internet connection, otherwise, it will be troublesome and frustrating to use. It (isn't) able to upload/download large files over the internet. It does not have the ability to use full screen with high-resolution screens."

— Vicky Watson
TeamViewer Frequently Asked Questions (FAQs)
How can users manage their own trusted devices?
TeamViewer users are able to manage their own trusted devices and IP addresses under their profile settings. In their account dashboards, they can see all trusted devices, location of IP addresses, and device aliases, if there are any. Users can also revoke trusted devices from this setting. Note that only company admins can view and revoke trusted devices.
Can users restrict access for TeamViewer connections to their computers?
In general, it is only possible to access a user's computer if he shares his TeamViewer ID and the associated random password or the personal password with another person. Without knowing the ID and password, it is not possible to access one's computer. However, a user can also restrict access to his computer in the following ways: completely prevent any access, restrict access to specific devices, restrict features for incoming connections, and deny connections from outside the network. These require steps to be taken inside their account settings.
How can users transfer files with TeamViewer?
TeamViewer users can transfer files securely and directly to a remote computer or server. Users can do so by utilizing the file transfer mode, direct file transfer to contacts, or the simple drag and drop function. Users can also link TeamViewer to their cloud storage accounts such as Dropbox, Google Drive, OneDrive or Box, and share files from there.
Our Top Remote Desktop Software Picks
If you aren't sure if TeamViewer is right for you, this article on the 6 Best Remote Access Software is a review of our top choices. Our team looked at a variety of solutions and narrowed down our recommendations based on price, features, and customer support.