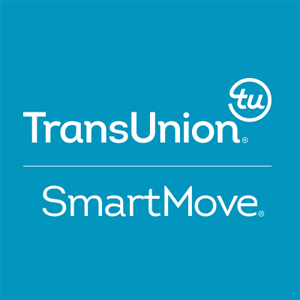 TransUnion SmartMove is an online tenant screening service that helps identify the best tenants by providing credit reports and conducting tenant background checks. The tenant screening reports include credit, criminal, eviction, and income reports as well as other insights and scores that can assist landlords in evaluating potential tenants. Its pricing ranges from $25 to $40 per screening, and it works best for independent property owners with no property management background.
TransUnion SmartMove Pros and Cons
| Pros | Cons |
| --- | --- |
| Comprehensive tenant screening reports and scoring system | Does not give landlords full control over the application process |
| Real-time criminal records checking | Criminal reports are only available in 44 states |
| Credit reports come from TransUnion itself and are not outsourced to third-party sources. | Customer support is not easily reachable |
Who TransUnion SmartMove Is Best For
Independent landlords with no property management background: Landlords who may not have prior experience in screening tenants but are looking for comprehensive reports can use TransUnion SmartMove. The system handles most of the process for landlords, churning out real-time reports and scores that can help them evaluate their prospective tenants.
TransUnion SmartMove Pricing
Pricing for TransUnion SmartMove depends on the number of reports included and is offered in three packages: SmartCheck Basic ($25/screening), SmartCheckPlus ($38/screening), and SmartCheck Premium ($40/screening). The main differences between the packages include the types of reports included as well as the comprehensiveness of the tenant screening score.

SmartCheck Basic

SmartCheck Plus

SmartCheck Premium

Price
($/Screening)

$25

$38

$40

Credit-based Resident Score

✓

✓

✓

National Criminal Background Report

✓

✓

✓

Eviction Report

✗

✓

✓

Income Insights

✗

✗

✓
When an application request is submitted, TransUnion Smartmove gives landlords the option to choose whether they will shoulder the costs of the application themselves or pass it on to the applicant. In both instances, the charge is incurred as soon as the tenant applicant completes the application request, enters their information, and submits their identity authentication successfully.
SmartCheck Basic
SmartCheck Basic provides landlords with basic background information about their prospective renters, excluding eviction history. It gives them a credit-based ResidentScore, which uses a set of metrics to help predict whether a tenant will default on paying their lease. It also includes a criminal background report for the renter.
SmartCheck Plus
SmartCheck Plus also includes a full credit report of the prospective tenant as well as a criminal background check. In addition, it gives landlords a national eviction report to help them predict whether the renter will likely get evicted again.
SmartCheck Premium
SmartCheck Premium is the most comprehensive option available for TransUnion SmartMove. It includes all reports in SmartCheck Basic and SmartCheck Plus. It also provides an income insight report, which compares the renter's self-reported income to their credit behavior. This does not give landlords the ability to look into the income information of their prospective tenant.
TransUnion SmartMove Alternatives 2020
| Tenant Screening Services | Best For |
| --- | --- |
| | Those who need a screening service with affordable options that include credit checks |
| | Those who want access to certified screening reports |
| | Those looking for an all-in-one platform to market rental listings |
| | Those who need background screening and the ability to ensure rental income |
| | Those looking for tenant screening and property management tools in a single platform |
TransUnion SmartMove Features
TransUnion SmartMove screens tenants and provides landlords with reports and ratings that can help them assess the suitability of the tenant to rent their property. Some of its reports include credit report, ResidentScore, criminal report, eviction report, and income insights.
Credit Report
TransUnion SmartMove can provide a credit report within minutes. The report gives landlords an insight into the prospective tenant's credit history while ensuring the safety and security of the tenant's personal information.
ResidentScore
ResidentScore translates credit history and rating to the renter's payment performance. The ResidentScore is derived from an analysis of more than 500,000 actual records. It gives the prospective tenant a score between 350 to 850, with 850 being the best possible score. This numerical score helps landlords assess whether the tenant is the right fit for them.
Criminal Report
TransUnion SmartMove provides real-time criminal data coming from national, state, and sources. These include state criminal background checks, most wanted databases, and the National Sex Offender Public Registry. The information is run through more than 370 million criminal records and databases, and results are accessible online 24/7.
Criminal data is available throughout the United States, excluding the following:
Delaware
Washington, D.C.
Hawaii
Kentucky
Massachusetts
South Dakota
Wyoming
Eviction Report
TransUnion SmartMove's eviction reports include court records coming from public records. They include information about previous judgments for possession and money, unlawful detainers, tenant judgments for rent, failure to pay rent, and writs and warrants of eviction.
Income Insights
Income Insights saves landlords from the burden of manually verifying the prospective tenant's income. While it does not provide an actual income report. Income Insights analyzes the tenant's spending and payment behavior in relation to their credit report. This gives landlords the ability to estimate whether the credit behavior aligns with their self-reported income and whether there is a need to request additional proof of income from the applicant.
Income Insights may change as new credit information becomes available on the tenant's credit report.
Most Helpful TransUnion SmartMove Reviews
As of the date that this article was written (June 3, 2020), there are very few available TransUnion SmartMove reviews online. Of the few that are available, most users found its process easy, giving it high ratings for providing timely and accurate reports. Some have noted, however, that its customer support information is not readily available, nor is there a way to contact them immediately.
TransUnion SmartMove Frequently Asked Questions (FAQs)
Will submitting an application through TransUnion SmartMove affect the credit score of the tenant?
TransUnion SmartMove only performs a soft credit check on the tenant. This does not have any impact on the tenant's credit rating.
How long does it take to complete the renter screening process?
TransUnion SmartMove promises instant results as soon as the renter has confirmed his/her application and passed an identity authentication online. It guarantees that delays are only limited to those cases when either party has not completed the entire application process.
Can a credit report be generated for everyone?
TransUnion can only provide credit reports and process applications for renters with a valid US Social Security number.
Bottom Line
TransUnion is one of the three major credit bureaus. TransUnion SmartMove benefits from this because real-time data is pulled from the prospective tenant's credit score, ensuring that their information is always up-to-date. Its pricing packages also give users the ability to select only the specific reports they find relevant. This makes the service a good fit for independent landlords who do not have their own property managers as the reports generated are enough to assess whether or not to lease their properties to a prospective tenant.
In case you are still not sure if TransUnion SmartMove is right for you, then this article on the best tenant screening services is a review of our top choices. In this guide, we looked at a variety of solutions and narrowed our recommendations down based on pricing and essential features, including the conduct of criminal background checks, employment and income verification, and eviction history.