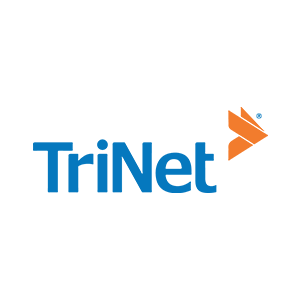 TriNet is a professional employment organization (PEO) that offers full-service human resources (HR) solutions to small and medium-sized businesses. Its services, which include payroll processing, benefits administration, applicant tracking, and access to a cloud-based platform with self-service and mobile tools, enable users to focus on growing their business by outsourcing day-to-day HR tasks.
TriNet Pros and Cons
| Pros | Cons |
| --- | --- |
| A robust offering of HR services & tools | Some platform features are not user-friendly |
| Access to comprehensive benefit options | Inconsistent customer support quality |
| Easy-to-install platform | Pricey compared to similar providers |
Who TriNet Is Best For
Small to medium-sized businesses: Its wide range of strategic services and cloud-based HR solutions, which can be tailored depending on the business' industry, help users minimize their HR administrative tasks, and reduce employer-related risks.
TriNet Pricing
The TriNet pricing guide shows that it charges a flat monthly fee for each employee. A third-party site claimed that it costs anywhere from $80 to $600 per employee, per month. Its fees are based on a user's business location, industry type, company size, and scope of services.
TriNet also doesn't require its users to sign long-term contracts with them. However, it offers a bundled solution that includes access to all of its full-service offerings, such as payroll processing, tax filing, benefits administration, risk mitigation, HR consulting, and online tools.
Popular PEO Companies 2020
| PEO Companies | Best for |
| --- | --- |
| | Robust HR support and access to Fortune 500-caliber benefits |
| | Midrange priced PEO for small businesses with employees in multiple states |
| | Low-priced HR, benefits, and payroll for businesses fewer than 100 employees |
| | PEO broker for business with HR challenges or specific needs |
TriNet Services
TriNet's full-service HR solutions are designed to help businesses efficiently manage HR processes, from recruitment to offboarding. Here are some of TriNet's most important features.
Payroll Service and Tax Filing
TriNet's online payroll services include paperless payslips, employee pay processing with direct deposits and debiting, payroll tax computation, and electronic W-2 preparation and delivery. It also offers a self-service portal that enables its users' employees to view pay details, change their status, print W-2 forms, and more.
Benefits Administration with Comprehensive Plan Offerings
Businesses are provided access to TriNet's wide range of employee benefit options, insurance carriers, and retirement plans. Some of its partner companies include Aetna, Blue Shield of California, UnitedHealth Group, MetLife, TransAmerica, MassMutual, Aflac, and Kaiser Permanente. Additionally, its benefits administration service is designed to help users manage healthcare and insurance enrollments, including employee claims.
Cloud-based HR Tools
Its comprehensive cloud-based HR platform includes features that enable users to track applicants, view payroll and benefit details, monitor employee attendance and time-off requests, manage expense reimbursements, collect workforce analytics, and download reports.
Access to Expert HR Consultants
Apart from helping businesses to manage their day-to-day HR operations, TriNet's team of expert consultants can provide advice about labor regulations, employee relations concerns, and compliance issues to mitigate employer-related risks.
Which PEO Is Right for You?
Most Helpful TriNet Reviews
Users who left positive TriNet reviews like that its services and tools enable them to tackle other facets of their business without worrying about day-to-day HR tasks. On the other hand, those who gave negative reviews said its pricing plan is costly for small businesses and that learning how to navigate through some of its platform's features is a bit challenging for beginners. Several others noted that its support team is not knowledgeable.
Wide range of HR services and benefit offerings with robust tools
"TriNet offers a full suite for HR, benefits, and so on, and it's totally comprehensive. The company that I worked at that used TriNet offered a very wide range of benefits, and TriNet's portal handled everything. It's great, as an employee, to have one place to go for all HR needs rather than having things spread out over different software solutions."
—Joel Heard
Customer support quality is inconsistent, plus the platform is difficult to use
"Customer support is sometimes useful but, most of the time, they will literally tell you that they do not have the answer. Also, there is nothing easy about using the tool, and even after using it for a few months, it is still difficult to understand."
—Estela Romero
TriNet Frequently Asked Questions (FAQs)
What types of industries does TriNet support?
TriNet provides HR support to the following industries: financial services, technology, life sciences, architecture and engineering, manufacturing, retail and wholesale, consulting, marketing and advertising, and nonprofit.
Can users request time-offs using TriNet's mobile app?
Yes, they can. With TriNet's mobile app for iOS and Android devices, users can also view payslips, access medical insurance and benefits information, monitor approvals for expense reimbursement reports, and chat with colleagues.
Does it offer integration with accounting solutions?
Yes, it does. TriNet's website stated that its expense management tool can integrate with NetSuite, Sage Intacct, and QuickBooks Online.
Our Top PEO Picks for Small Businesses
If you aren't sure if TriNet is right for you, this article on the 7 Best PEO Companies for Small Business is a review of our top choices. Our team looked at a variety of solutions and narrowed down our recommendations based on ease of use, reputation, cost, and services.