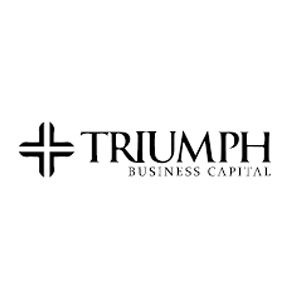 Triumph Business Capital is an invoice factoring company that has been helping over 7,000 small and mid-sized businesses since 2004. It caters to trucking companies, freight brokers, government contractors, staffing firms, and more. It can lend up to $20 million, and it's best for business owners who manage their working capital.
Triumph Business Capital Pros & Cons
| Pros | Cons |
| --- | --- |
| Welcomes borrowers with low credit scores | Origination fee is charged |
| Great for freight businesses | Long funding time |
| High advance rates | |
Who Triumph Business Capital Is Best For
Business owners with low credit scores: Triumph Business Capital reviews a business' customers' payment history. This means that businesses with on-time collections still have a high chance of obtaining funding from Triumph Business Capital, even if their owners have poor or moderate credit scores.
Freight companies: It considers truck, freight, and small business factoring, payroll funding, and government contract financing as the most important areas of service, with 77% of its business coming from freight factoring.
Small businesses that need to cover cash flow gaps: It provides funding to those that need cash to keep up with expenses while waiting for customer payments.
Visit Triumph Business Capital
Triumph Business Capital Costs & Terms
| | Invoice Factoring |
| --- | --- |
| Loan Amounts | Up to $20 million |
| Advance Rates | Up to 90% |
| APR Ranges | 13% to 55% |
| Repayment Term | Repaid as invoices are paid |
| Funding Speed | 24 to 48 hours |
Triumph Business Capital costs and terms are determined on a case-by-case basis and specified on the borrower's factoring agreement upon loan approval. It does not have a minimum loan amount, which could be beneficial for those who need a rather small amount of funding.
Another factor that draws interest in Triumph Business Capital's services is its fast funding. For first-time applicants, loan approval initially takes five to seven days. However, once approved, all future funding will take only 24 to 48 hours.
Do You Qualify for Triumph Business Capital Financing?
| | |
| --- | --- |
| Minimum Credit Score | 500 |
| Minimum Time in Business | One year |
| Minimum Annual Revenue | $100,000 |
Despite the fact that Triumph Business Capital accommodates business owners with low credit scores, it still has set minimum requirements. These include a personal credit score of at least 500, business tenure of one year or more, and an annual revenue of at least $100,000.
Additionally, business owners must work with business-to-business or business-to-government customers. Invoices must also be due and payable within 90 days and not pledged to another lender.
Triumph Business Capital Application Process
Triumph Business Capital provides a very straightforward application process. Those interested may contact them directly at 866-356-0888 or they may fill out a form on its website, which should not take longer than three minutes. If they opt for the latter, then a specialist will be in contact and may ask them to submit documents.
These papers include the company's current aging report, articles of incorporation or other organizational documents, and an example of their invoices. Triumph Business Capital typically processes applications within 24 hours. Once approved, funding can be provided in 24 to 48 hours.
Visit Triumph Business Capital
Triumph Business Capital Alternatives 2020
| | | | |
| --- | --- | --- | --- |
| | | | |
| Best For | Businesses with net terms under 30 days that need $30,000 to $5 million | Small businesses that need quick invoice factoring from $5,000 to $5 million | Businesses that want nonrecourse factoring from $30,000 to $10 million |
| Pricing | Discount rate starting at 0.75% per invoice monthly | Discount rate starting at 0.25% per invoice weekly | Discount rate starting at 1.25% per invoice monthly |
What Business Owners Should Know About Triumph Business Capital
Triumph Business Capital offers other services and types of financing: Although it is well-known for invoice factoring, it also provides other services, such as back-office solutions, insurance, asset-based lending, equipment financing, fuel cards and advances, and DAT (Dial-a-Truck) solutions.
It provides a referral program: Triumph Business Capital sends cash to referrers for every funded client. In addition, referrers get more benefits, such as residual commissions, bonuses, and monthly earnings reports, among others. The process is quick and simple, and it does not require any cost or obligation from the referrers.
Some of Triumph Business Capital's team members hold International Factoring Association (IFA) certifications: The IFA's Certified Account Executive in Factoring (CAEF) certification promotes and protects the factoring industry by recognizing individuals who understand the complexities of general factoring and have demonstrated their expertise in the field.
Most Helpful Triumph Business Capital Reviews
Triumph Business Capital reviews online are generally positive. Customers who left positive ratings liked its prompt application response and same-day funding, while those who left negative feedback noted issues in how it treats them and their customers. It also has a mix of positive and negative reviews when it comes to its customer support team.
Provides a great entire funding experience
One customer who left a positive review on Trustpilot appreciates her entire experience with the company. She cited its user-friendly website, fast funding turnaround, and easy-to-understand terms as the main reasons for saying so. She added that having her own account manager has been really helpful for her and has strengthened her trust in the company even more.
Holds reserves & provides incorrect deposit expectation
One customer who left a negative review on Trustpilot complained about improper expectations set by Triumph in terms of its funding, explaining that he received a smaller amount than what he was originally told. He added that when he called Triumph, he was advised that it was for reserves but could not provide him with more details. He further noted that this issue hasn't been resolved in months and that he can't get any resolution from its customer support team.
Triumph Business Capital Frequently Asked Questions (FAQs)
Do startup companies have a chance to qualify for factoring?
Yes, they do. Triumph Business Capital is more interested in the customer's creditworthiness than its time in business. If they have a good customer payment record, then that will work to the business' advantage in the approval process.
Is there a way for me to check the status of my factored invoices?
Yes, Triumph Business Capital has online account management, which provides a full array of client reporting and real-time information. It can also accommodate any special reporting requirements.
How will customers know where to send payment?
Each invoice is stamped or notated with payment instructions.
Bottom Line
Triumph Business Capital works perfectly for those in need of funding but have issues with their credit standing because it focuses more on a business' customers' creditworthiness rather than that of the owner's. It provides high advance rates (up to 90%) and generous loan amounts (up to $20 million), which help small businesses with expenses and growth.
Those interested need to consider that Triumph Business Capital charges an origination fee, and it may take a few days for initial loan applications to be approved. Those interested may begin the process by calling the company or submitting a form on its website.